Summary
4Card Recovery recover any type of file like photos, music or videos from memory card when formatted, has not formatted, RAW file system, bad sectors, and other types of errors.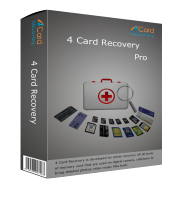 Satisfy Your Needs for Memory Card Recovery with 4Card Recovery
4Card Recovery is designed as card recovery utility for all users when they run into unexpected data loss disaster. Being a powerful memory card recovery tool, 4Card Recovery is able to help you with data rescue in following situations:
Recover files that have been deleted from all kinds of memory card
Unformat memory card to get back lost data
Restore photos, images, videos, music, audio files, emails, PDF files and so on
Supports SD card, mini SD card, micro SD card, SDHC, SDXC, MMC, CF, XD, memory stick
Be compatible with all brands of memory card like SanDisk, Kingston, Toshiba, Samsung, etc
How to Restore Memory Card Files
Free download 4Card Recovery Software, and follow the guide.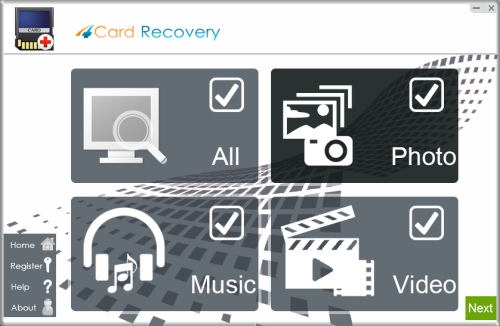 Select recovery options in the main interface
Step 1:Run the software and select a proper recovery option among "All" or just "Photo", "Music", or "Video"
Step 2: Select the drive which is your SD card and then click "Next" button. The software will scan the selected drive for lost files.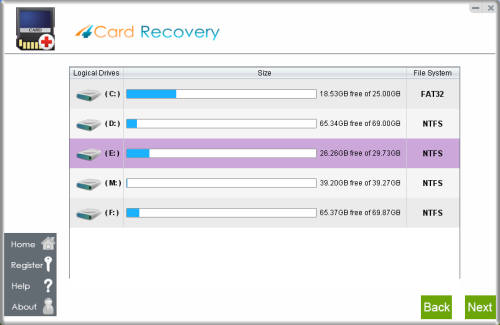 Select card to search photos off card
Step 3:
Wait patiently when the software is scanning the selected drive for lost files.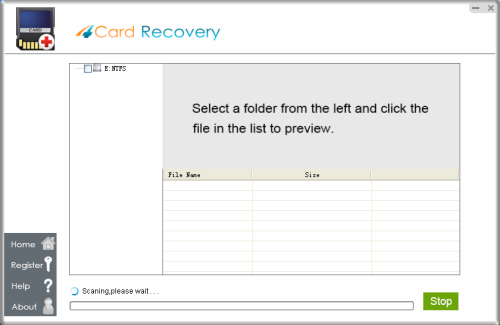 Wait while scanning lost photos, sometimes it takes about 20 minutes to scan a 32G card.
Tips: if it takes more than 2 hours to scan a 32GB card, you may stop the scanning and wait to see
what's already found. Since the card may contains bad blocks that takes longer time than usual.
Step 4:
You can preview the found files. Select the files you want to recover and click "Recover" button to save them.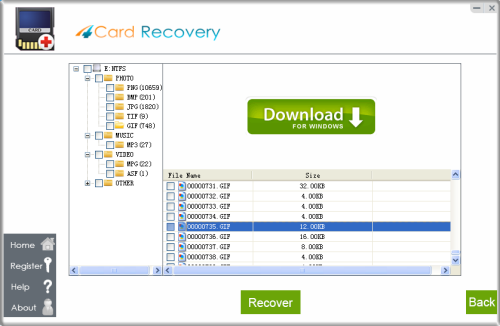 Preview lost photos and save found files. It would generate a folder to contain your lost data.
Please do not save the photo to the card where you lost them. Save them to your PC drive!

Download 4Card Recovery
Memory Card Photo Video Loss
Memory card is most frequently used to store photos and videos . Sometimes, when you are viewing photos or videos on a memory card, you may delete the selected files mistakenly. Even worse, you press the "Delete All" button to delete everything on the memory card or press the "Format" option to erase the whole memory card.
Another problem is memory card error. When you insert your memory card to a computer, system asks you to format the disk before you can use it. What's worse, system cannot detect or recognize the memory card any more.
All mentioned above are related to memory card data loss, so I will tell the solution to recover lost photos, videos or other types of file from memory card.
Memory Card Photo Video Recovery Free
Whatever the reason is, if you want to recover photos, videos or any other type of file, 4Card Recovery can help you find the deleted or lost files on memory card. The software is even able to search files from unrecognized or undetectable memory card. With help of this memory card recovery software, you are able to restore any lost due to various reasons including deleting, formatting, memory card not formatted error, memory card RAW drive, etc.
Undelete / Unformat Memory Card
By using 4Card Recovery, it is no longer an intimidating experience when deleting files or formatting memory card. If you want to undelete or unformat a memory card, you are required not to write more files to the card to prevent the data from being overwritten.
How will data be overwritten?
When referring to overwriting, some users shall have a misunderstanding. As a matter of fact, the data only be overwritten when new added files are stored to the sector where was used to save the lost data.
Tips for Memory Card Error
Memory card error often includes:
Memory card not formatted error
Memory card is unreadable
Cannot access memory card due to bad sectors
Memory card is shown as RAW drive
For memory card deleted file recovery or format recovery, you only need to remember not to write additional data to the card before restoring the files you need. However, for memory card error, most people don't know what to do with it. The reason why memory card error troubles so many people is that they are not clear whether they can format the card or not. The correct solution should be to recover files first, and then format the card. If you have formatted the card before data recovery, 4Card Recovery is also available for lost data recovery.
Memory Card Cannot Be Formatted! Why
No matter you format a memory card due to card error or you just want to format the card to erase the data, now the problem is that system prompts you format is not completed. Are you wondering why? In fact, this kind of problem can be caused by various reasons. For example, the memory card is destroyed, data stored on the card is corrupted, system crash, virus infection and more. If you are sure the problem is not caused by Windows system breakdown, you can try to format the memory card in following way: Right click "My Computer" ->> select "Manage" ->> go to "Disk Management" ->> right click the memory card ->> select "Format" option.
Need Help for Memory Card Recovery
1. I cannot open my memory card after my son used my Samsung mobile phone to play game. Samsung says no memory card is available when I open the media device. Then I connect the card to my Windows XP computer, and I receive a message to say memory card is not formatted. I really need some important pictures stored on this card, how can I fix the memory card not formatted error without formatting?
2. Just now, I delete several pictures on my SD card. But I don't want to use an expensive data recovery tool just for retrieving several photos, so I want somebody to recommend a freeware or trail software with which I can get back the photos.
3. I have a SanDisk SD card 4GB of several years. I have stored many videos and photos on this card, but I formatted it due to a mistake. Unlike deleting a file from the card, all files are erased when formatting the card. Can I unformat the SD card with any solution?
Download 4Card Recovery for SD RAW Recovery