Summary
A USB flash drive data recovery program named 4Card Recovery is introduced here to help users rescue all lost files back from a formatted USB flash drive.

Formatted USB Flash Drive Data Recovery
Free download 4Card Recovery to restore all wanted data like music, videos, photos and all others back from a formatted USB flash drive.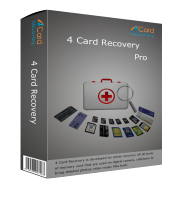 Want to Recover USB Flash Drive Files after Formatting
Format your USB flash drive as receiving a message saying "The disk is not formatted. Do you want to format it now"? Format your USB flash drive as its file system turns into RAW? Format your USB drive as getting some drive errors? Or simply format your USB hard drive by mistake? Don't worry! Immediately copy all lost data back from your backups. Do not have a data backup? Relax! Stop writing anything new on this formatted USB drive and set out to restore all lost files with a USB flash drive data recovery program.  
How to Recover Formatted USB Flash Drive Files back
Free download 4Card Recovery Software As a disk user, we often take the formatting process as an efficient way to clean drives/memory cards up quickly.  However, in some degree, this idea is not right, because the formatting process, especially the quick formatting process, will not really erase everything off from our drives or cards. That's exactly why the data on a formatted drive/memory card can be restored by simply using a data recovery tool. So, you've better immediately apply a powerful USB Flash Drive Data Recovery Program like 4Card Recovery to rescue all your USB drive files back step by step: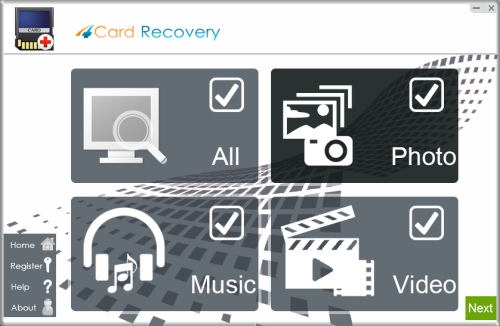 Select recovery options in the main interface
Step 1:Free download this USB Flash Drive Data Recovery Program to your computer after plunging this USB flash drive well. Specify a wanted data recovery type from four general options. A practical data recovery option often matters a lot.
Step 2:Highlight this connected USB flash drive as the scanning device.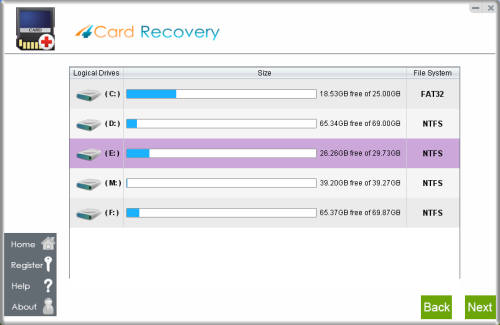 Select card to search photos off card
Step 3:
Preview all scanned files and check whether they are all recoverable.
Step 4:
Restore all recoverable files on another drive or storage device.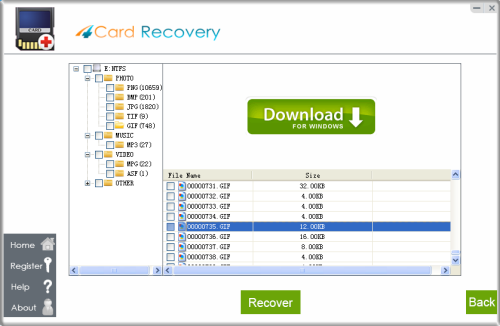 Preview lost photos and save found files. It would generate a folder to contain your lost data.
Please do not save the photo to the card where you lost them. Save them to your PC drive!

Download 4Card Recovery
Some Common Tips:
* Remember not to save anything new on this USB drive before you've rescued them all back.
* Remember to preview all scanned files and restore all wanted files.
* Remember not to save all restored files on the same USB drive to avoid unwanted data loss.
* Remember to save make data backups regularly in the future.
Why to Choose 4Card Recovery
As a powerful data recovery tool, 4Card Recovery has many outstanding features comparing to other data recovery tools. At first, in order to facilitate all users, it has offered a really easy-to-use interface. After installing it on your computer, you always can easily and quickly grasp it with its built-in Wizard directions. Secondly, in order to help cope with diversified data recovery problems, it has offered four data recovery options. With these four practical and useful options, it always can get back all needed data back successfully. Thirdly, except help re-accessing data from different USB drives, this tool can perform much more efficiently on a camera/phone memory card. It does a better job in restoring data back from different memory cards. In short, 4Card Recovery is really worth trying. It will not let you down!
USB Flash Drive & USB Hard Drive
Do you know a USB flash drive is different from a USB hard drive? Do you know what the difference is? Don't rush! Let me explain it for you. Firstly, as one of the storage devices, a USB flash drive, also called "Thumb drive", is extremely smaller than a USB flash drive in size. So, it is often much more portable and flexible. Secondly, comparing to a USB hard drive, a USB flash drive often stores its data on the built-in limited flash memory instead of countless drive platters. So, it can always have a much smaller capacity. Thirdly, Since the USB flash drive often consists of some flash memory, it often cause no any noisy and heat as working. However, oppositely, because of many drive platters, reading/writing heads and actuators arms, a USB hard drive often creates noises and heat as working. Overall, a USB flash drive and USB hard drive are really different. You'd better carefully choose them according to your own needs.
Download 4Card Recovery Now