Summary
This tutorial tells how to restore photos off sd card when it became RAW drive or raw file system and has not formatted error.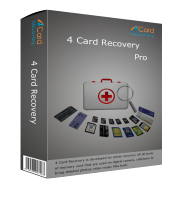 Important Tip: Do not use sd card to save new data
SD card is usually used in digital camera or mobile phone to store photos. However, in many cases, the file system of an SD card can become RAW. SD card RAW drive can disable you to access photos stored on the card. How can you recover photos from an SD card when it shows RAW file system. Try 4Card Recovery, the right program for you to restore data inside of raw sd.
Step-by-Step Guide: How to Recover Photos off SD RAW Not Formatted Error
Free download 4Card Recovery Software, and follow the guide below to recover SD card photos now.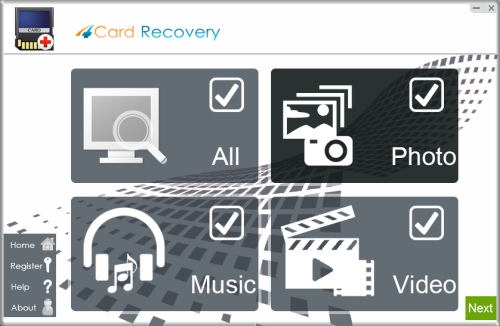 Select recovery options in the main interface
Step 1: Insert SD card to a PC through a card reader or USB cable. Run the software and select "Photo" recovery type and then click "Next" button..
Step 2: Select the drive letter of your SD card and click "Next" button.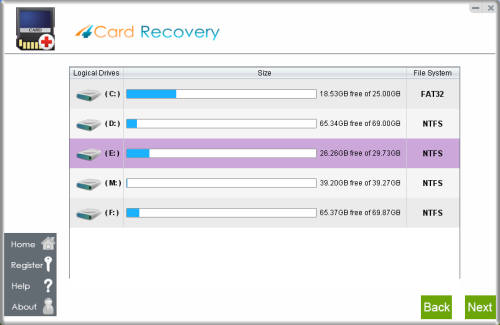 Select card to search photos off card
Step 3:
Wait in the scanning process.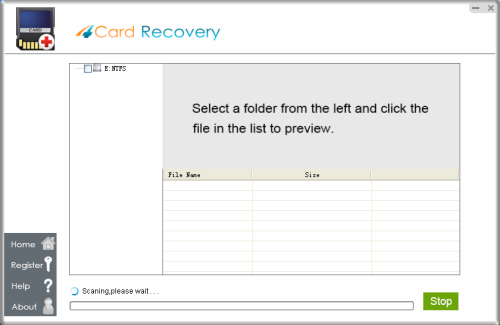 Wait while scanning lost photos, sometimes it takes about 20 minutes to scan a 32G card.
Tips: if it takes more than 2 hours to scan a 32GB card, you may stop the scanning and wait to see
what's already found. Since the card may contains bad blocks that takes longer time than usual.
Step 4:
Preview the found photos. Select the photos you need and click "Recover" button to restore the selected photos..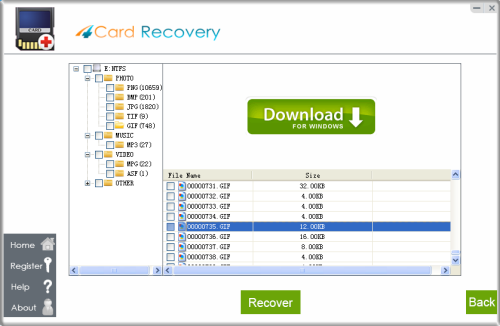 Preview lost photos and save found files. It would generate a folder to contain your lost data.
Please do not save the photo to the card where you lost them. Save them to your PC drive!

Download 4Card Recovery to restore photos from sd raw.
Pay attention: please not store the recovered photos to the RAW SD card
Why? The software will prevent you from saving photos to the source partition because it may overwrite the lost photos and delete them permanently.
Recover Photos with 4Card Recovery Software
In order to rescue photos from an inaccessible SD card due to RAW file system, professional data recovery utility is required. You can use 4Card Recovery Software to retrieve photos stored on your SD card within a few simple steps. This software is completely free and allows you to recover various formats of photos like BMP, JPEG, GIF, Tiff, SVG and RAW images and so on. All brands of SD card such as Toshiba, Samsung, SanDisk, Lexar, etc are supported by 4Card Recovery Software. This software can work on all Windows OS.
The most important tip: don't format the SD card before data recovery
It is highly recommended you not to format your SD card when it shows RAW file system. What if you mistakenly format the card before data recovery? Technically speaking, photos stored on SD card might be overwritten by formatting, so you may lose the best chance to restore any photo.
Convert SD Card from RAW to FAT32
Along with the wide use of SD card, many factors can lead an SD card to become a RAW drive. However, as long as the SD card is not physically damaged, it is quite possible to convert the card from RAW to FAT32 once photos are restored successfully with the software above. The easiest way is to connect the card to your PC and right click the card and select "Format" option to format the card to FAT32. If it doesn't work with this method, you can go to "Disk Management" to find the drive of SD card and format it there. SD card cannot be formatted? Now, you can go back to "My Computer" and use the Windows built-in tool to check and repair bad sectors on the SD card.
Symptoms of RAW Error on Different Types of SD Card
SD card is one of the most common types of memory card, while SD card can also be different types that include micro SD card (also known as TF card), mini SD card, MMC, SDHC, SDXC, etc. You can know an SD card has RAW drive by checking its properties. In addition, you may also know an SD card has changed its file system to RAW when you read the following message.
SD is not formatted do you want to format it now?
File names contain "weird" characters.
Invalid media type reading drive. Abort, Retry, Fail?
Error message like "Sector not found", "data error", "read/write error" or "bad sectors", etc.
Users Run into SD Card RAW Recovery
1. I don't believe it that I can rescue all my lost photos on my camera card before I use 4 Card Recovery Software. It saves my photos from the SD flash when it says RAW file system. Thanks for this powerful software! Thanks a lot! I would like to share this software to more friends.
2. My micro SD card stops me from accessing any data inside by showing disk not formatted error. Its file system also changes to RAW from FAT32. Thanks to 4 Card Recovery Software, it helps me get data off the RAW card free of charge. It also saves a lot time since it is an efficient tool that helps me recover files quickly.
3. Without any doubt, 4 Card Recovery Software is the best data recovery software available in market. I have restored more than 2000 pictures from a RAW flash memory without any pay by using this software. It is also a good choice for users who are not familiar with data recovery, because it is very easy to handle. I restore all my pictures just after several mouse clicks.
Download 4Card Recovery for SD RAW Recovery