Summary
This page will show you the method to recover files such as pictures, videos, music and all other types of files from an SD card after formatting or SD card has not formatted error.

Unformat SD Card by Using 4Card Recovery
Free download 4Card Recovery to unformat SD card, micro SD card, mini SD card, etc that was manufactured by SanDisk, Toshiba, PNY, Samsung, Kingston, KingMax, and more.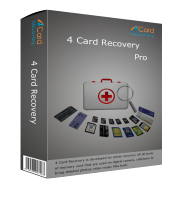 Recover Formatted SD Card with 4Card Recovery
4Card Recovery is powerful and reliable data recovery software for all kinds of memory card. It is available for lost file recovery after formatting or SD card has not formatted error. This software is also a good solution for data recovery when files are lost due to other reasons like RAW file system, bad sectors, and more. This recovery software includes 4 recovery options on its main interface. You can select any of those options to meet your needs to restore data. You can free download 4Card Recovery and unformat your SD card with help of following guide.
Unformat Data from SD Card Step by Step
Free download 4Card Recovery Software, and follow the guide below to recover SD card photos now.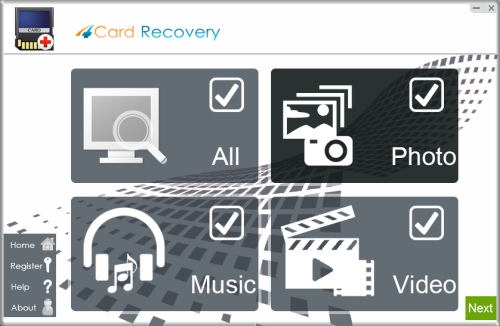 Select recovery options in the main interface
Step 1:Run the software and select a recovery option. You may select "All" or just "Photo", "Music", or "Video"
Step 2:You can see all devices shown on the software. Select the drive which is your SD card and then click "Next" button. The software will scan the selected drive for lost files.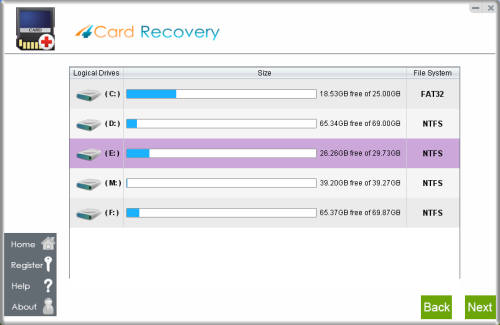 Select card to search photos off card
Step 3:
Wait patiently when the software is scanning the selected drive for lost files.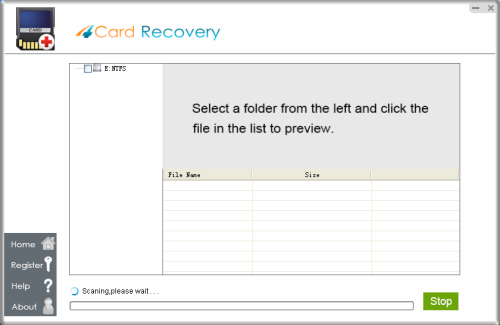 Wait while scanning lost photos, sometimes it takes about 20 minutes to scan a 32G card.
Tips: if it takes more than 2 hours to scan a 32GB card, you may stop the scanning and wait to see
what's already found. Since the card may contains bad blocks that takes longer time than usual.
Step 4:
You can preview the found files. Select the files you want to recover and click "Recover" button to save them.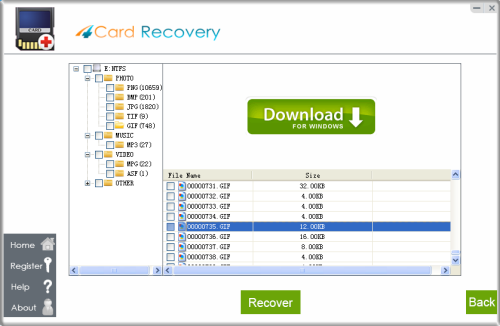 Preview lost photos and save found files. It would generate a folder to contain your lost data.
Please do not save the photo to the card where you lost them. Save them to your PC drive!

Download 4Card Recovery
SD Card is Formatted by Chance
A simple mistake on your digital camera , mobile phone or PC can lead you to format your SD card and the SD card will be erased. You are at risk of losing all data stored on the SD card when making such a mistake, so you may see various users that ask the similar questions online related to SD card data loss due to format. For instance:
1. I formatted my SanDisk SD card on Nikon DSLR camera and lost some pictures, videos and music on the card. The most important data for me is the videos and pictures, so I want to look for a solution to recover them. It will be better if I can also recover the music. Can somebody give me a hand?
2. Whatever, I formatted my SD card by mistake when I was uploading some files from the card to my PC. Is there any solution for a formatted SD card data recovery?
Tip
Formatting of SD card can erase the data, so you need to use 4Card Recovery to undo format and restore the lost files. However, 4Card Recovery is only helpful in data recovery before it is overwritten. Therefore, you had better not write any file to the formatted SD card .
Features of 4Card Recovery
1. User-friendly design with 4 recovery options.
Once you start the software, you can see 4 basic recovery options which are "All", just "Photo" , "Music", and "Video". If you only want to recover a certain type of file, you just need to select the related recovery option. For example, if you only want to recover photos from your SD card, you can select "Photo" recovery option. Then the software will only scan for the lost photos on your card, which can save you a lot of time.
2. Recover data efficiently without quality loss
4Card Recovery can scan your SD card for lost files efficiently in a short time. The files restored by this software can remain their original quality.
3. Supports all types of file recovery
With 4Card Recovery, you are able to restore any data on formatted SD card. Simply, you can restore pictures (BMP, RAW image, PNY, JPEG, TIFF, GIF, etc), audio files (wav, mp3, wma, etc), video files (3gp, mp4, mpeg, m4v, etc), PDF files and more.
Unformat Solution for SD Card Not Formatted Error
On the one hand, if you stop formatting an SD card before the formatting process is completed, SD card will show not formatted error when you double click on the card and want to access it. In this situation, you only need to accomplish the format and use 4Card Recovery to restore data. On the other hand, SD card will show not formatted error due to some external factors such as virus attack, improper operation, etc. In this situation, you also need to use 4Card Recovery to perform SD card file recovery because this is the only method that you can get data off an SD card which cannot be accessed.
No matter SD card is formatted by chance or it has not formatted error, you often need to use 4Card Recovery to recover memory SD card. However, most SD card users feel more worried when meeting not formatted error on card because they are not sure if it will erase all data on the card if they format it. For example,
1. I insert my micro SD card into my computer with a card reader, but Windows says disk in drive H: is not formatted do you want to format it now. I cannot format it because I don't know if I will lose all data on the card after formatting. But Windows doesn't let me see any file on the card without formatting. What can I do to access the card without formatting?
2. My camera says the memory card SD is full when I use it to take pictures, but my PC recognizes the card as 0 byte. However, the truth is the card has 4GB capacities while it may contain 2GB data. I want to copy the files to another card but I receive an error message by Windows: You need to format memory card before you can use it. I am wondering if the card will be wiped off after formatting, so I don't dare to format it for the security of files.
Tip
Formatting the card or not won't affect the data recovery result when there is not formatted error on the card. You just need to pay one point: whether you can restore data or not depends on whether the data stored on the card is overwritten or not. In addition, another factor that may affect the data result is if the SD card is physically damaged. For an SD card that has been physically damaged, it is impossible to restore any data.
Download 4Card Recovery Now