Summary
This tutorial is about how to rescue data off sd card, microsd card and other memory sd card that was formatted or has format error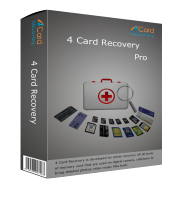 Recover sd card after formatting or format error with 4Card
What can you do to recover data after formatting an SD card? Keep your sd where it just lost data to make it the best chance for data recovery. Do not save new photos or videos to the card before format recovery. It is quite a common problem for data loss due to formatting an SD card, but it is a difficult task for some users to recover the lost files from formatted SD card. However, for professional data recovery worker, it is quite easy to recover any data after formatting. Now, let's see what to do if we want to retrieve formatted SD card files.
Step-by-Step Guide: How to Unformat SD Card Data like Photos Video Files
Free download 4Card Recovery Software, install and run it on your PC. Connect the SD card to your computer. Select the file types you want to recover. You may select "All" or just "Photo", "Music", or "Video".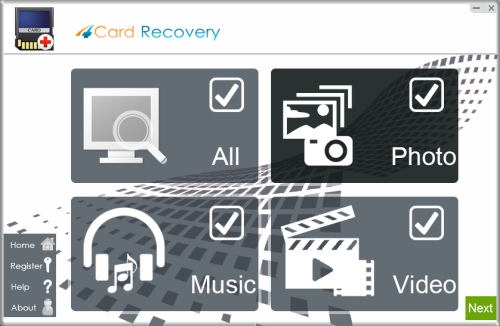 Select recovery options in the main interface
Step 1:
When you see all the devices shown on the software, you can select the drive which is your SD card and then click "Next" button. The software will scan the selected drive for lost files.
Step 2: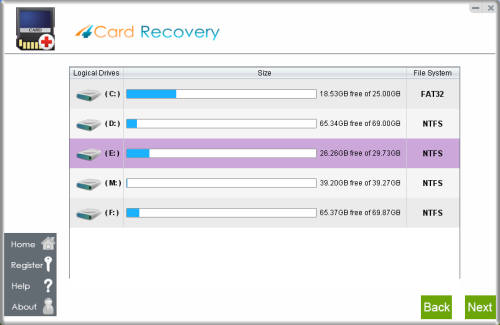 Select card to search photos off card
Step 3:
Wait while scanning your memory card or USB flash, which usually takes serveral minutes.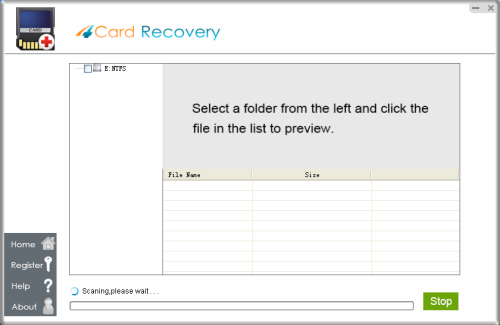 Wait while scanning lost photos, sometimes it takes about 20 minutes to scan a 32G card.
Tips: if it takes more than 2 hours to scan a 32GB card, you may stop the scanning and wait to see
what's already found. Since the card may contains bad blocks that takes longer time than usual.
Step 4:
Select the files you want to recover and click "Recover" button to save them.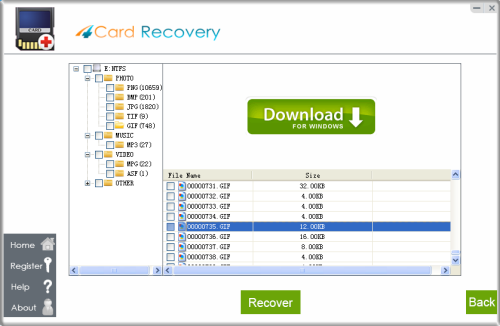 Preview lost photos and save found files. It would generate a folder to contain your lost data.
Please do not save the photo to the card where you lost them. Save them to your PC drive!

Download 4Card Recovery to restore sd card photos after formatting.
Important Tips
1. When you format an SD card, system will mark the space on the card as available for new data. If you want to recover lost files due to formatting, you cannot write additional files to the formatted card because it will overwrite the lost files and make them unrecoverable.
2. You should wait patiently when 4 Card Recovery Software is scanning your SD card for lost files.
3. You cannot save the recovered files to original SD card to avoid the original data from being overwritten.
SD Card Format Recovery Software
As you know, everything stored on the SD card will be erased immediately after formatting, but the files are not erased permanently. Therefore, you need to use professional recovery software to get back the lost data. 4 Memory Card Recovery Software is a freeware to help you recover photos, videos and other types of files from any brand of memory card including SD card, mini SD card, micro SD card, etc. This software is able to recover files due to mistaken formatting and unformat error and more other reasons.
Possible Situations to Format an SD Card
1. Format an SD card due to mistake
You are viewing files on your SD card, but mistakenly you press the "Format" button on your camera or PC? No matter the format is completed or not, you will be unable to view files on the card anymore. If the format is completed, you will find your SD card will become empty and all data has gone. Even if you stop the format process when you realize the mistake, you will find you are unable to access SD card since it will say SD card is not formatted. Don't worry, data can still be restored.
2. Format an SD card on purpose
It sounds ridiculous, but sometimes you may want to format an SD card for a particular reason. For example, you may want to erase an SD card in a short time. There is no doubt that formatting an SD card is the most efficient way to erase the card. However, important data is also lost after formatting if you forget making a backup.
3. Format an SD card due to not formatted error
You may ever encounter not formatted error when using an SD card, but you may still feel wondering if you should format the card when receiving the error message: disk in drive is not formatted do you want to format it now. Format it or not? It is doesn't matter since 4Card Recovery would also restore data off formatted memory sd card.
SD Card Requires Formatting! Format It or Not
Not formatted error can occur on an SD card when it is inserted in a digital camera, an Android phone, or PC. This kind of error is not affected by the brand of a camera or Android phone, but it may affect the data stored on the card. As to my experience, it is strongly recommended not to format the card when it requires formatting. SD card not formatted error can occur due to many reasons. In this situation, formatting may overwrite the card and lead data to be unrecoverable.
SD Card Cannot Be Formatted
Camera or smartphone prompt SD card needs to be formatted, and Windows system asks you to format the memory card when you inset the SD card to PC through a card reader. Even when you decide to format the card but you receive a message saying: Windows cannot complete the format. Now, try the following method:
Firstly, right click the drive of SD card and select Properties -> Tools -> Check Now -> Tick "Automatically fix file system errors" and "Scan for and attempt recovery of bad sectors".
Stop here if the errors can be fixed with the method above. If you receive the following message: "The disk check could not perform because windows cannot access the disk", please click Start -> Run -> Type chkdsk H:/F (H: is the drive letter of your SD card).
Related Cases – 4 Card Recovery Software for SD Card Recovery
1. I have an 8 GB SD card that I mistakenly format it by pressing the wrong button on my Nikon camera. How could I unformat the SD card to get back my files? Those files are photos and videos.
2. I want to recover videos and music from a memory card Toshiba SD. My camera says there is no memory card though I inserted the SD card into it. And my Windows PC also says memory card needs to be formatted before I can use it.
Suggestion:
For the two cases above, users can use 4Card Recovery Software to perform a data recovery. Whether you want to recover data after formatting or not formatted error, 4Card Recovery Software can always work perfectly and restore files efficiently.