Summary
This page will introduce how to restore data from USB flash drive, memory card or other storage devices when formatted by mistake or other reasons.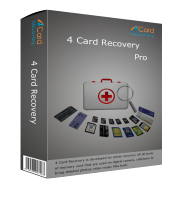 Recover Data after Formatting Card/USB with 4Card Recovery
When you format a device like memory card or flash drive which contains important data, you can use 4Card Recovery to undo the formatting and get back lost data. 4Card Recovery can help you recover all kinds of files including photos, videos, music, emails, etc when the memory card or USB is formatted by chance. What if you format a card or USB when it shows not formatted error? 4Card Recovery is still helpful with the lost data recovery when card or USB has error.
How to Use 4Card Recovery to Recover Data after Formatting
Before recovery, you need to download free 4Card recovery software.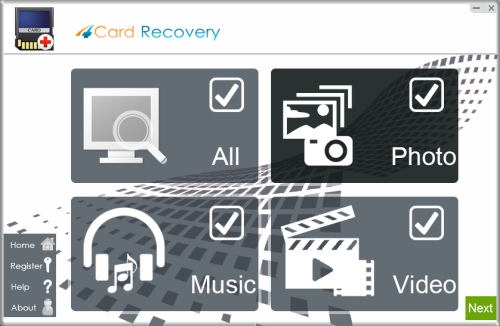 How to Use 4Card Recovery to undelete photos from memory
Step 1:
Connect the memory card or USB to your computer. Free download, install and run 4Card Recovery and select a proper recovery option from "All" or just "Photo", "Music", or "Video".
Step 2:
Select drive letter of the USB or memory card and click "Next" button to begin scanning.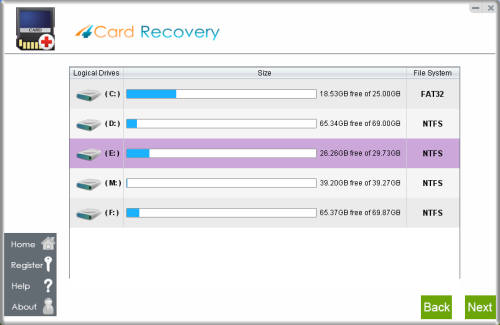 Select card to search photos off card
Step 3:
The scanning process will last for several minutes, please wait patiently.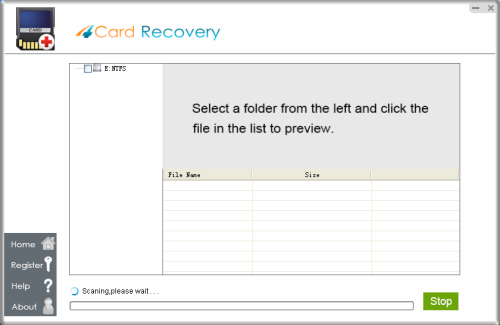 Wait while scanning lost photos, sometimes it takes about 20 minutes to scan a 32G card.
Tips: if it takes more than 2 hours to scan a 32GB card, you may stop the scanning and wait to see
what's already found. Since the card may contains bad blocks that takes longer time than usual.
Step 4:
You are allowed to preview the found files before deciding recovering them. Finally, choose the files you need and click "Recover" button to save them to a different storage device.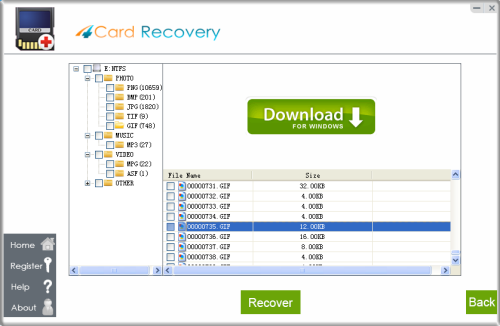 Preview lost photos and save found files. It would generate a folder to contain your lost data.
Please do not save the photo to the card where you lost them. Save them to your PC drive!

Download 4Card Recovery
Download Software for Recovery after Formatting Memory Card USB Drive
If you are a memory card user like me, you may also have mistakenly formatted your memory card ever. What will you do when you realize that important data is erased due to formatting? The best chance for file recovery after formatting a memory card is before the data being overwritten, so it is very important not to write new data to a formatted card if you don't want to lose the lost files permanently. When formatting a card, system doesn't delete the files on the card completely. However, if you write new files to the card, the lost files might be overwritten and will be deleted forever.
Recover Data from Formatted SanDisk Card
Almost every memory card user knows SanDisk, which is one of the most popular brands of memory card. SanDisk card includes SD card, CF card and TF card, etc, which can often be used in digital camera and mobile phone. Just like other memory card users, SanDisk card users might unknowingly format the card on their camera or cell phone. Once the card is formatted, the data stored on the card will be erased accordingly. At this time, only data recovery software is helpful with lost data recovery. 4Card Recovery is able to recover files from any type of SanDisk card after formatting.
As a professional recovery program, 4Card Recovery is also available for data recovery from other brands of memory card like Toshiba, Samsung, Lexar, Sony, PNY, Transcend, Kingston, etc.
Format RAW SD Card into FAT32 File System
Formatting can help you change SD card from RAW file system to FAT32, so many SD card users might format their card when they find its file system has been converted to RAW. It is true that you may format an SD card from RAW to FAT32, but it is helpless with data recovery by formatting the card. What's worse, the SD card might be overwritten after formatting if you keep taking photos or other types of files to the card. Therefore, we highly recommend you to use 4Card Recovery to retrieve SD card files first of all, and then format the card to FAT32.
USB Flash Drive Is Formatted by Accident
USB flash drive is another media device for data storage and transferring, but it can only work on computer. Therefore, no matter you want to save or transfer files, you need to connect a USB flash drive to your computer. Usually, a USB flash drive often works like an external device when you connect it to a computer, so you may mistakenly format the USB drive when you are writing files to the USB or transferring data. In this situation, you can also use 4Card Recovery to perform format recovery and retrieve files from the USB flash drive as long as the drive is not overwritten by new added data. 4Card Recovery supports all kinds of USB flash drive.
How to Format Write-protected USB Drive with RAW File System
Many USB flash drives have a lock switch on its side. A USB flash drive will be in write-protected model when the lock switch is on. When a USB drive is write protected, it can prevent the data on the drive from being deleted or overwritten. However, some USB users reflected such a problem: there is no lock switch on their USB, but system says the USB is write-protected when they format the drive, the files system is shown as RAW.
Case:
My USB drive can recognized by my Windows XP computer, but its file system has been changed to RAW and the capacity has become 0byte. Double clicking the drive, Windows pops up disk not formatted message. Choose formatting the drive, Windows keeps saying cannot format the disk, disk is write protected. How can I format a write-protected USB drive with RAW file system?
For this case, 4Card Recovery assists with data recovery from the RAW USB flash drive. The software can perform full scan on the USB and search for almost all files stored on the drive. If you want to format a write-protected USB flash drive which has RAW file system, you may go to "Disk Management" to format the USB drive, or you may try to low-level format the drive or use professional format tool.

Download 4Card Recovery