Summary
How Can You Rescue Photos from Formatted CF Card - Download 4Card Recovery to Recover Photos from Formatted CF Card and there are also tips for You When CF Card Is Formatted Mistakenly.

CF Card Format Recovery by 4Card Recovery
Download 4Card Recovery to recover inside pictures off cf card that needs you to format CF Card When It Has Not Formatted Error, or you mistakenly formatted it by error.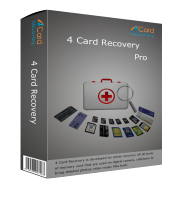 Formatted CF Card when Not Formatted Error! How to Restore Photos
"I format my CF card since I press the wrong button on my camera, can I recover the lost photos?"
"CF card needs to be formatted when inserting to my PC, will I lose photos stored on the card after formatting?"
Absolutely, any data including photos stored on the CF card will be erased when you format the card due to mistake or not formatted error, but you have the best chance to recover the lost photos until the lost data is overwritten.
How Can You Rescue Photos from Formatted CF Card
Free download 4Card Recovery Software, 4Card Recovery is a free memory card recovery program, which allows you to recover pictures from all kinds of memory card including CF card. The software is able to work with all brands of CF card on all Windows PC. Free of charge, risk-free, easy-to-use and powerful, 4Card Recovery has become the best choice for memory card users to perform data recovery.
Connect your CF card to your PC, and then you need to download and install the software on your PC first of all. Then, you can follow the steps below to retrieve your lost photos.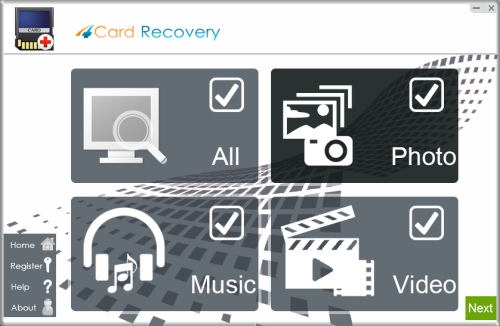 Select recovery options in the main interface
Step 1:Run the software and select "Photo" option. Then click "Next" button.
Step 2: Click the drive of your CF card and click "Next" button.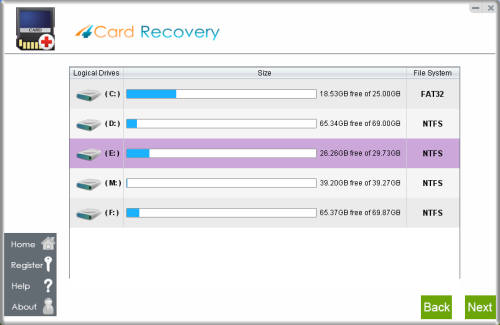 Select card to search photos off card
Step 3:
 Please wait in the scanning process.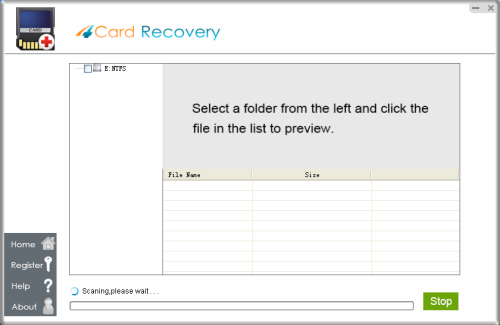 Wait while scanning lost photos, sometimes it takes about 20 minutes to scan a 32G card.
Tips: if it takes more than 2 hours to scan a 32GB card, you may stop the scanning and wait to see
what's already found. Since the card may contains bad blocks that takes longer time than usual.
Step 4:
 After scanning, you can preview all found photos. Only select the files you need and click "Recover" button. Select any partition instead of the CF card to save the recovered photos.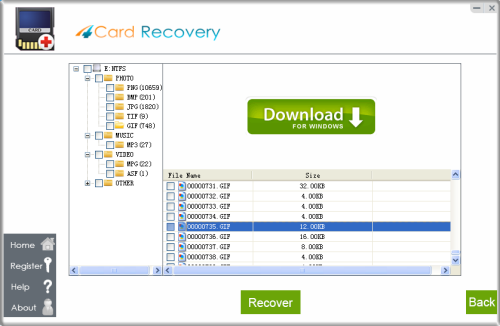 Preview lost photos and save found files. It would generate a folder to contain your lost data.
Please do not save the photo to the card where you lost them. Save them to your PC drive!

Download 4Card Recovery
Tips for You When CF Card Is Formatted Mistakenly
When a CF card is formatted mistakenly, the files stored on the card will be deleted and the CF card will be marked as empty. In this situation, you had better not write any data to the card. New data storage may overwrite the lost photos. If photos have been overwritten, probably you cannot recover them anymore.
Please pay attention:
Most users often think all photos will be overwrite even they write a file to the formatted CF card. In fact, it is not true. For example, you format a 4GB CF card which contains about 2GB pictures. Then, you write one picture which is only 2MB to the formatted card; the new added picture cannot overwrite the whole 2GB photos or the new added data may be stored to the other 2GB free space, so you can still recover the lost photos.
Can You Format CF Card When It Has Not Formatted Error
Not formatted error is a common problem on CF card that would cause data to be inaccessible. CF card users are often required to format the card when they meet this error. For CF card not formatted error, the reason why system requires you to format the card is that probably the file system of the card is corrupted or it has bad sectors. Therefore, formatting can help you fix the error on your CF card and meanwhile the entry to the data will be erased due to formatting. However, the true data is not deleted erased, so you need to use recovery software to recover it. Simply say, whether you format the card or not, professional recovery software is needed to get data off the card. Here, we highly recommend you to use 4Card Recovery.
Cannot Format CF Card with Not Formatted Error! How to Restore Photos
Windows cannot format a CF card with not formatted error? You are going to be crazy with the endless error message? Relax! Even if you cannot format the CF card, your photos are still recoverable.
Case:
My SanDisk CF card frustrates me a lot. I have taken lots of pictures on my baby's 2 year old birthday to my CF card with my digital camera. God knows what happened! The camera's telling me that I need to format the card before I can use it. I didn't format it and try to connect it to my PC, but I still receive the same message. Without any choice, I can only format the card in order to perform data recovery. However, the more desperate thing happened, Windows says CF card cannot be formatted. Anyway, I just want to restore the pictures on the card. Please give me a hand.
Suggestion:
For this case, I would like to say 4Card Recovery is available for lost file recovery. Besides, I want to share a point: it doesn't require you to format the CF card in order to use recovery software to perform data recovery. In another word, you can always use 4Card Recovery to retrieve the pictures you want no matter you format the CF card successfully or your formatting is not completed by Windows.
Download 4Card Recovery