Summary
A reliable data recovery utility - 4Card Recovery can help restore photos video files music files side of the usb before formatting your USB flash drive to NTFS or FAT32.

4Card Recovery - Recover data before formatting
Free download 4Card Recovery to get data off usb flash drive when it needs format to be fat or ntfs.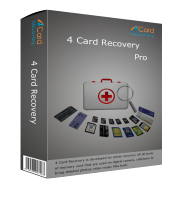 USB Flash Drive Format Recovery by 4Card Recovery
Download 4Card Recovery to recover data beforing convertting RAW USB flash drive to NTFS or FAT32. With this tool, one always can easily rescue all his inaccessible data inside this RAW USB flash drive before the formatting process.
What You Can do to Rescue USB Flash Drive Data
When the USB flash drive file system becomes RAW, the original files inside it are not thrown away immediately by your drive. On the contrary, it has perfectly reserved them for you. But, the drive also has to erase them as the new file is coming. So, you'd better not save anything new on this drive before you've rescued all your data back. Moreover, in order to rescue these files, you also have server things to do:
Plunge this USB flash drive to your PC and Download a USB Flash Drive Data Recovery Program named 4Card Recovery to your PC. After trying and testing this tools many times, I trust this tool can easily rescue all your wanted files back smoothly.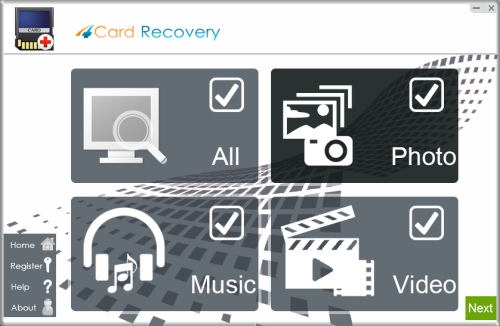 Select recovery options in the main interface
Step 1:Run and launch this tool to restore your data immediately. Of course, you'd better save this tool on another PC drive or storage device in case of data loss. Choose a right file type for your inaccessible files. It has designed four file types to specially restore different data for you like "Music", "Photo", "Video" and "All"
Step 2:Select this USB drive on the logical volume list and set out to scan this drive.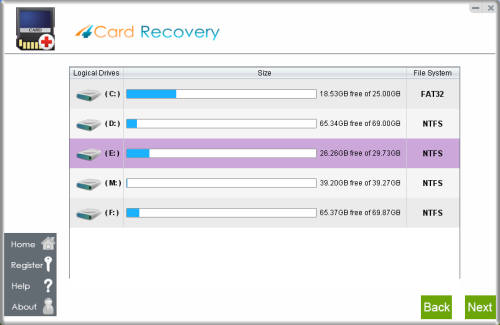 Select card to search photos off card
Step 3:
Restore all wanted data back.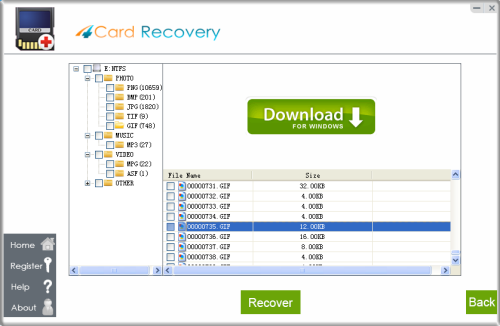 Preview lost photos and save found files. It would generate a folder to contain your lost data.
Please do not save the photo to the card where you lost them. Save them to your PC drive!

Download 4Card Recovery
Note:
* Keep this RAW USB flash drive away from any new file!
* Avoid formatting this USB flash drive before the data recovery process.
* Keep all restored data on another PC drive or storage device in case of real data loss.
* Keep making backup of everything important on separate drives or locations in the future.
What Has Happened to Your USB Flash Drive
USB flash drive is displayed as "RAW" in "Properties" or "Disk Management"? Want to format your USB flash drive back to NTFS or FAT32? Want to rescue the stored inaccessible data as well? Don't worry! The "RAW" file system problem often happens. As long as you follow our directions here carefully, you undoubtedly can make your USB drive work functionally as before and also get your stored data back as you wish.
What You Should Do to Convert RAW to NTFS or FAT32
Simply format this drive on your PC to convert its RAW file system back to NTFS or FAR32. After turning the file system back to previous one, you often can use this drive functionally as before.
How Much Do You Know about 4Card Recovery
As an experienced data recovery program, 4Card Recovery offered many great data recovery features. For example, in order to satisfy different data recovery needs of different users, 4Card Recovery has considerately provided four data recovery types: "Photo", "Video", "Music" and "All". Every data recovery type always can be easily understood. The "Photo" data recovery type can specially cope with different drive/memory card photo recovery problems. The "Video" data recovery type can specially deal with different drive/memory card video recovery problems. Needless to say, this tool also can work perfectly both on a memory card and USB drive. So, it is really a trusted data recovery tool.    
Which One Is Better, NTFS or FAT32
Want to know which file system is better for you, NTFS or FAT32? In my experiences, that is often not subjectively decided by you. It often depends on which file system your PC supports. For example, if your PC can only read the NTFS file system drive, without any choice, you have to format this drive to NTFS, as long as you want to keep on using this drive there. So, you'd better carefully check which file system your computer supports before formatting.
Download 4Card Recovery Now