Summary
This article is about data loss from CF card after formatting and format recovery software - 4Card Recovery to recover photos from formatted cf card together with some useful tips.

4Card Recovery - Recover data off formatted CF Card
Free download 4Card Recovery to get data off cf card when it cannot be formatted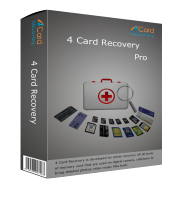 CF Card Formatted by Mistake
Sometimes you simply press the wrong button so that the photos are mistakenly deleted, when you just sign pitiful and can do nothing to retain the photos. Or even worse, you format your cf card intentionally or unintentionally and lose all important files and photos. Another possible case for data loss is cf card unformatted error.
Recover Photos off CF Card After Format
All the above data loss can be fixed up by a software---4Card Recovery. This utility can get your data back, including photos, music, video and other kinds of files. Most memory card users mistakenly believe that once they format their card, all the data will be completely removed off the card. In fact, the system just mark the previous data as free space, and they still exist on the card. Therefore, 4Card Recovery can use advanced technology to retrieve the deleted files and recover photos from formatted memory card.
To recover data from formatted cf card, you need firstly visit free download 4Card Recovery. Then go ahead install the tool onto your PC, and connect your cf card with the computer. When your card is detected by the system, you can find the card sign from "My computer"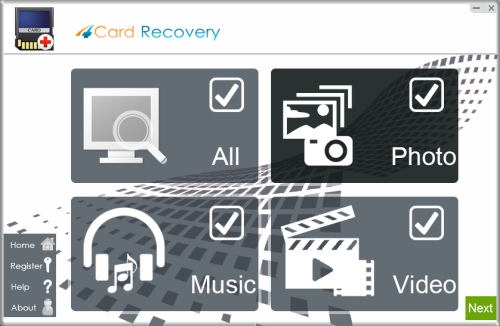 Select recovery options in the main interface
Step 1:launch the software by double clicking the icon on the desktop. You can get a main interface with four choices. You can click "All" if you want to recover all types of files you deleted, or choose either of them for your case. Click "Next" button, and you can move to a new interface with several drives.
Step 2:You should choose the card you need retrieve and click "Next" again. Then the software will scan the whole card and search the files on it. This process may cost you several minutes (if your card is in large size, this may cost even longer), so you have to be patient. Then you can find many files are scanned out.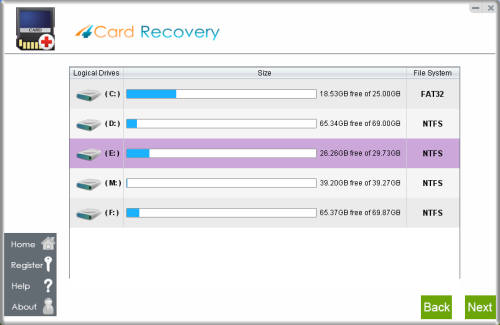 Select card to search photos off card
Step 3:
Here you need tick those photos, music files or others you need and click "Recover". You can find a new folder appears on your desktop with all the files you ticked just now. You can preview whether the software successfully recovers all of them. In case of unwanted data loss, you'd better do not save the recovered data onto your cf card, but save them to your computer or other memory card.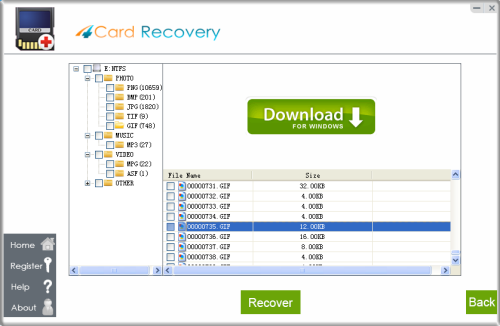 Preview lost photos and save found files. It would generate a folder to contain your lost data.
Please do not save the photo to the card where you lost them. Save them to your PC drive!

Download 4Card Recovery
CF Card Format and Unformatted Error
When you come across the cf card unformatted error, here is a useful tip for you. You do not need to format your card but use the 4Card Recovery firstly to back up all your data. As mentioned above, you cannot save the back-up onto your cf card. You should choose a new storage, in which case you can both be free from the pain of data loss and easily fix the unformatted error.
Data Loss with CF Card
As a digital camera lover, you must be quite familiar with the cf card, which is the storage card for your exquisite photos. And you may also encounter the situation that data lose from the cf card.
When you turn on your digital camera, the screen pops up a message that cf card need be formatted. If you ignore the warning, you cannot take any photos. Then you will query whether you should format the cf card or not. If you press "Yes", you will erase all your previous photos; if not, the screen will consistently warn you and prevent you from taking any new photos. This error may also come out when you connect cf card with PC and system will fail to display your photos. If infected by virus or malware, system will also warn the user to format the cf card. Apart from these unwanted data loss, you may sometimes want to manage the files on your cf card for more data and format your card on purpose. However you want to retrieve some photos afterwards. Be free to use 4Card Recovery to restore deleted formatted data from cf card.
Download 4Card Recovery Now