Summary
This article is about unformating all kinds of media to get lost data that were mistakenly formatted from memory card, flash usb like sd card, micro sd card, sandisk card, tf cf card, mmc card, usb flash, memory stick etc .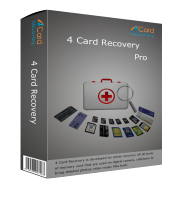 Want to Undo Format on Memory Card, SD Card or USD Drive
Format your memory card, SD card or USB drive by chance? Want to undo the formatting process for the inner stored data? Don't worry! You absolutely come to the right place. By reading the following article, you will know clearly how to rescue all your lost images, videos, music, texts, messages and more back from the accidentally formatted memory card, SD card or USB drive. Right now, what you need is only a powerful data recovery tool like 4Card Recovery
How to Unformat Memory Card, SD Card or USB Drive with Data back
Before recovery, you need to download free 4Card recovery software.There are many inevitable causes that can make one to format his memory card, SD card or USB drive without a data backup. That's why many people regret and wonder to undo the formatting process for rescuing data. In fact, that's not a daydream for us all. No matter how and why you format your card or USB drive, the lost images, videos, music, messages and more absolutely can be restored, as long as you take the right steps: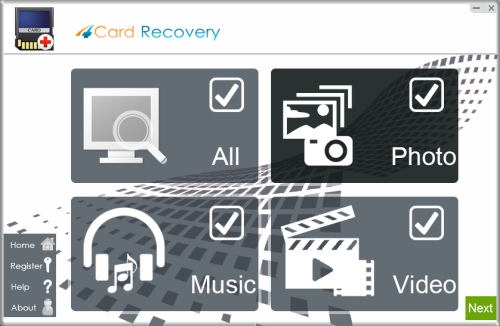 How to Use 4Card Recovery to undelete photos from memory
Step 1:
Don't overwrite this formatted memory card, SD card or USB drive with any new file. Connect this card or drive to your PC and begin to rescue your data. Download and run 4Card Recovery on your computer. This data recovery program offers four data recovery types to help users rescue all wanted data back with ease.
Step 2:
Specify a fixable data recovery type from four and also set this formatted card or drive as the scan target.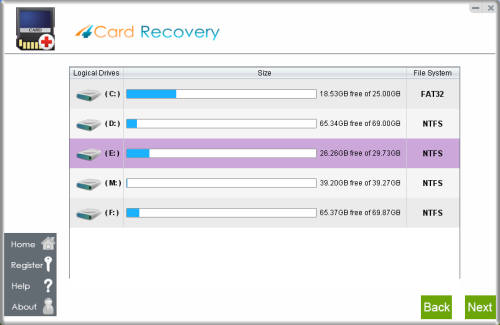 Select card to search photos off card
Step 3:
Wait while the program scans your lost data.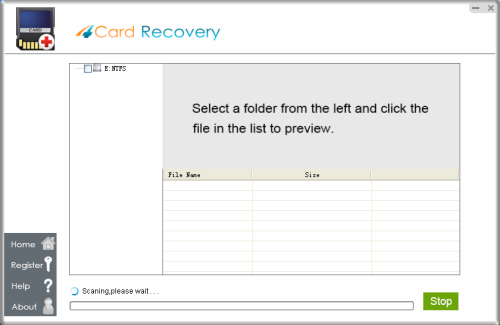 Wait while scanning lost photos, sometimes it takes about 20 minutes to scan a 32G card.
Tips: if it takes more than 2 hours to scan a 32GB card, you may stop the scanning and wait to see
what's already found. Since the card may contains bad blocks that takes longer time than usual.
Step 4:
Restore and back up all wanted data on anther memory card or hard drive in case of data loss.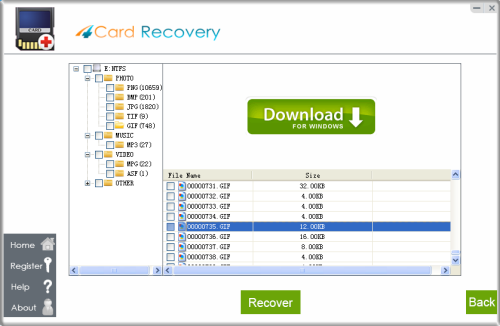 Preview lost photos and save found files. It would generate a folder to contain your lost data.
Please do not save the photo to the card where you lost them. Save them to your PC drive!

Download 4Card Recovery
PS:
*Any new file on the same memory card, SD card or USB drive can cause original data loss after formatting, including the newly downloaded data recovery program files and folders.
*Previewing scanned data before the restoring process can help avoid many unnecessary troubles.
* Saving restored data on the same drive or card can make everything worse and even cause much more data loss.
4Card Recovery Description
4Card Recovery, as an efficient data recovery program, has offered many great features for one to restore lost data back from nearly all sorts of memory cards and USB drives, (including some widely-used SD cards, CF cards, Mini SD Cards and hard drive, external drive, USB flash drives, etc.) With this data recovery program, one always can easily retrieve wanted data with different formats back successfully. Moreover, with its four data recovery types, one always can rescue specified data with ease, even as he is under different situations, such as accidentally pressing "Delete All" option, "Not Formatted" memory card or USB drive issue, inaccessible or unreadable card or drive for improper extracting operation, and the likes.
Why You Can Unformat Memory Card or USB Drive with Data Back
Up to now, you must know the data on a formatted memory card or USB drive is recoverable before overwriting. But, do you know why it is possible? Don't rush! Let me explain. In fact, after the memory card, SD card or USB drive is accidentally formatted, the inner data is not immediately removed. Oppositely, it is and will be still stored on its original place till it is overwritten by anything else. That's why you are supposed not to overwrite this formatted card or drive before the successful data recovery.   

Download 4Card Recovery