Summary
This tutorial is about what cf card raw file system and not formatted error is plus recovering data off not unopenable raw cf card.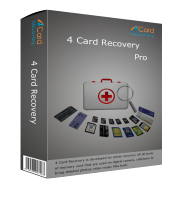 Recover cf card from raw file system error with 4Card
Digital camera says "CF card error" while shooting? Mobile phone tells "there is no memory card" while trying to view files? Windows pops up message "CF card needs to be formatted before you can use it" when the card is connected to a PC? CF card is showing "RAW file system" when checking its properties? Want to rescue files from the CF card when it has RAW file system?
4Card Recovery Can Meet Your Needs for RAW CF Card Recovery
If you run into CF card RAW error and want to get back files stored on the card, 4Card Recovery can meet your needs for data recovery. This software is able to help you restore photos, videos, music, and all other types of files effectively and quickly. With help of 4Card Recovery, you can restore files from all kinds of CF card when its file system has been converted to RAW.
Step-by-Step Guide: Recover Files from RAW CF Card
Free download 4Card Recovery Software, Connect the CF card to your PC. Download, install and start the 4Card Recovery on PC. Select a recovery option and click "Next" button.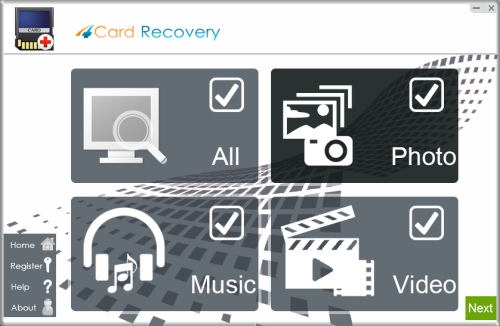 Select recovery options in the main interface
Step 1:
Click the drive letter of the CF card and click "Next" button.
Step 2: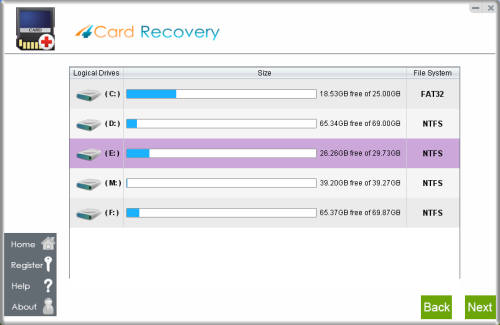 Select card to search photos off card
Step 3:
Wait patiently in the scanning process.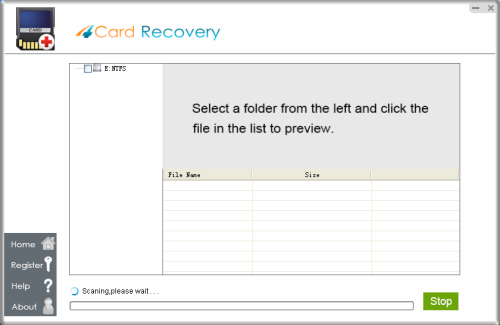 Wait while scanning lost photos, sometimes it takes about 20 minutes to scan a 32G card.
Tips: if it takes more than 2 hours to scan a 32GB card, you may stop the scanning and wait to see
what's already found. Since the card may contains bad blocks that takes longer time than usual.
Step 4:
Preview and recover the files you want to recover.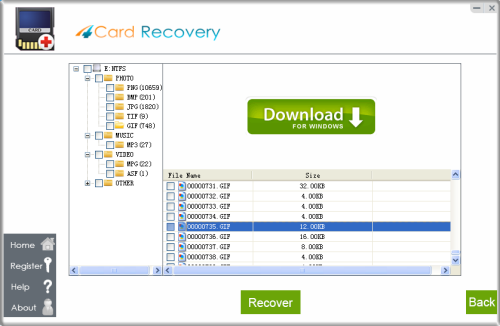 Preview lost photos and save found files. It would generate a folder to contain your lost data.
Please do not save the photo to the card where you lost them. Save them to your PC drive!

Download 4Card Recovery
Tips
1. It may take a little long time to scan the CF card, especially a large size of card. In fact, you don't need to wait until the scanning is finished. You can stop in the scanning process, and then preview the files the software has found. If all files you need are found, you can recover and save them. If some important files are not found yet, you can go back to perform scan again.
2. When you want to save the recovered files, you are not allowed to save them to the original CF card.
Are You Still Wondering What to Do When CF Card Has RAW File System?
Why do you feel wondering when CF card has RAW file system? If you format the card, the files stored on the card will be erased after formatting. If you don't format the card, the files stored on the card are inaccessible or unreadable. So you don't know what to do to fix the RAW error on your CF card without losing any file. As a matter of fact, if you want to get back files from a RAW card, you always need to rely on 4Card Recovery.
Tips When Using CF Card to Avoid RAW Error
In order to know how to avoid RAW error on CF card, you need to know the reasons for RAW drive error. Usually, a CF card will has RAW file system due to virus attack, improper operation and so on. Therefore, I have some useful tips for you to avoid CF card RAW error.
1. Avoid connecting your CF card to stranger's computer that may contain spyware or virus.
2. Switch off your digital camera or smartphone when you want to take out the CF card.
3. Remember to remove your CF card from your computer safely.
4. Please don't plug out the CF card when transferring or writing data from the card.
5. Stop taking more pictures or writing more data to your CF card when the card is nearly full.
6. Don't write files to your CF card when the battery of your camera or cell phone is low.
7. Buy high-quality CF card since low quality card may get damaged or corrupted easily.
Users That Need Help for RAW CF Card Recovery
1. I really had a good time with my wife on my holiday. We have snapped thousands of pictures and taken a few video chips. I want to share those pictures and videos on my Facebook. But my camera stopped working just now and it told me "memory card error"(it is an 8 GB Toshiba CF card). I took out the card and inserted it to the other camera, but I still received the same message. So, I quickly returned to my hotel and turned on my laptop. I tried to transfer the photos and videos to the laptop and buy a new card to copy those files. However, everything doesn't go as I wish. Windows system is telling me "disk in drive G is not formatted do you want to format it now?" (G is the drive of my CF card shown on the computer). The card is shown as a RAW drive on my laptop. How can get back the photos and videos from a RAW CF card?
2. I formatted a CF card which has RAW file system. The card is shown as an empty drive now. Is it possible for me to get back the lost files from a RAW CF card after formatting? BTW, the CF card is a SanDisk 4GB card, which I have used for several years. What I want to recover are some pictures, music and videos. Thanks for any suggestion!

Download 4Card Recovery