Summary
What is raw file system and how to recover data from drive became raw with sd card, cf card, tf card, micro sd card, mini sd card etc..

Recover data from raw drive/card
Free download 4Card Recovery to recover data off memory card sd micro sd mini sd card, cf card, tf and all kinds of USB devices like usb flash memory, usb memory stick, usb external disk etc..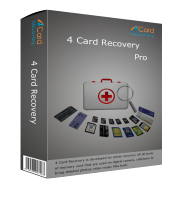 Recover data from drive when it became raw file system
A dilemma has come upon me that my D partition, in which lies several of my important files, became Raw and I need to format it to use it again. I was in panic when such a strange phenomenon happened to me with which I had no clue what to do. If anyone who knows how to restore the data from a raw partition has seen this, please get in contact with me. It is an urgency for me to recover thedata from the formatted partition because all my business data and files are stored here. I am in need of help please!
Symptoms of RAW drive/partition
A RAW drive is a drive used in its native mode without any file system on it. Since there is no file system, you may get a message of the partition being in need of formation when you try to open it. If the partition is damaged in windows, several symptoms are as follow:
Invalid media type reading drive - when connecting your media, Windows may alert it is not valid
Abort, Retry, Fail?
File system displayed as "RAW" - when checking the property of drive, it is 0 bytes and file system shows raw
Windows may ask if you want to format the drive, such as warning "disk not formatted. Do you want to format now?"
File names contain "weird" characters
"Sector not found" messages
How to recover Raw drive data easily
It is perfectly normal if you encounter the above symptoms and in need of formatting the RAW drive in order to reuse it. But once the drive is formatted, the data on it will disappear and it's almost impossible to regain access to those files. 4Card Recovery is a perfect solution to recover RAW partition data and regain the access to the drive.
Just downlaod a trial version of 4Card Recovery and follow the steps below, you will witness how this data recovery software will help you to restore raw drives.
Steps to Perform Recovery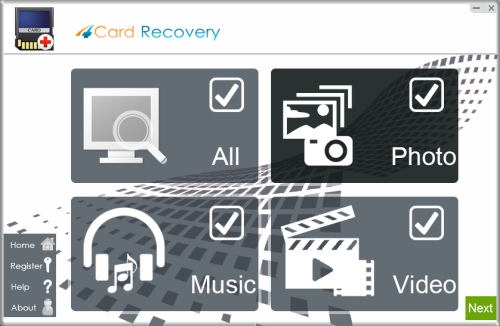 Select recovery options in the main interface
Step 1:Download 4Card Recovery, install it and launch it. Click the "Next" button on the main window of the4Card Recovery.
Step 2:Select the file types you want to recover and select volume where the RAW drive/partition is. And the program will automatically scan the selected volume.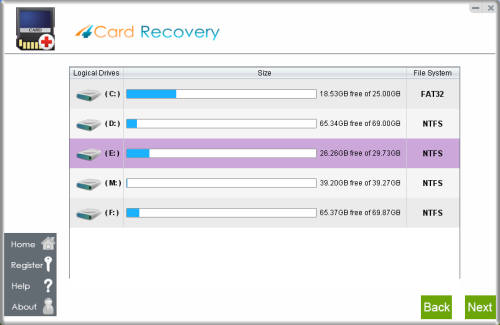 Select card to search photos off card
Step 3:
Wait in the scanning process.
Step 4:
The found data will be displayed on the screen of 4Card Recovery and you can get a preview of found data. Select the files or directory that you want to recover and save them to a healthy drive.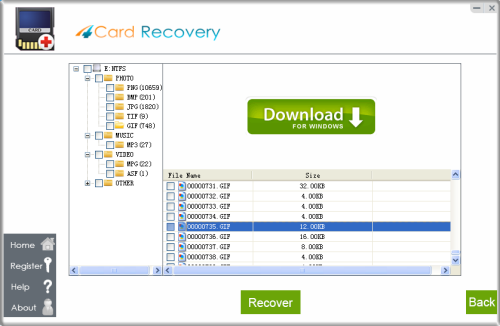 Preview lost photos and save found files. It would generate a folder to contain your lost data.
Please do not save the photo to the card where you lost them. Save them to your PC drive!

Download 4Card Recovery
After recovering files from RAW drive, please format this RAW drive with Windows built-in format tool (Open My Computer, right click the RAW drive and select "Format" from the menu) or free partition manager and then this drive can be used again.
Partition or drive: what are they
A partition, or a drive, can make people's life more convenient by saving and storing data on the computer in an organized manner. The drive is a useful tool which can help users to save data and files which is of significant importance for their business and life and enables them to take their data with them everywhere easily and portably.
Recover Drive in RAW File System
Recovering a raw drive requires professional technician who can perform the task in the way that requires loads of efforts. Formatting the raw disk can let users get access to the disk again but result in data lost in the raw drive. So if you wish to keep all the data you have while regain your access to the drive, do not tamper with the data.
You shouldn't do anything to the hard drive which may result in a total overwrite of the data on the raw disk. Data can't be read if they were overwritten by other data. In other words, you should keep your original files on the raw disk from writing so that you are not making the situation any more bollocks.
There's no better way to recover a raw drive than finding a professional data recovery software and restore all the files in the drive into another in order to keep everything safe. Once you are sure that you've got everything saved, the disk can be formatted and the files can be copied and reinstalled onto the drive for a fresh restart.
Download 4Card Recovery