Summary
This article is about the error that you may run into with your usb flash drive that has raw error and ask you to format it but you won't be able to format it..

4Card Recovery - Recover data off USB cannot format
Free download 4Card Recovery to get data off usb when it cannot be formatted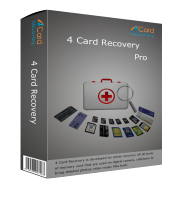 Cannot Format a RAW USB Flash Drive
USB flash drive asks to format before using? USB flash drive also shows "RAW" in Disk Management? Windows is even unable to complete the format? Calm down! At least, this USB flash drive still can be recognized by your computer, since that often indicates hope, the hope of successful data recovery. So, from now on, no matter whether you've formatted this drive, you should never save anything new on it so that you can completely copy off all your stored drive data back with a USB flash drive data recovery tool
Recover RAW USB Flash Drive Data at First
If you do not have a backup of everything important inside this USB flash drive, the first thing you should do right now is to rescue your data back as soon as possible, not to format it directly. So, simply check and apply a RAW USB Flash Drive Data Recovery Program to retrieve all your stored important data back. With this program, you always can get all your memory card/USB drive data back with high quality and fast speed:
Download this data recovery program on your computer. Install and launch it. Connect this RAW USB flash drive to your computer.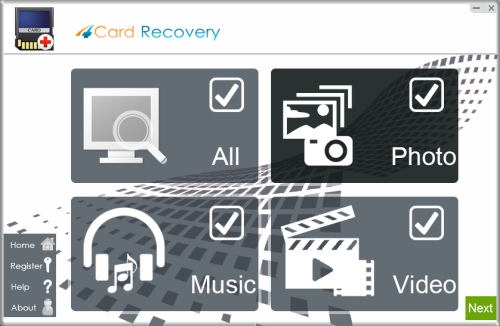 Select recovery options in the main interface
Step 1:Choose a fixable data recovery type from four.
Step 2:Pick out your USB drive as the scanning volume and please wait.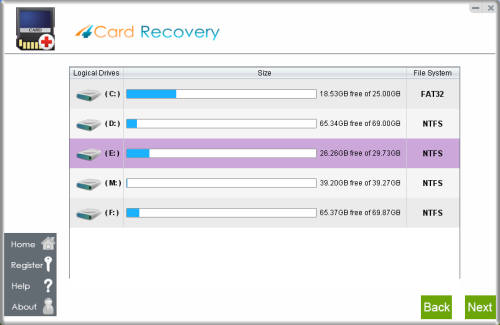 Select card to search photos off card
Step 3:
Restore all drive data back and save it on another drive or places.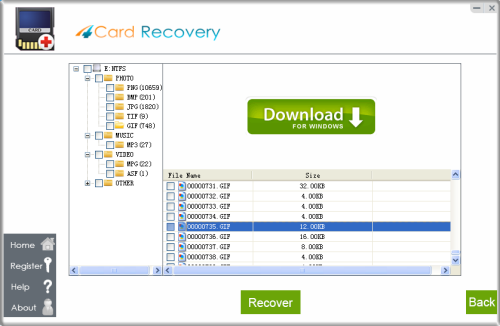 Preview lost photos and save found files. It would generate a folder to contain your lost data.
Please do not save the photo to the card where you lost them. Save them to your PC drive!

Download 4Card Recovery
Take Care
*Any new file on this drive can put your original data in danger. So, do not overwrite it from now on.
*The format process can make it more difficult to restore all data back. So, do not format it yet.
*Preview all scanned data to find out all wanted data before restoring.
*Any important data should be saved at least in two different places in the future.
Format RAW USB Flash Drive Latter
It is often common sense for a drive user to format a USB flash drive for fixing its RAW file system problem. So, without worrying about the stored data, the second thing you are supposed to do is to format this drive. The formatting process often can change the RAW file system back to your wanted NTFS or FAT32 file system. Just simply right click this drive in "My Computer" and highlight "Format" option..
Windows Cannot Format RAW USB Flash Drive
While clicking "Yes" to format this drive, only receive a message: "Window is unable to complete the format…"? It sounds like your drive has got some physical damages. You'd better immediately run "Error-checking" tool to see whether this drive is still healthy. Of course, if you insist, you also can apply a professional drive formatter to format your drive straightly. But that can also cause some damages to your physical drive. So, you should think it carefully!
Some Suggestion to Avoid RAW File System Problems
RAW file system, briefly explaining, is a drive state that has not been formatted into NTFS or FAT32, just like a RAW vegetable plot. Before sowing and cultivating, you often cannot find your wanted vegetable there. That's also why you cannot see or access any data on a RAW drive. So, in order to avoid some unnecessary troubles caused by RAW file system problems, you should always do something regularly:
1). Make drive data backups all the time.
2). Scan your drive regularly to avoid any possible virus or threat.
3). Clean your drive regularly to avoid drive corruption or drive damage.
4). Upload computer system regularly and fix all possible system problems timely.
Download 4Card Recovery Now