Summary
This article is about how to restore all data back with 4Card Recovery when your memory card is formatted by chance and there is also no any data backup.

Formatted Card Recovery by 4Card Recovery
Free download 4Card Recovery to retrieve all lost data back from a formatted CF card, TF card, SD card, Micro SD card, XD card and other types of formatted/reformatted memory cards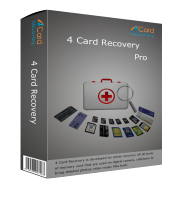 Rescue Formatted Memory Card Data with 4Card Recovery
In these days, it is not fresh news for a memory card user to format his memory card by mistake. But, how to safely restore all lost photos and videos back matters a lot. In fact, the solution is really simple. What you should do is simply to restore them all back with a trustable data recovery tool like 4Card Recovery before they are all overwritten by new files. This tool always allows you to retrieve lost/inaccessible/missing data back from a formatted/reformatted/ logically damaged memory card or USB drive.
How to Restore Data back from Formatted Memory Card with 4Card Recovery?
Step 1:
Free download 4Card Recovery to prepare well for card data recovery. On its official website, it is really free for you to download this tool.  Launch and install this tool on your computer with the help of its Wizard guidance. In order to make it easy for everyone to use, it has offered much useful guidance. Select a proper data recovery option to deal with your formatted card data recovery problem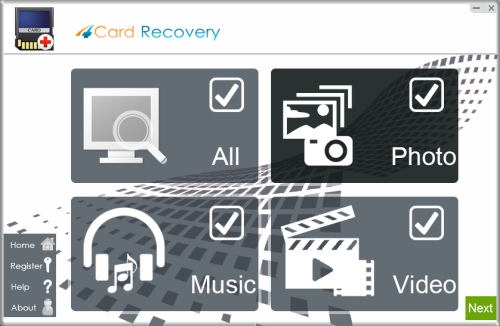 Select recovery options in the main interface
Step 2:
Highlight the memory card that you want to scan for your lost data. Its clear interface always allows you to immediately specify this formatted card on its media list.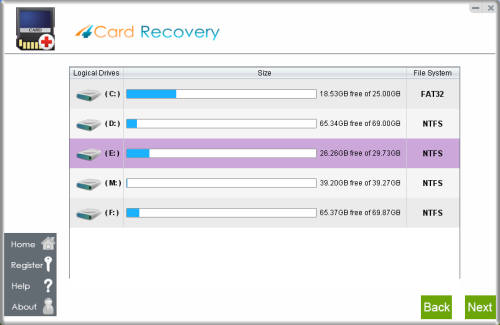 Select card to search photos off card
Step 3:
The scanning process will last for several minutes, please wait patiently.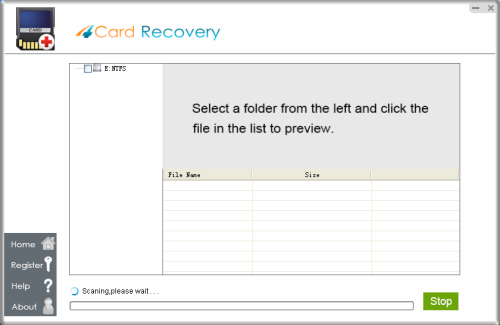 Wait while scanning lost photos, sometimes it takes about 20 minutes to scan a 32G card.
Tips: if it takes more than 2 hours to scan a 32GB card, you may stop the scanning and wait to see
what's already found. Since the card may contains bad blocks that takes longer time than usual.
Step 4:
Preview and restore all needed data back from this formatted memory card.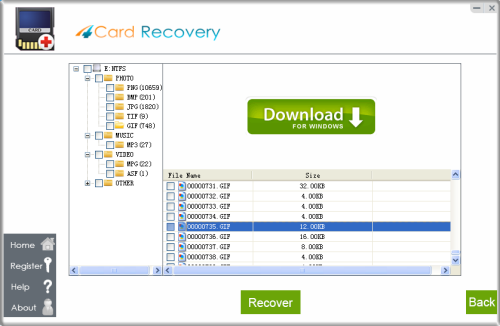 Preview lost photos and save found files. It would generate a folder to contain your lost data.
Please do not save the photo to the card where you lost them. Save them to your PC drive!

Download 4Card Recovery
How Do You Format Your Memory Card?
Impetuously format your memory card when you cannot open it for "not formatted error"? Accidentally format your memory card when you intend to free up another PC external storage device? Unhappily format your memory card for "Memory Card Error"? Or intentionally format your memory card many times for some card problems like RAW file system problem and damaged card problem? Don't stuck yourself in the sorrow of card data loss. You do have chances to take all your lost data back from this formatted memory card.
Bear These Tips in Mind all the Time:
* Avoid any further operation to overwrite this formatted memory card.
* Avoid any way to store all restored data on this formatted memory card in case of data recovery failure.
* Avoid any possibility to forget backing up all important data on different storage devices in the future.
How to Prevent Data Loss in the Future?
Nowadays, as a memory card user, except oppressively performing a memory card or hard drive data recovery after losing data, we also can also subjectively take some actions to prevent data loss in advance. So, here are some tips you can keep in mind:
1). Make Data Backups
In order to induce unexpected data loss, making data backups could be the most practical and useful way to go on. When you erase/delete or lost your data, don't worry, just calmly copy it all back from your backups. So, from now on, just remember to save several copies of everything important on different storage devices, such as DVDs, CDs, hard drives and Memory cards, etc. Of course, placing one copy online could be much safer.
2). Select a reliable memory card, hard drive or other storage device.
In order to make all your data backups be safely all the time, you are also supposed to select a reliable storage device. A fake storage device can cause problems all the time. How can it protect your stored data well? Therefore, you should always choose a trustworthy storage device for your data.
3). Keep these storage devices well.
After backing up all your important data well, you also should carefully keep these storage devices in case of any physical or logical damage. Always scan these storage devices before using in case of any virus or threat. Always extract these storage device off form your PC/laptop with "Safely Remove Hardware" tool. Always place these storage devices on a safe place, not too wet or hot, in case of any physical damage. Overall, you'd better protect your devices well.

Download 4Card Recovery