Summary
This tutorial is about SD card photo recovery after formatting the card due to mistake, SD card not formatted error, SD card RAW file system or other reasons.

SD Card Photo Recovery by 4Card Recovery
Free download 4Card Recovery for SD card photo restore when the card is formatted by accident, SD card error or other reasons.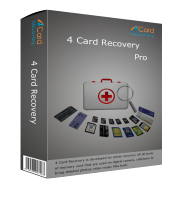 Recover Photos from Formatted SD Card with 4Card Recovery
It is a pity to lose every precious photos on SD card after formatting, but 4Card Recovery provides SD card users with safe and useful solution for formatted SD card recovery so that you are capable of retrieving different formats of pictures like BMP, TIFF, GIF, JPEG, PNG, and more. 4Card Recover allows you to restore photos from all kinds of SD card such as mini SD, micro SD, MMC, SDHC, SHXC, etc and SanDisk, Toshiba, Transcend, Kingston, Lexar, Samsung, Sony, PNY, and more.
Step-by-Step Guide: Recover Pictures off Formatted SD Card
Step 1:
Connect the SD card to your computer through a card reader. Free download, install and run the software and select a proper recovery option among "All" or just "Photo", "Music", or "Video".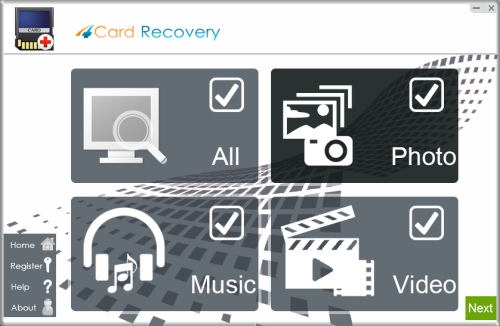 Select recovery options in the main interface
Step 2:
Select the SD card and then click "Next" button so as the software will begin to scan.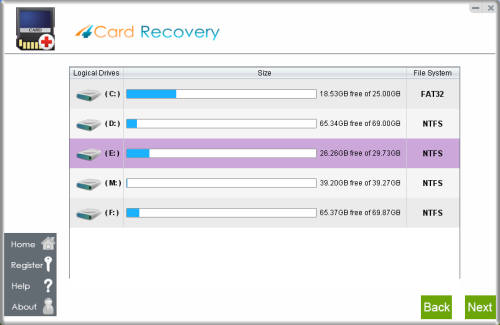 Select card to search photos off card
Step 3:
Wait patiently when the software is scanning the selected drive for lost files.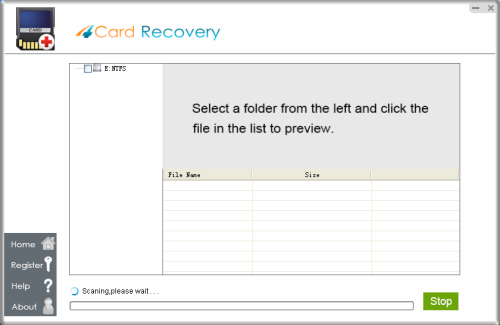 Wait while scanning lost photos, sometimes it takes about 20 minutes to scan a 32G card.
Tips: if it takes more than 2 hours to scan a 32GB card, you may stop the scanning and wait to see
what's already found. Since the card may contains bad blocks that takes longer time than usual.
Step 4:
You can preview the found files. Select the files you want to recover and click "Recover" button to save them.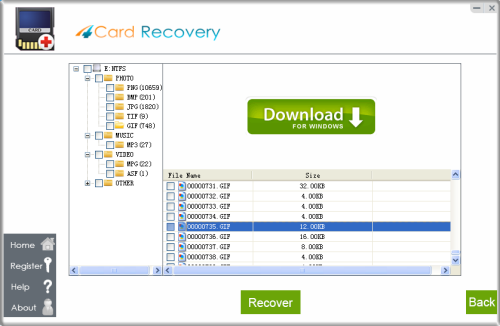 Preview lost photos and save found files. It would generate a folder to contain your lost data.
Please do not save the photo to the card where you lost them. Save them to your PC drive!

Download 4Card Recovery
Photo Loss from SD Card after Formatting
SD card is a tiny flash memory card for digital camera and mobile phone users. SD card photos will be lost due to some reasons, while formatting of SD card is one of the main reason. Accidental formatting is a main situation for SD card photo loss, because you can not only format an SD card on your PC, but also you may format an SD memory card on digital camera or mobile phone. SD card will be formatted only due to a simple mistake and photos on the card will be erased once you press the "Format" button.
Things You Need to Do after Formatting SD Card
On a digital camera or Android phone, you may directly format an SD card by press "Format" option. And on a PC, Windows may format your SD card with "Full Format" or "Quick Format". No matter how the SD card is formatted, system only marks the space on the card as empty so you can store other files, but the real data is still on the card. Therefore, the only thing you need to do is to stop writing new data to the card, which may take up the space where stored the lost files.
Can You Format an SD Card That Has Not Formatted Error?
Another possible situation that you may format an SD card is SD card shows not formatted error and requires you to format it. If you just want the SD card to work normally when it shows such kind of error, you can format it directly when it requires. However, if you have important data on the SD card, it is highly recommended you not to format the card. Although data won't be erased completely and permanently due to a simple formatting, your files are at risking of being overwriting because you probably add new data to the SD card after formatting.
4Card Recovery is able to retrieve photos from an SD card when formatted or deleted mistakenly. This software is also helpful in data recovery when SD card has not formatted error (no matter you format the card or not). However, it is impossible to recover any data which has been overwritten. Based on this point, whether you format the SD card or not when it says not formatted error, you are able to use 4Card Recovery to restore photos on the card, but you must make sure not to write new data to overwrite the card.
Be Careful When Your SD Card Runs Improperly
Above all, you may format an SD card either due to human mistake or SD card error. As long as you can be prudent enough, you can avoid making mistake to format your card with important photos on it. However, many SD card users think SD card error is system error that cannot be avoided. In fact, this kind of error is able to be avoided as long as you know the symptoms and the causes of the error.

Usually, an SD card can be detected in a few seconds after connecting with your PC. Then you can read or write files on the card quickly. If you realize that your SD card runs slowly on your camera or PC, you should be careful that some errors may occur on your card in the near future. Therefore, you had better stop writing important files to an SD card or backup precious data stored on the card when it works more slowly than before.
SD Card Users That Format an SD Card with Photos on It
User1: I am quite sorry for all photos on my SD card because I accidentally select the "Format" option on my Cannon camera. As a matter of fact, I only want to edit those photos on my camera, but everything comes so fast and I format the card without backup. I am going to New York soon and want to use card to store more pictures. But I hope I can restore the lost photos first before I leave. Please help!

User2: My micro SD SanDisk card stops working on any device. On a digital camera it says "invalid media", while on a PC it says "memory card needs to be formatted before I can use it". I don't know why it asks me to format the card, but I wont' format it unless I can recover the photos on the card. Many thanks for anybody that can give a suggestion.

Download 4Card Recovery