Summary
This page is to introduce 4Card Recovery to SD card users to recover photos when they format their SD card due to mistake or SD card not formatted error.

Formatted SD Card Recovery by 4Card Recovery
Free download 4Card Recovery in order to unformat SD card and retrieve lost photos. 4Card Recovery is available for all kinds of SD card photo restore including micro SD, mini SD, micro SD, MMC, SDHC, and more.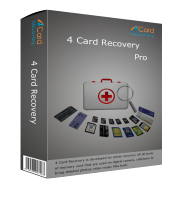 Overview of 4Card Recovery
When you format your SD card and lose unique pictures, what can you do to get back the lost photos? Simply 4Card Recovery can solve your problem with ease. 4Card Recovery can restore any types of pictures after formatting SD card on digital camera, mobile phone and PC. In addition to restore photos from SD card due to mistaken deletion, 4Card Recovery also assists with SD card photo restore when card is formatted due to not formatted error, RAW error, etc.
How to Use 4Card Recovery to Recover Photos from Formatted SD Card?
Step 1:
Run the software and select a proper recovery option among "All" or just "Photo", "Music", or "Video".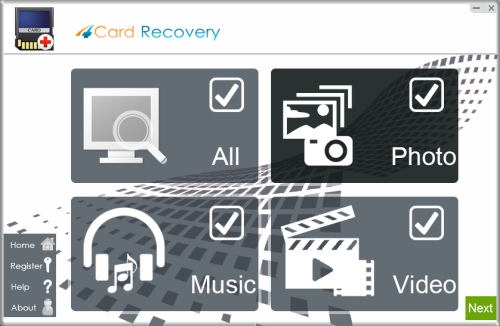 Select recovery options in the main interface
Step 2:
Select the SD card and then click "Next" button so as the software will begin to scan.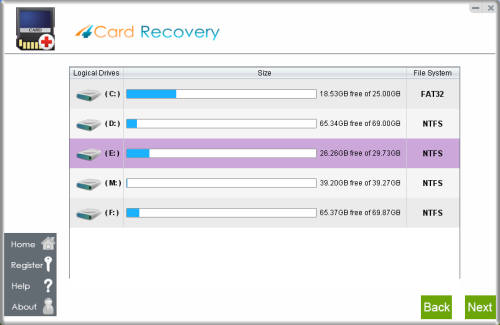 Select card to search photos off card
Step 3:
Wait patiently when the software is scanning the selected drive for lost files.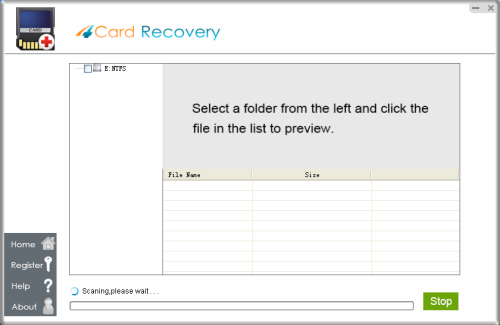 Wait while scanning lost photos, sometimes it takes about 20 minutes to scan a 32G card.
Tips: if it takes more than 2 hours to scan a 32GB card, you may stop the scanning and wait to see
what's already found. Since the card may contains bad blocks that takes longer time than usual.
Step 4:
You can preview the found files. Select the files you want to recover and click "Recover" button to save them.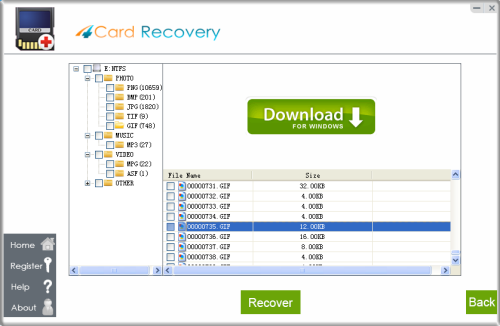 Preview lost photos and save found files. It would generate a folder to contain your lost data.
Please do not save the photo to the card where you lost them. Save them to your PC drive!

Download 4Card Recovery
Digital Photos Are Not as Safe as You Think on Your SD Card
When the first digital camera was developed, people are amazed to its convenience because digital camera makes it possible to view pictures immediately after taking a shoot. Digital camera also makes it possible to save a picture long time because it is often stored on a memory card like SD, so you don't need to worry the picture quality will loss after a long time. However, digital photos stored on an SD card are not as safe as you think because a simple mistake may make you run into a dilemma: losing photos on the SD card forever. Formatting SD card is one of mistake that you may make, which can wipe off files from the card soon.
Why Do You Want to Unformat SD Card?
Yesterday, I went to my sister's home for her birthday. I took many pictures on the birthday party and I prepared to upload those pictures to my Facebook to share them to my parents because they didn't attend our party due to some reasons. But when I view those photos on my camera, I accidentally press the "Format" button and erase the SD card. I want to unformat my SD card and get back the photos.

Absolutely, just like this user above, the reason why we want to unformat an SD card is for data on it. Almost every SD card user wish there is an "Undo" button on the camera, so they can undo format of SD card when they make mistake. Unfortunately, there is not such a button on camera or any other device. But it doesn't mean we have no chance to unformat the card and rescue lost photos.
How to Recover Formatted SD Card Photos?
If you want to undo formatting of SD card, you will need some SD card recovery software like 4Card Recovery. You can directly connect the digital camera or mobile phone to your PC through a USB cable and insert the SD card to a card reader, and then perform data recovery. By using 4Card Recovery, any type of photos can be restored easily in a short time. 4Card Recovery supports all brands of camera and mobile phone such as Cannon, Nikon, Sony, Samsung, Blackberry, and so forth.
Why Can You Restore a Formatted SD Card?
SD card contains a lot of data. Every single file stored on the card will occupy a certain space. Formatting command only reallocates the SD card space and makes it usable for new data. Therefore, as long as you don't write new data to overwrite the place on the SD card, you can use 4Card Recovery to get back the lost files. Namely, 4Card Recovery is always helpful before the data is overwritten by additional added files.

Pay attention: 4Card Recovery is only useful for data recovery when SD card can still work. If an SD card is damaged and its flash chip is broken, 4Card Recovery is helpless in this situation.
Need to Format an SD Card That Has Card Error?
A quite common card error that frequently happens to an SD card is SD card requires formatting. Nobody will format the card at this time if they have important data stored on it unless they don't know formatting will erase a card. But it seems like that formatting is the only option that you can do to the card if you want to access it. Well, do what you want to do! Just format it! You won't lose anything from the card because 4Card Recovery is also helpful in data recovery on an SD card with not formatted error.
Do You Have Any Clue for Following Situation?
I have a 16GB SD card inserted on my blackberry. I took out the card out of the phone and connected it to my PC to download some music to this card. When I safely remove the card from the PC, Windows pops up a message "Cannot safely remove hardware", so I remove the card directly. Then the problem comes: when I insert the card to my Blackberry, phone says unsupported media inserted. Connecting the card back to PC again, it can no longer show as an external device in "My Computer". In "Disk Management", the card is shown as a RAW drive. Please give me some suggestion for this problem.

Download 4Card Recovery