Summary
This article will introduce you a Patriot flash card data recovery tool named 4Card Recovery to let you retrieve all lost files back from Patriot flash cards after accidental extraction, deletion, mishandling, formatting or corruption, etc.

Patriot Flash Card Data Recovery by 4Card Recovery
Free download 4Card Recovery to get back all missing photos, music, videos, messages and other files from memory cards with different brands, like Kingston, Patriot, PNY, Silicon Power, SanDisk, Sony, Verbatim and more.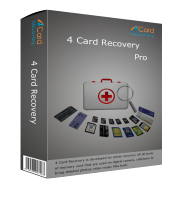 Important Data Is Lost from Your Patriot Flash Card?
Patriot, as one of the leading memory card manufacturers, also offers many efficient memory cards in diversified types and capacities. However, no matter which electronic device you use your Patriot flash card in, like camcorders, cameras, phones, MP3 players and the likes, you may also lose your important data off from this card. Why? There are many causes that can bring you flash card data loss problems easily, like sudden extraction, accidental deletion, improper operations, unexpected virus-infection, unwanted formatting or even unpredicted card corruption/damage, etc. Once anyone of these data loss problems occur to you, any random operation can make you regret forever. Therefore, from now on, act carefully and use our 4Card Recovery to rescue all your needed files back with ease.  
How to Rescue Lost Data from Patriot Flash Card?
Many causes can cause flash card data loss problems for you. But, that doesn't mean you can not do any effort to rescue your lost important flash card data back. Therefore, no matter what you've done to this Patriot flash card since then, from now on, stop doing anything improper and start to rescue your flash card files back with 4Card Recovery, which can perform a deep scan on your flash card and do its utmost to take back all scanned card files for you. Its four advanced data recovery modes enable you to rescue lost data in different file types, like office documents, messages, emails, images, videos, audios and more. It always supports almost all prevailed file types. Its user-friendly interface also enables all people to operate the data recovery process easily, even when you are not so good at computer knowledge or skills.
So, let's follow steps to rescue Patriot flash card data back:
Step 1:
Download the copy of 4Card Recovery to your computer. Start it there and choose a data recovery mode to process your flash card data loss problems.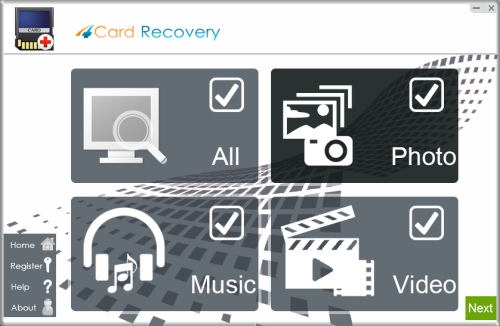 Select recovery options in the main interface
Step 2:
Choose the disk letter that stands your inserted Patriot flash card from the next window.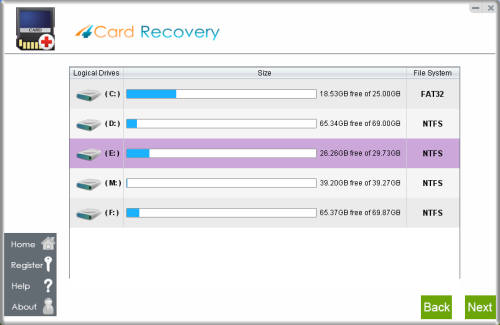 Select card to search photos off card
Step 3:
Preview all listed files on the windows. Just display them one after one on the window and choose your wanted ones out.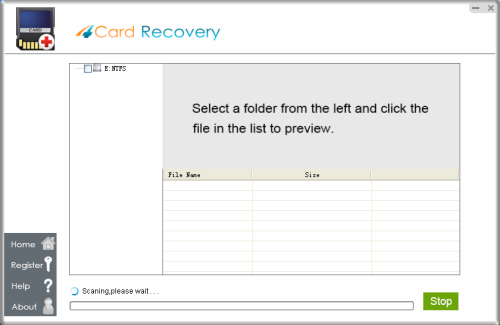 Wait while scanning lost photos, sometimes it takes about 20 minutes to scan a 32G card.
Tips: if it takes more than 2 hours to scan a 32GB card, you may stop the scanning and wait to see
what's already found. Since the card may contains bad blocks that takes longer time than usual.
Step 4:
Restore all wanted files back finally. Save restored files on computer drive or other locations.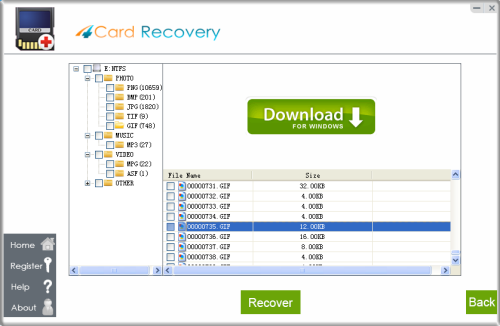 Preview lost photos and save found files. It would generate a folder to contain your lost data.
Please do not save the photo to the card where you lost them. Save them to your PC drive!

Download 4Card Recovery
Tips:
* Before restoring everything important successfully, just avoid using this flash card to hold any new file.
* After restoring all wanted files back, just avoid putting them on the same memory card in case of data loss.
*With the help of this data recovery software, just act carefully to avoid causing more data loss.
* Without the help of any data recovery software in the future, just remember to make flash card data backups as possible as you can.
Read More Information of Patriot Flash Card
Patriot has provided two types of flash cards for users: Secure Digital (SD) cards and Micro SD cards. In capacities, it has produces five types of capacities: 2GB, 4GB, 8GB, 16GB and 32GB. There are also some high-speed SD cards and Micro SD cards, like SDHC cards, Micro SDHC cards and so on. Overall, Patriot flash cards also could be good choices for you to use in your camcorders, cameras and phones, etc.

Download 4Card Recovery