Summary
4Card Recovery will be introduced here for you to regain all data back when you've formatted your memory card for some reasons and without any data copies reserved.

Formatted Card Recovery by 4Card Recovery
Free download 4Card Recovery to retrieve all memory card contents with ease after unexpected formatting process. This tool can help thoroughly scan your card and find out all lost files.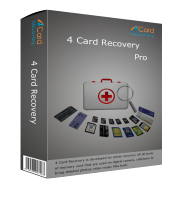 Why to Format Your Memory Card?
Intentionally format your memory card since you always do things in a hurry and have not seen the computer or camera/phone error message clearly? Purposely format your memory card and find no any card data backup reserved? Carefully follow the computer guidance to format your memory card due to RAW file system problem? Or your memory card is simply formatted by your friends or relatives without your permission? Don't panic! Memory card data is not completely erased as you guess. Just follow our detailed steps and you will find recovering all lost card data back is not an unreachable dream.
How to Restore Formatted Memory Card Data?
Do you know why it is not a dream for you to restore all formatted card data back? In fact, instead of removing everything stored on this card, the formatting process only simply marks all card data space and announces that all new data can be freely written here. In other words, as long as new files are not overwritten there, your original data can be reserved there forever. Of course, that may also give you much more chances to restore it all back. So, do not keep on wasting time and chances. Just immediately try 4Card Recovery to restore all your lost data back!
Step 1:
Free download this formatted memory card data recovery program 4Card Recovery. Take you time t select a right data recovery mode for your formatted memory card data.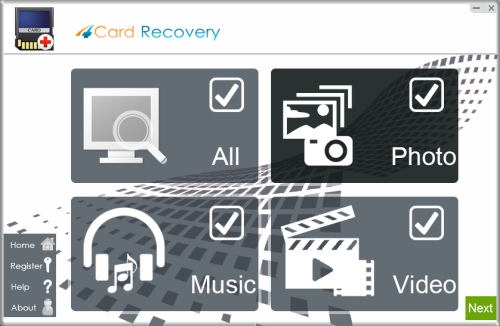 Select recovery options in the main interface
Step 2:
Choose this formatted memory card and let this tool to scan it. It is really easy to find this card from other computer logical drives.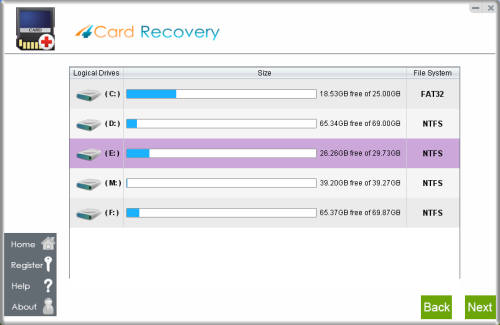 Select card to search photos off card
Step 3:
Wait till this tool window has listed all its scanned files. And then, preview all listed files and mark all wanted ones out.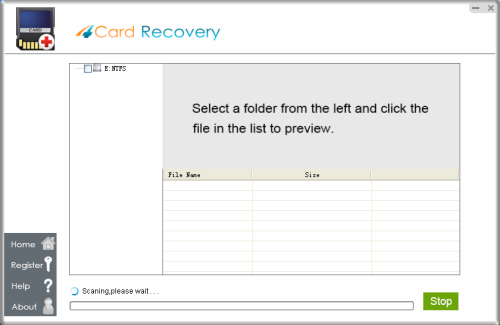 Wait while scanning lost photos, sometimes it takes about 20 minutes to scan a 32G card.
Tips: if it takes more than 2 hours to scan a 32GB card, you may stop the scanning and wait to see
what's already found. Since the card may contains bad blocks that takes longer time than usual.
Step 4:
Recover all previewed card data back.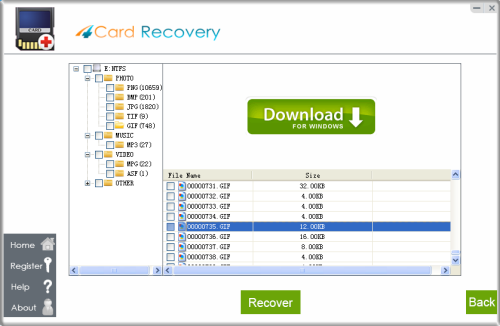 Preview lost photos and save found files. It would generate a folder to contain your lost data.
Please do not save the photo to the card where you lost them. Save them to your PC drive!

Download 4Card Recovery
Useful Tips:
* No matter how useful this memory card is, you should stop using it in case of overwriting your original data.
* No matter how large free space there is on this formatted memory card, you should save all restored data on different card or drives in case of data loss at this moment.
* No matter how busy you are in the future, you should never forget to back up all important data well.
4Card Recovery Overview
4Card Recovery is a reliable and risk-free data recovery tool that is specialized in restoring deleted/lost/inaccessible/missing data back from memory cards and USB flash drives.
In terms of data format, it supports almost all types of card data formats. For example, as to video file format, it can help restore videos with different formats like AVI, MP4, WMV, RM and RMVB, etc. As to audio file format, it can help restore audio with different formats like MP3, WAV, AMR and more. As to photo file format, it can help restore image with different formats like MPG, MPEG, SWF and the likes.
In terms of memory card type, it supports nearly all popular memory cards like CF cards, SD cards, Micro SD cards, Mini SD cards, TF cards and more. It works amazing when sd card was reformatted and need photos back.
In terms of data recovery problems, it even supports processing almost all possible memory card data recovery problems, such as RAW file system card data recovery problems, formatted card data recovery problems, unreadable card data recovery problems, corrupted memory card data recovery problems and the simple deleted data recovery problems and more.
So, with all these mentioned great data recovery features, 4Card Recovery can be a really practical and efficient solution for you to retrieve your card data.

Download 4Card Recovery