Summary
Some common data recovery knowledge about 4Card Recovery will be introduced to restore data from a memory card with "not formatted error", "memory card error", accidental deletion, incautiously formatting and more problems.

Memory Card Recovery by 4Card Recovery
Free download 4Card Recovery to rescue important data back safely and successfully when you are forced to format a memory card before accessing.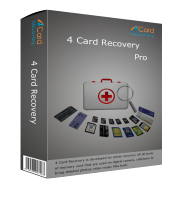 Memory Card Is Asking to Format?
Memory card is asking formatting instead of opening itself smoothly on your PC? Need help to copy all left important data out before the inevitable formatting process? Or consider whether it is possible to format this card firstly and restore lost card data safely and completely afterwards? Surprisingly find it is also a memory card with RAW file system? Don't be nervous! You are not the only one person that has troubles accessing memory card for "not formatted error". With the right guidance, you also can rescue your memory card data as others do.
How to Recover Data When Memory Card Is Asking to Format?
The "not formatted error" message often pops out when your memory card has some unusual problems, such as virus infection, RAW file system and even some physical damage, etc. But, that's not to say, both of your memory card and inner data are irrecoverable. Ironically, as long as your choose the right data recovery tool like 4Card Recovery and take the right steps, you always can restore your card data completely and fix this card problem successfully. Want to know more about 4Card Recovery? 4Card Recovery, as you can easily guess from its plain name, is a reliable memory card that is really good at restoring all types of data back from almost all popular camera/phone/player/camcorder memory cards. Its four powerful data recovery options and user-friendly interface always make itself stand out easily among other data recovery tools. 
Let's follow the steps to restore your card data with 4Card Recovery:
Step 1:
Attach this memory card on your computer and download 4Card Recovery there. When the main window is shown, just pick out a proper data recovery option from four.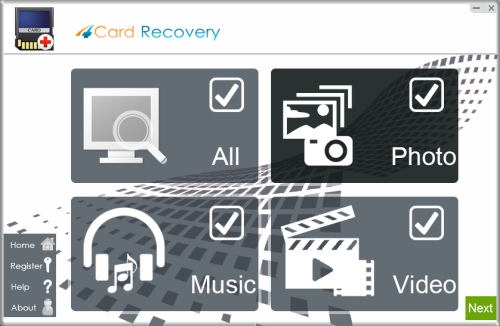 Select recovery options in the main interface
Step 2:
Check whether this inserted memory card is listed there and click it to scan this card soon.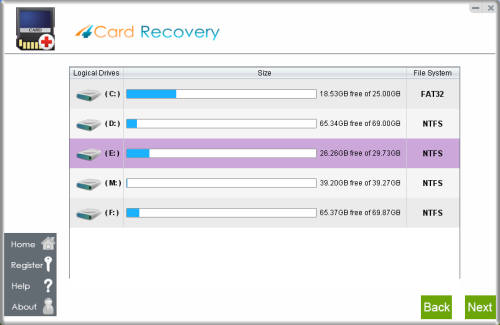 Select card to search photos off card
Step 3:
The scanning process will last for several minutes, please wait patiently.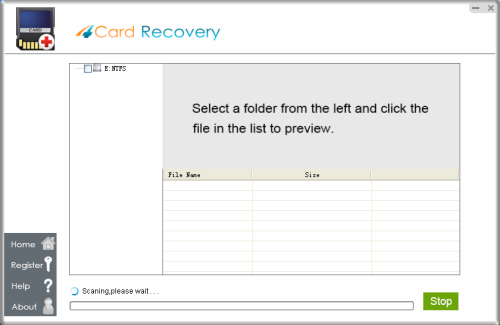 Wait while scanning lost photos, sometimes it takes about 20 minutes to scan a 32G card.
Tips: if it takes more than 2 hours to scan a 32GB card, you may stop the scanning and wait to see
what's already found. Since the card may contains bad blocks that takes longer time than usual.
Step 4:
 Preview and then begin to restore all selected data. Save restored files on your PC drive.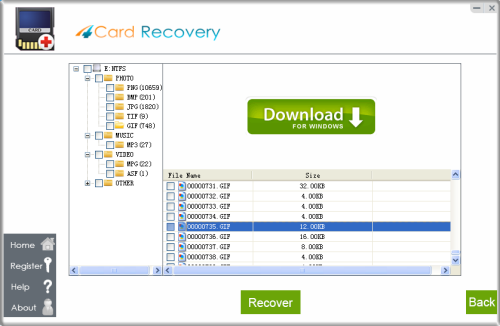 Preview lost photos and save found files. It would generate a folder to contain your lost data.
Please do not save the photo to the card where you lost them. Save them to your PC drive!

Download 4Card Recovery
Warnings:
* Please do not put new files on this memory card before you've rescued your card data and memory card.
* Please do not save rescued data on this memory card so that you can restore all your wanted data successfully.
* Please do not format this card before data recovery in case of data loss.
* Please do not give up any important data and always back it up timely in the future.
Format Memory Card & Re-Scan Memory Card
Format this memory card finally. The formatting process always can easily fix this "not formatted error", especially when your card is still in RAW file system. Of course, after the formatting process, you also can re-scan this memory card with 4Card Recovery so that you can restore the original data as much as possible.
How to Avoid Memory Card Problems?
Even though we do have the mentioned data recovery tool to restore wanted data back when the memory card has got some problems, we also should use it properly and safely to induce these similar data loss problems as many as possible, right?
1). Transfer important memory card data to PC drives or other storage devices timely.
In most cases, comparing to the physical memory card, we much more worry about the inner stored data when there is any memory card problem. So, as long as the important data is stored safely, we can avoid many troubles. Therefore, you are supposed to transfer your card data to different cards or drives in the future.
2). Remove any possible card virus or threat timely.
Virus always could bring many unwanted problems for your memory card, such as hidden files/folders, damaged file system and even card data loss, etc. Therefore, you should always keep an eye on your memory card and always remember to scan it with your antivirus tool regularly. Just timely remove all possible virus or threat completely.
3). Use memory card properly.
All memory cards should be used properly to show its high performance. Therefore, you should use it carefully. Firstly, clean memory card timely. All corrupted or unnecessary files/folders should be removed timely. Secondly, plunge a memory card to your computer with a card Reader or your camera/player/camcorder/phone. The memory card often cannot be directly read by a PC. That's why you need a card Reader or its original electronic device. Thirdly, remove a memory card safely. Remove your inserted memory card when there is nothing is transferring between the card and PC. Remove attached memory card with "safely remove hardware".

Download 4Card Recovery