Summary
A powerful data recovery tool, 4Card Recovery, can help you do an easy and rapid data recovery on your memory card when it asks you to format and its file system also turns into RAW.

RAW Memory Card Recovery by 4Card Recovery
Free download 4Card Recovery to recover data back when your memory card is detected as RAW file system and needs to be formatted in advance.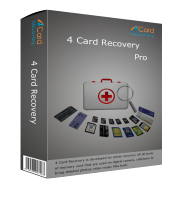 Windows Asks You to Format RAW Memory Card in Advance?
Are you sure your memory card gets the RAW file system problem right now? Windows pop-up tells you memory card needs to be formatted before accessing? Windows detects your memory card is changed into RAW file system? Windows also shows there is 0 bytes space used on your memory card? Windows asks you to format memory card file system back to NTFS or FAT32? If you have met at least two of these mentioned symptoms, undoubtedly, you are experiencing an RAW memory card problem. Do not format it immediately! Just check whether you've prepared a memory card data backup. There is no such memory card data backup?  Perform a perfect data recovery process on this RAW memory card.
How to Do an Easy and Rapid Data Recovery on RAW Memory Card?
When memory card file system turns into RAW for some unknown reasons, whether one should format this card in advance often depends on whether you have a card data backup. However, as you forget or even never get used to prepare a card data backup, don't panic, there are also possibilities for you to get back your card data. In fact, there are many data recovery tools that are created for one like you to retrieve data back from RAW memory card. In your case, 4Card Recovery could be a reliable choice for you to go on. Its easy-to-handle interface requires no any professional data recovery knowledge or skill. Its powerful four data recovery modes allows you to restore all types of files back from a memory card with RAW file system problem, "not formatted error" problem, unwanted deletion or formatting data loss problems and the likes.  
Restore your RAW card data easily and rapidly with 4Card Recovery:
Step 1:
Free download this 4Card Recovery and run it on your laptop/computer. Choose "All" data recovery mode to find your inaccessible card data. Feel free to choose other modes like "photo", "music" and "video".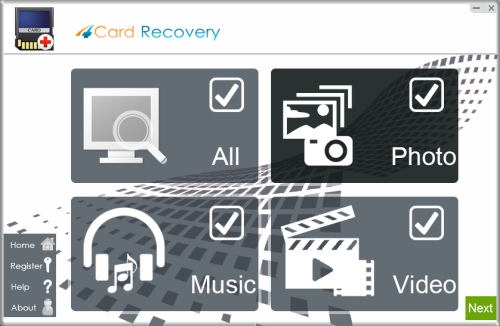 Select recovery options in the main interface
Step 2:
Click the detected RAW memory card to scan it thoroughly. Of course, you should insert it on your computer/laptop in advance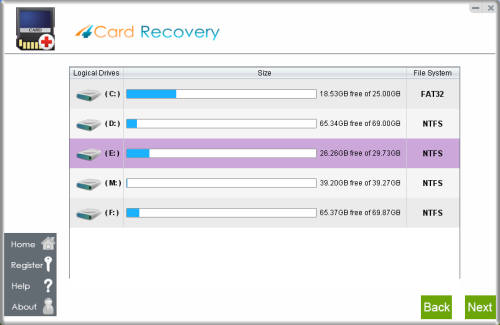 Select card to search photos off card
Step 3:
The scanning process will last for several minutes, please wait patiently.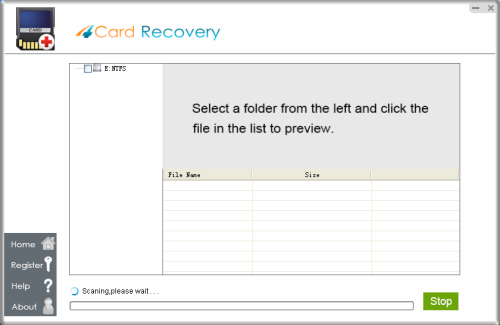 Wait while scanning lost photos, sometimes it takes about 20 minutes to scan a 32G card.
Tips: if it takes more than 2 hours to scan a 32GB card, you may stop the scanning and wait to see
what's already found. Since the card may contains bad blocks that takes longer time than usual.
Step 4:
Restore all marked data back. Also save retrieved card data on another drive/card location.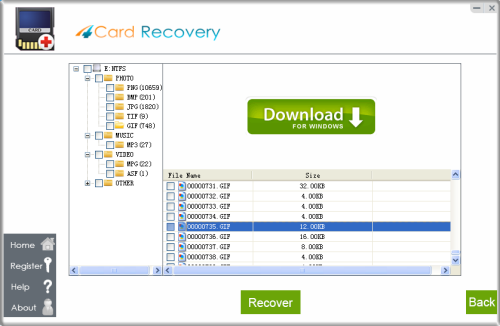 Preview lost photos and save found files. It would generate a folder to contain your lost data.
Please do not save the photo to the card where you lost them. Save them to your PC drive!

Download 4Card Recovery
Useful Tips:
*Open the write protection function of your memory card in case that anything new on it will overwrite your original data. Just keep card away from any new file.
*Arrange the destination location of the restored data on another memory card or drive in case of data
* recovery failure. *Get used to or learn a lesson to back up all memory card data different drives or cards in the future.
Back up Restored Data & Format RAW Memory Card
After doing data recovery on your memory card, you should not only move all your restored data on another drive or card, and also need to take a lesson to make backups of the restored data. Just never try to put your important data on only one place. And then, you can directly format this RAW card to fix its RAW file system problem.
Some Suggestions to Keep Memory Card Safe:
In order to keep your memory card safe, you should pay attention to some tips:
1). Never forget to back up memory card data.
Without using a data recovery program, the data backup could be the best way to rescue data back from a memory card. Therefore, whatever has occurred in the future, you'd better never forget to save copies of everything important on different drives or locations.
2). Never remove memory card randomly.
When you use the memory card on a laptop/computer, you'd better remove the card with "safely remove hardware". When you use the memory card on your phone/camera/camcorder, you'd better firstly turn down the phone/camera/camcorder and pick it out afterwards. In this ways, you can avoid many unnecessary card damages.
3). Never forget to scan your card before using.
In case of any card problems caused by virus or threats, you'd better never forget to scan your memory card before using. Set your computer to automatically scan all newly attacked drive or memory card before using.

Download 4Card Recovery