Summary
This article will tell you how to easily use 4Card Recovery to restore all your camera/phone memory card data when the memory card file system is listed as "RAW" and ask you format it back to NTFS.

RAW Card Data Recovery by 4Card Recovery
Free download 4Card Recovery to get back all your memory card data before its unsupported file system (RAW file system problem) problem is resolved.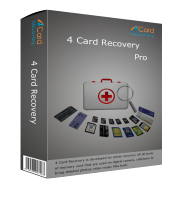 Need to Convert RAW File System to NTFS without formatting?
Memory card is detected as "Empty" and its file system also becomes an unsupported file system RAW? Memory card is asking to format and its file system also is changed into RAW? Need to convert this RAW file system to NTFS for fixing? But, memory card data will also becomes irrecoverable for the formatting? Don't panic! Take it easy! 4Card Recovery, as a powerful memory card data recovery tool, can do a perfect data recovery job on your RAW memory card before the converting process.
How to Recover RAW Memory Card Data without Formatting?
PS: The process of formatting before data recovery can ruin everything stored on this memory card. So, never do that at first.
As you've known, RAW file system is a file system that cannot be supported by Mac and Windows file system. That's why the RAW file system should be formatted into NTFS or FAT32. However, the formatting process will also increase the risky of successful card data recovery. Don't worry! That's why some reliable data recovery tool like 4Card Recovery is created. With 4Card Recovery, you always can safely restore your memory card photos, videos, documents and more back and also can freely convert the RAW file system back to NTFS afterwards.
So, here is how you can restore your RAW memory card data without formatting:
Step 1:
Prepare your memory card well: insert it to your computer with a card Reader. Free download 4Card Recovery to your computer. After installing it well, you can start the data recovery process at any time. Scan this temporarily inaccessible memory card with this data recovery tool. Do not forget to choose the right data recovery mode from four.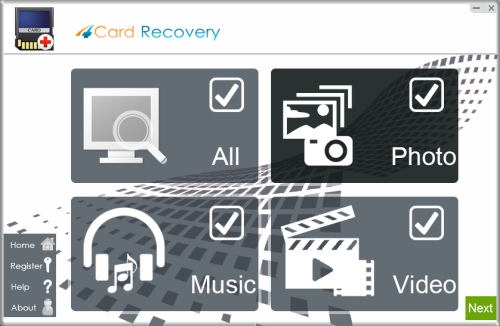 Select recovery options in the main interface
Step 2:
Select the memory card and click "Next" button to begin scanning.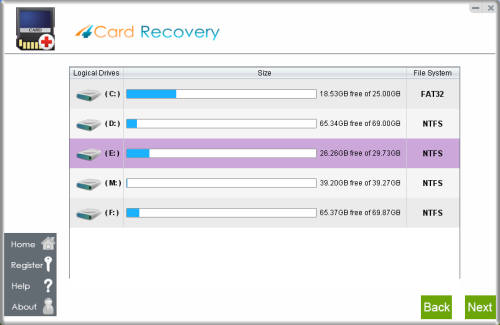 Select card to search photos off card
Step 3:
The scanning process will last for several minutes, please wait patiently.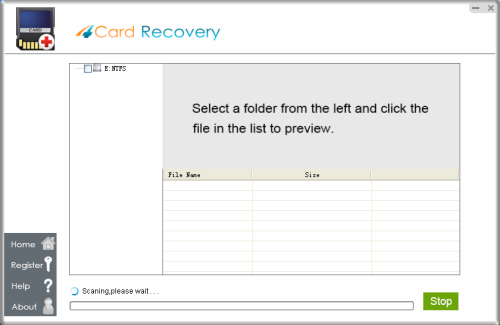 Wait while scanning lost photos, sometimes it takes about 20 minutes to scan a 32G card.
Tips: if it takes more than 2 hours to scan a 32GB card, you may stop the scanning and wait to see
what's already found. Since the card may contains bad blocks that takes longer time than usual.
Step 4:
 Preview all listed files and label out all you want. Perform the data recovery process at last. Of course, do not forget to save restored data on another storage device.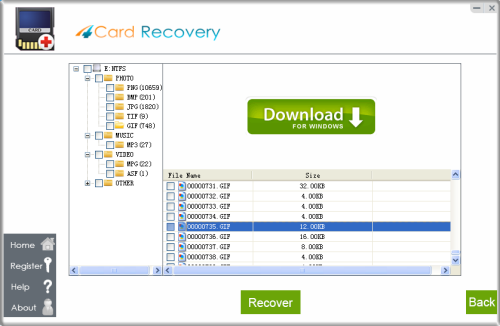 Preview lost photos and save found files. It would generate a folder to contain your lost data.
Please do not save the photo to the card where you lost them. Save them to your PC drive!

Download 4Card Recovery
You should also Take Care:
* Any new file written on this card is not allowed before data recovery.
* Any restored file written on this card is also not recommended in case of any data loss.
* Any important data restored on only one drive or memory card is also not encouraged.
How to Convert RAW File System to NTFS with Formatting?
In fact, after taking all memory card data back successfully, the formatting process is no longer as risky as you think. Therefore, you can feel free to convert this RAW file system back to NTFS with formatting. You must know how to format your memory card, right? Just right click it in "My Computer" to highlight "Format" and then set the final file system into NTFS.
Common Memory Card Problems & Solutions
Do you know we can also easily resolve some common memory card problems without the guidance of some experts? Don't know anything about that! Clam down! Let's learn it right now.
1). Memory card cannot be accessed for "Card Error" message.
"Memory card error" message can be caused by many reasons, such as virus infection, physical problems and more. Therefore, in this case, the first step you are supposed to do is to turn this camera/phone off and pick out your memory card. And then, connect it to your computer and format it to see whether this card can still be used as before. If you've not backed up your card data well, you are also supposed to firstly restore all your data back with help of this mentioned 4Card Recovery.
2). Memory card is really slow.
This problem can often happen for two reasons. Firstly, this memory card is stored too much data that it extremely slow down the speed of data transformation. Therefore, in this case, freeing up the memory card space can resolve your problem, such as deleting some useless files, removing some possible viruses and more. Secondly, the slow speed may also be caused by speed rating which has limited how fast one memory card can transfer its files to another storage device. Therefore, in this case, you often can do nothing. Just be patient!
3). Memory card is Write-protected or locked.
The write-protected or locked memory card problem is also not as difficult as you think. You should only remove the write-protection or unlock this memory card to restore its functional use. Therefore, just slide its equipped switch immediately. But, if the switch is not workable, you also can try to re-set it on your computer with the computer registry.

Download 4Card Recovery