Summary
This article is talking about how to recover files back from a RAW external hard drive with 4Card Recovery, as you are suggested to format it before using.

RAW External Drive Recovery by 4Card Recovery
Free download 4Card Recovery to rescue all files off from this RAW external hard drive when you are consulted to format it or not.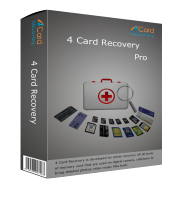 Recover Data from RAW External Drive with 4Card Recovery
It is absolutely right that the RAW external hard drive files are still possible to be restored on condition that they are not overwritten by anything new on the same place. Therefore, as your external hard drive file system becomes RAW, the first thing you should do is not to format it as you are suggested, but to retrieve all inaccessible files back as soon as possible. Therefore, in your case, you are also supposed to try 4Card Recovery, a powerful RAW external hard drive data recovery tool, to rescue all stored files (videos, photos, music, emails and others) back. By using this data recovery tool, you always can thoroughly scan your RAW drive and get access to all your wanted files easily.
How to Recover RAW External Hard Drive Files?
Step 1:
Connect this RAW external hard drive on your computer. Free download, install and run 4Card Recovery on the PC and select a proper recovery option from "All" or just "Photo", "Music", or "Video" recovery option.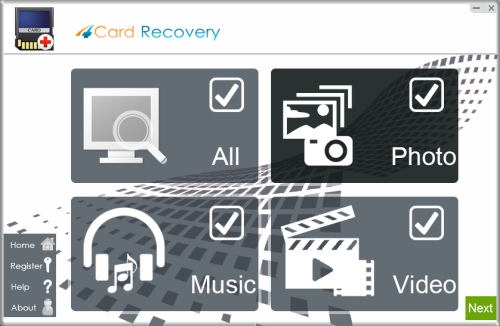 Select recovery options in the main interface
Step 2:
Select the external hard drive and click "Next" button to begin scanning.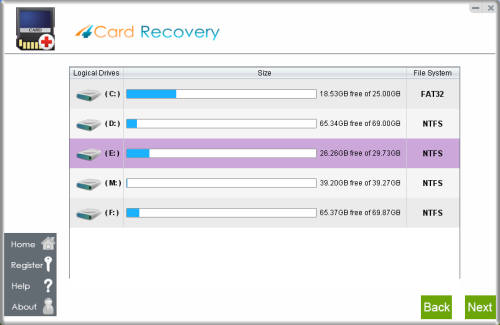 Select card to search photos off card
Step 3:
The scanning process will last for several minutes, please wait patiently.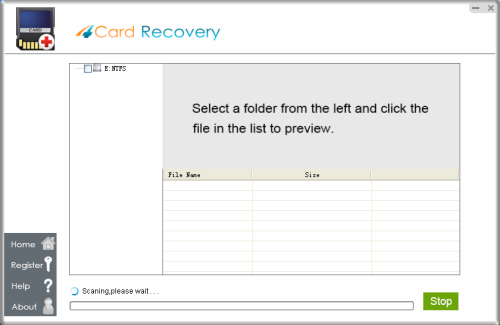 Wait while scanning lost photos, sometimes it takes about 20 minutes to scan a 32G card.
Tips: if it takes more than 2 hours to scan a 32GB card, you may stop the scanning and wait to see
what's already found. Since the card may contains bad blocks that takes longer time than usual.
Step 4:
You are allowed to preview the found files before deciding recovering them. Finally, choose the files you need and click "Recover" option to save them to a different storage device.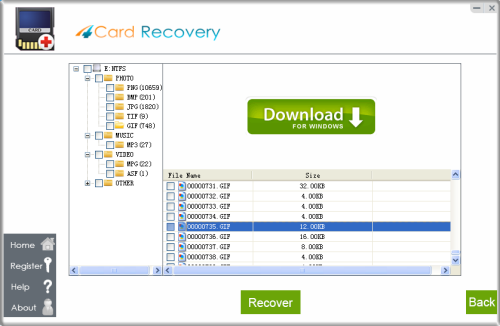 Preview lost photos and save found files. It would generate a folder to contain your lost data.
Please do not save the photo to the card where you lost them. Save them to your PC drive!

Download 4Card Recovery
Need to Recover RAW External Hard Drive Files?
There are some common symptoms of RAW external hard drive. What's yours?
1). Windows pops out an error message and ask: "The drive is not formatted. Do you want to format it now"? 2). External hard drive file system shows "RAW", not usual NTFS or FAT32?
3). External hard drive used space is displayed as "0 bytes" and its property is also in RAW file system?
No matter what symptoms your external hard drive has shown, you'd better stop using this RAW drive immediately and figure out what should be done next. Do you have a data backup of this RAW drive? In this moment, any RAW drive data backup can help you avoid many troubles. But, do not have such a data backup? Don't panic! You still have hope, since the drive files can still be restored at the aid of a RAW External Hard Drive Data Recovery Tool.
Note:
* New file on this RAW drive can overwrite your inaccessible files.
* Formatting process before the data recovery process is also risky.
* Previewing process can also help save times for you.
* Saving restored files on this RAW drive is also dangerous. *Placing several copies of everything important on separate drives or locations in the future.
How to Get Rid of RAW File System Problem?
External hard drive with RAW file system often cannot be read or recognized functionally under Windows or Mac OS. Therefore, after rescuing your data, you should format this RAW external hard drive to get rid of its RAW file system problems.
Why to Use External Hard Drive?
Nowadays, comparing to heavy and large external hard drives, many people prefer to use the light and small USB flash drives instead. But, honestly, there are still a large number of drive users that are much more interested in the external hard drives. Do you know why? Actually, the external hard drives also have many outstanding merits that cannot be replaced by USB flash drives or other storage devices.
1). Large Capacity
Comparing to the small USB flash drive with capacity like 4GB, 8GB, 16GB and 32GB, etc, the external hard drive always is designed to have much larger capacity like 320GB, 500GB, 1TB and 2TB, etc. Therefore, the large capacity can be the most attractive element for one to choose an external hard drive.
2). High Speed
An external hard drive that is connected with firewire can work at a very high speed. In this way, you always can quickly cut and copy your large files to this drive.
3). Portability and Flexibility
The external hard drive also can be easily carried around with you. So, it is also really portable. Moreover, according to different needs, you also can freely purchase an external hard drive with different capacities. Of course, if your drive enclosure is broken or damaged somehow, you also can freely buy one with a suitable size as you wish. Therefore, the external hard drive is also flexible. Overall, external hard drives are also really useful for its great features now.

Download 4Card Recovery