Summary
This article is about how to rescue compact flash card data back with 4Card Recovery due to unwanted deletion, format, RAW file system and even some logical damaged card problems.

CF Card Photo Recovery by 4Card Recovery
Free download 4Card Recovery to easily restore all your wanted photos, videos, audio files, documents and more back from your compact flash card.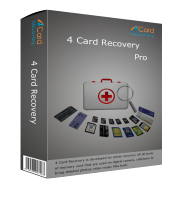 Rescue CF Card Photos with 4Card Recovery
In most memory card photo recovery cases, as long as the original photos are not overwritten by anything else, there indeed have many solutions for you to restore lost, deleted or inaccessible photos back. And the data recovery tool could be the easiest and most practical one of all these solutions. So, in your case, 4Card Recovery, a professional and comprehensive data recovery tool, is absolutely perfect for you. 4Card Recovery is a memory card data recovery program that is designed for users like you to process diversified data recovery problems at a really fast speed, such as deletion data recovery problem, formatted card data recovery problem and even logical damaged card data recovery problem.
How to Do a Successful Photo Recovery from Compact Flash Card?
Step 1:
Connect this compact flash card which you have to rescue your photos from to your computer via a card Reader. Download and launch 4Card Recovery on your computer. And also select a proper data recovery option.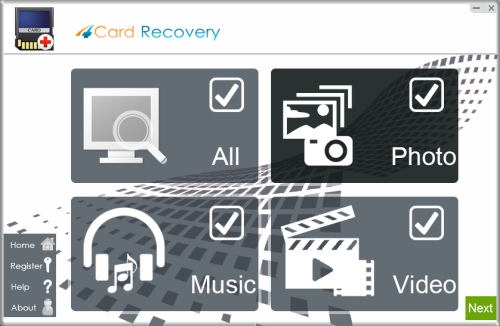 Select recovery options in the main interface
Step 2:
Select the CF card and click "Next" button to begin scanning.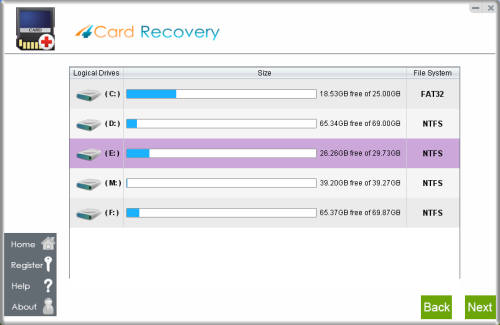 Select card to search photos off card
Step 3:
The scanning process will last for several minutes, please wait patiently.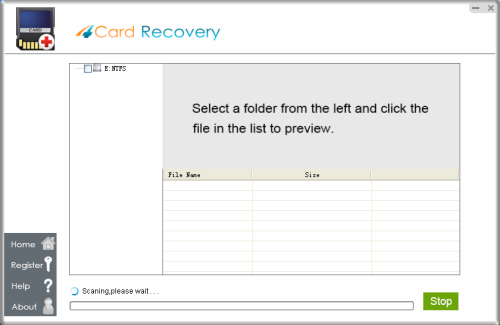 Wait while scanning lost photos, sometimes it takes about 20 minutes to scan a 32G card.
Tips: if it takes more than 2 hours to scan a 32GB card, you may stop the scanning and wait to see
what's already found. Since the card may contains bad blocks that takes longer time than usual.
Step 4:
You are allowed to preview the found files before deciding recovering them. Finally, choose the files you need and click "Recover" option to save them to a different storage device.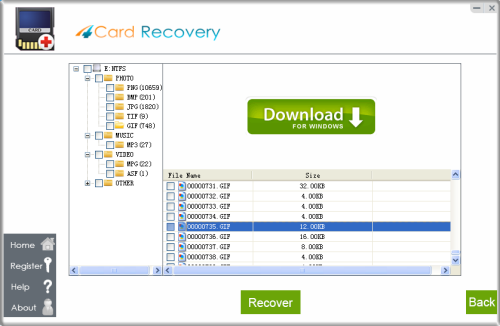 Preview lost photos and save found files. It would generate a folder to contain your lost data.
Please do not save the photo to the card where you lost them. Save them to your PC drive!

Download 4Card Recovery
How About Your Compact Flash Card Problems?
Why you have to do a photo recovery from your compact flash card? What has happened to your compact flash card? Unintentionally delete your valuable compact flash card photos? Mistakenly format your compact flash card and all photos lose at the same time? Compact flash card file system becomes blank and its file system also turns into RAW? Compact flash card gets some logical problems and need to be formatted before the accessing process? Don't panic! Put this compact flash card aside till you've found a reliable data recovery tool to restore all your wanted photos back at once.
Keep These Following Tips in Mind
* No matter what your compact flash card problem is, you'd better never save anything new on this card before data recovery.
*No matter how many photos you've restored, you'd better never save them all on this card in case of data loss.
*No matter what will happen to you in the future, you'd better save all copies of everything important on different storage devices.
Frequently Asked Question about Compact Flash Card Data Recovery
As to these compact flash card data recovery problems, do you still want to know something more? Don't rush! These following solutions that may help you:
1). Why is it possible to restore compact flash card photos?
The cameras/phones/computers do not actually delete our compact flash card photos after deleting or formatting. They are still left on this compact flash card and cannot be read or accessed temporarily. But, they also can be really erased and overwritten by anything new on the same card. So, before data recovery process, stop using this compact flash card could be the best way to protect your original data.
2).Why one does not format the RAW compact flash card before data recovery? 
As the previous NTFS or FAT32 file system of this compact flash card is changed into RAW, the Windows will often give an error message and ask you to format its file system back. However, if there are still reserved some important data, the formatting process may also let you lost all your wanted data. Therefore, you'd better format this card after you've completely copied out all your data with this mentioned data recovery tool.
3). Why to make data backups all the time?
Let's imagine: You'd encountered the mentioned problems again. Take the RAW file system as an example. Differently, this time, you do not have to worry about the stored data any more, only because of your data backups. With these prepared data backups, you can directly format the RAW compact flash card and copy off all your wanted data back from the backups. Without the help of any data recovery tools, you can avoid many similar troubles. So, next time, just back up all important all the time.


Download 4Card Recovery