Summary
Introduce a USB flash drive data recovery tool called 4Card Recovery here to help you recover data back from a USB flash drive with RAW format and then use it functionally as before after formatting.

SD Card Photo Recovery by 4Card Recovery
Free download 4Card Recovery to re-access the data stored on a USB flash drive with RAW format and then format it to restore its common use.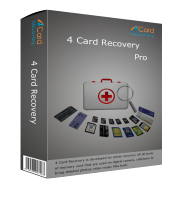 Recover RAW USB Data with 4Card Recovery
Keep on reserving your original data on this RAW USB flash drive is really dangerous, since anything new on the same drive can erase it permanently. Therefore, after stopping adding anything else on this USB drive, you are supposed to recover your stored data soon. And then, in this moment, a RAW USB flash drive data recovery program, 4Card Recovery, can be a perfect solution for you. 4Card Recovery, a powerful and poplar data recovery tool, has offered many outstanding features for you: user-friendly interface, four prominent data recovery options and excellent memory card and USB drive data recovery performance, etc
How to Recover Data from a USB Flash Drive with a RAW Format?
Step 1:
Plug your RAW USB flash drive in. You'd better check its connection well in case of any loose or wrong connection problems. Free download, install and run the software and select a proper recovery option among "All" or just "Photo", "Music", or "Video".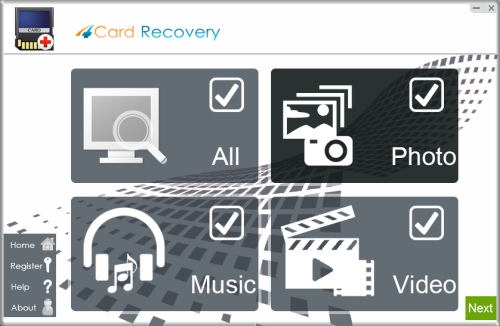 Select recovery options in the main interface
Step 2:
Select the USB flash drive then click "Next" button to scan.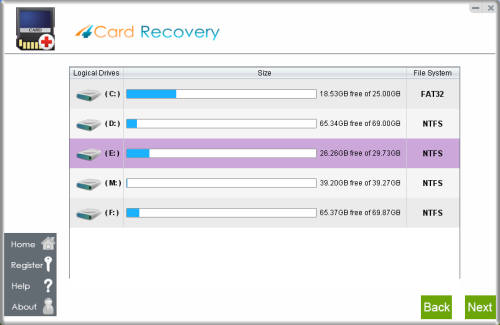 Select card to search photos off card
Step 3:
Wait patiently when the software is scanning the selected drive for lost files.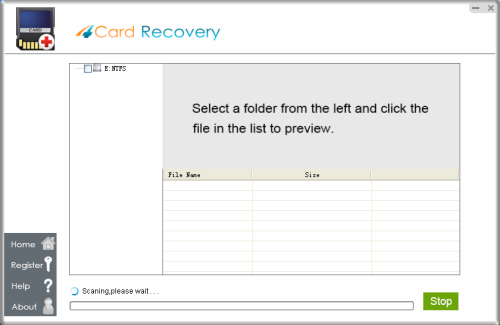 Wait while scanning lost photos, sometimes it takes about 20 minutes to scan a 32G card.
Tips: if it takes more than 2 hours to scan a 32GB card, you may stop the scanning and wait to see
what's already found. Since the card may contains bad blocks that takes longer time than usual.
Step 4:
Preview USB drive data and restore wanted data back only.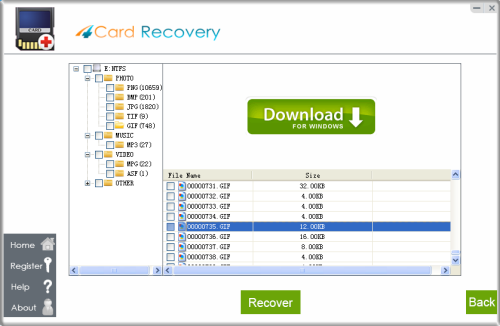 Preview lost photos and save found files. It would generate a folder to contain your lost data.
Please do not save the photo to the card where you lost them. Save them to your PC drive!

Download 4Card Recovery
What's Your Problem?
Suddenly find USB flash drive is RAW format, not wanted NTFS or FAT32? Unexpectedly get a "Not Formatted" USB flash drive with RAW format? Desperately want to use RAW USB flash drive but worrying about stored data? Don't panic! No matter what has happened, you should always keep calm and find a way out. In your case, in order to rescue both of the stored data and USB flash drive, you should carefully follow three steps: Stop writing this USB flash drive firstly, rescue inner stored data with a USB flash drive data recovery tool and format this drive at lost!
Common Tips:
* Anything new on this USB flash drive before formatting is improper.
*Any formatting process before complete data recovery is also improper.
*Saving any restored data on the original USB flash drive is also improper.
*Backing everything important on only one drive or storage device is also improper.
How to Use USB Flash Drive with a RAW Format again?
After restoring the reserved data back, this RAW USB flash drive still cannot be used functionally unless you format it back to its NTFS or FAT32 file system. So, format it immediately!
How to Choose a Right USB Flash Drive?
Are you looking for a reliable USB flash drive? Don't know what should be considered as choosing one? Don't worry! There are a couple of elements that you should take into consideration.
1).Decide on the USB flash drive capacity.
As a storage device, a USB flash drive is always used to store and transfer data between PCs. So, you should always get more drive space than you need in case of any unexpressed troubles.
2). Decide on the data transferring speed.
If you will often use this USB drive to store or transfer a large amount of data, the USB flash dive with a faster transferring speed could save time for you.
3).Decide on the size and reliability.
A smaller and more reliable USB flash drive can be more portable and useful.
4).Decide on the price.
If you are on a budget, the cheaper USB flash drive can matter a lot. Of course, if you have no such worry, a USB flash drive with higher piece is also not as bad as you think. So, just balance your own conditions and select a most proper USB flash drive for yourself.

Download 4Card Recovery