Summary
This article is about the solution for RAW USB flash drive data recovery with best and free USB drive data recovery program.

Recover Files from RAW USB with 4Card Recovery
Free download 4Card Recovery to recover any type of file from USB flash drive when its file system has changed from FAT32 to RAW.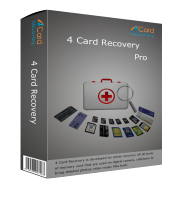 Recover RAW USB Drive Files with 4Card Recovery
4Card Recovery is an all-in-one data recovery program for memory card and USB flash drive data recovery. This software can help USB flash drive users restore pictures, images, videos, music, office files, etc when mistakenly deleted, formatted or USB has changed its file system from FAT32 to RAW. The 4Card Recovery has different recovery options to meet users' needs when they want to rescue different types of files from a RAW USB flash drive. This software supports all kinds of USB drive from various factories.
Tutorials on RAW USB Flash Drive Recovery
Step 1:
Free download, install and launch 4Card Recovery. Insert the USB drive to your PC and select a proper recovery option. For example, you can select "All" or just "Photo", "Music", or "Video"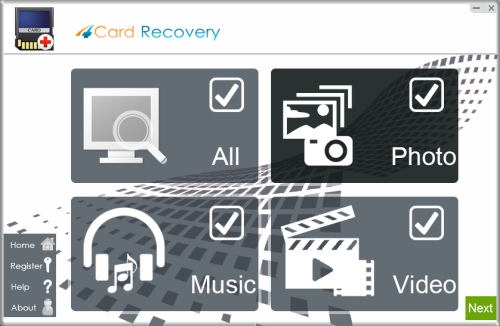 Select recovery options in the main interface
Step 2:
The software can detect all external and internal devices. You may select the USB flash drive and click "Next" button.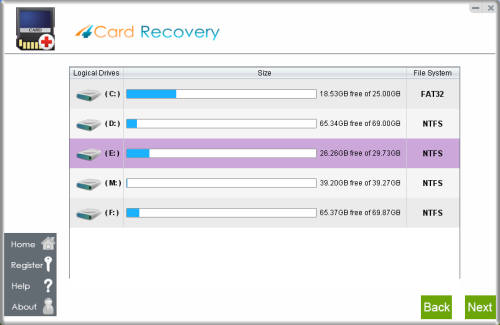 Select card to search photos off card
Step 3:
Wait when the software is scanning the USB drive for lost files.
Step 4:
You may preview and recover the found files after scanning.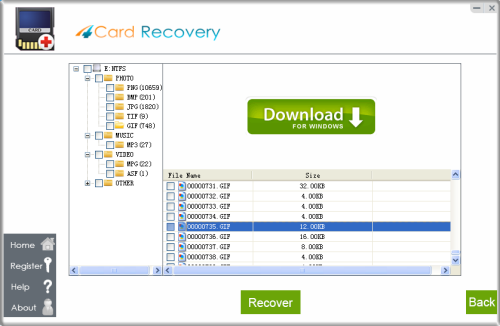 Preview lost photos and save found files. It would generate a folder to contain your lost data.
Please do not save the photo to the card where you lost them. Save them to your PC drive!

Download 4Card Recovery
USB Flash Drive RAW Problem
Most USB users never care about what the original file type of their USB drive is until the USB has changes to RAW, because they often consider USB drive as a data storage media and think it is always secure to save data to a USB. Therefore, they often feel incomprehensible and puzzled when a USB drive has changed to RAW. As a matter of fact, many people has encountered USB flash drive RAW problem, which makes them fell helpless in accessing files on the drive. Only at this moment will they begin to think what RAW file system is and how they can restore data from a RAW flash drive.
The reason why people cannot access a RAW USB flash drive is that some causes lead the USB drive to change its file system, which was original FAT32. In this situation, people need to use professional recovery software for USB flash drive to get data off the USB.
Why Can You Restore RAW USB Drive with 4Card Recovery?
The reasons for USB RAW error are various, but recovery software is usually helpful in data recovery as long as the USB is not physically damaged. Therefore, it is sure that RAW USB drive data is recoverable with help of professional recovery software. Then, here comes another problem: why should you use 4Card Recovery for a RAW USB recovery? In fact, you may have noticed that there are quite a lot of such kinds of recovery software here and there, but 4Card Recovery has been proved to be one of the best and most useful one for USB data recovery when it cannot be accessed due to RAW drive error.
Format USB Drive to Fix RAW Error
There is no doubt that formatting is the most effective and reliable way to fix the RAW error on a USB flash drive, because the common message people may receive for RAW drive errors is disk drive is not formatted do you want to format it now. So people can directly click "Yes" option to format the USB drive. Besides, people can also format the USB flash drive by using Command Prompt, or formatting the drive in "Disk Management". Anyway, people can format the USB drive to convert its file system from RAW to FAT32 with any method they know.
Tip:
Formatting will always erase a USB flash drive, so it is not a method to help rescue USB files but only helps you change the file system from RAW to FAT32. Only recovery software like 4Card Recovery is helpful in RAW USB data rescue.
Check Disk Error for USB Flash Drive
It is not always available for people to format a RAW USB flash drive, because sometimes they may get such kind of message: Windows was unable to complete the format. The reason for this kind of error might be bad sectors on USB drive. If so, people may need to repair the bad sectors.

On Windows PC, people can check disk error for local hard disk drive or external disk. So people can use the disk check function on Windows to check if there are bad sectors or errors on a USB flash drive when its file system is showing RAW. You can either use Command Prompt option or run Error-checking option on My Computer to check the USB drive error. With this method, it can mark the bad sectors on USB drive and won't stored data to the bad sectors anymore.
Backup USB Data to Avoid Data Loss due to RAW Error
Some people don't like backup data because they think it is waste of storage memory. Indeed, if you have 10GB data stored on a USB flash drive, you will need another at least 10GB storage media to backup the data. On the one hand, you may don't have an extra storage media. And on the other hand, the backup data is useless if data stored on USB drive is always safe. However, USB flash drive is never an absolutely place for data storage and any disaster can happen without any warning. Once your USB drive suffers any unexpected disaster, the backup will do a great help for data rescue. Therefore, it is always a wise choice to take precautions before disaster happens.
Download 4Card Recovery Now