Summary
This article will tell a free data recovery utility for lost file recovery from a USB thumb when it is showing RAW file system and files cannot be accessed.

USB Thumb Drive RAW with 4Card Recovery
Free download 4Card Recovery to help with data recovery from USB thumb drive when it has RAW file system or shows not formatted error.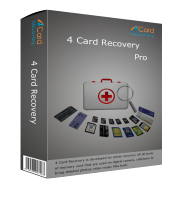 Rescue RAW USB Thumb Data with 4Card Recovery
Is your USB thumb drive showing RAW file system error every time you want to open it? Why not use 4Card Recovery? 4Card Recovery assists with all kinds of data recovery from any USB thumb drive like Toshiba, Samsung, SanDisk, and more when it has not formatted error and shows RAW file system. 4Card Recovery supports to recover RAW USB thumb drive on all Windows OS. This software provides a safe and efficient solution to rescue important files off a RAW USB thumb drive.
4 Steps for RAW USB Thumb Drive Recovery
Step 1:
Connect USB thumb drive to a Windows PC. Free download, install and run 4Card Recovery on the PC and select a proper recovery option from "All" or just "Photo", "Music", or "Video" recovery option.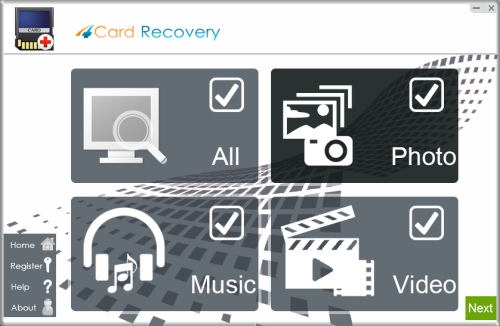 Select recovery options in the main interface
Step 2:
Select the USB thumb drive and click "Next" button to begin scanning.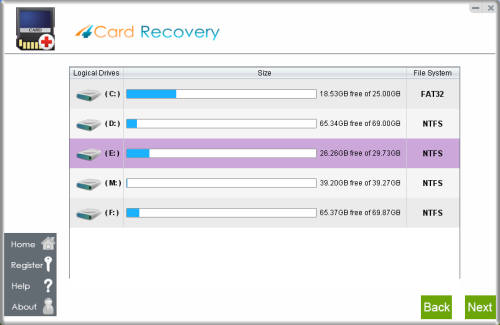 Select card to search photos off card
Step 3:
The scanning process will last for several minutes, please wait patiently.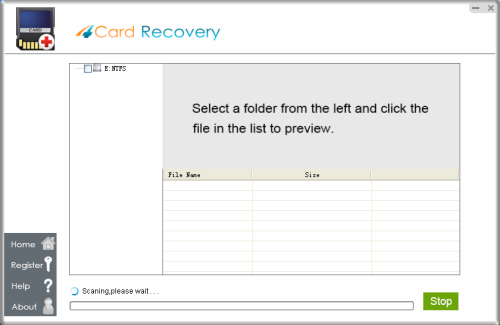 Wait while scanning lost photos, sometimes it takes about 20 minutes to scan a 32G card.
Tips: if it takes more than 2 hours to scan a 32GB card, you may stop the scanning and wait to see
what's already found. Since the card may contains bad blocks that takes longer time than usual.
Step 4:
You are allowed to preview the found files before deciding recovering them. Finally, choose the files you need and click "Recover" option to save them to a different storage device.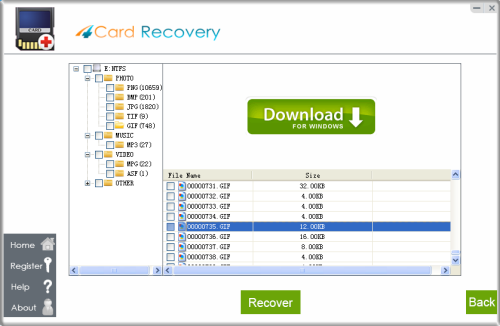 Preview lost photos and save found files. It would generate a folder to contain your lost data.
Please do not save the photo to the card where you lost them. Save them to your PC drive!

Download 4Card Recovery
USB Thumb Drive Has Changed to RAW File System
USB thumb drive, namely USB flash drive or flash drive. Sometimes, although you have insert your USB thumb to your PC and it can also be recognized as an external device on your computer, when you right click on the drive letter of the USB thumb and choose any option, Windows may ask you to insert a disk in drive and try again. Accordingly, the checking property of the USB, its file system is changed to RAW and space is shown as 0byte. We call this USB thumb drive RAW error. The immediate cause for USB thumb drive showing RAW file system is that the file system can not be recognized by Windows operating system, this is also the reason why you cannot access the USB drive.
Windows Was Unable to Format a RAW USB
Just like what mentioned above, a common symptom of RAW error is that you cannot perform any option on a USB thumb because you always receive the message like there is no disk in drive please insert a disk into drive and try again. In this situation, you cannot format the USB to FAT32, but you can use 4Card Recovery to restore data off the drive. Then, you can open "Disk Management" and try to change a drive letter to the USB thumb and then format it.
Why Do You Need to Recover Data First for USB Drive RAW File System?
Generally speaking, simply formatting won't delete data from a USB thumb completely, but it can erase the USB and make data on it invisible. However, you cannot ensure that you won't write any data to the USB thumb after formatting. If the original data is overwritten by new data, any data recovery software including 4Card Recovery is unable to perform data recovery. For example, your USB thumb is showing not formatted error when you try to access data inside and its file system is also changed to RAW. Then you format the USB thumb to FAT32 and want to recover data after formatting. You should have performed data recovery immediately after formatting, but for some unknown reasons you didn't do it and continue writing additional data to the formatted USB. If so, the lost data on the USB might be overwritten and becomes unrecoverable. Therefore, we always recommended all users to recover data first when their USB thumb has changed to RAW.
Is There Any Way to Avoid RAW Error on USB Thumb?
USB thumb RAW error can be avoided in some situations.
Firstly, the reason why a USB flash drive can work on PC is that the USB can be recognized when its flash chip is good. If the flash chip of the USB thumb is broken, the USB cannot be detected by Windows and you can neither reading nor writing data from the drive. Therefore, you should always take good care of your USB thumb to protect it from unexpected damage.

In addition, every time you want to write data to a USB or read data from a USB, you need to connect it to a PC. It does harm to a USB thumb if you often remove the USB flash drive unsafely. Especially if you remove a USB thumb in the data transferring process, data may lose from the USB directly and USB thumb will also shows errors like RAW drive error.
FAQ on USB Thumb RAW Recovery
Question
I would like to know how to convert a USB drive back to FAT32 from RAW. I have some important pictures stored on a USB thumb drive, the USB drive has been working quite fine for several years but its file system has changed to RAW recently. So I am wondering if I can convert the RAW file system back to its original file type FAT32 and get back lost pictures.

Answer
Any file on a RAW USB drive is recoverable, but you must use professional recovery software. You can format the USB drive to convert its file system back to FAT32 and make the USB drive usable again. However, files won't come back even if you have changed the file system to FAT32 unless you use recovery software to perform data recovery.

Download 4Card Recovery