Summary
This article is about how to rescue your data back from a USB Flash drive with a "Not Formatted Error" timely and also learn how to deal with this "Not formatted error" problem under your Windows 7 computer safely.

Unformatted US Recovery by 4Card Recovery
Free download 4Card Recovery to copy all reserved data out of this USB flash drive safely when it encounters a "Not Formatted Error" problem.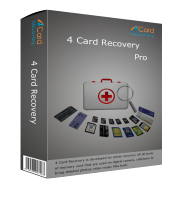 Windows7 Asks to Format USB Flash Drive?
USB Flash drive asks you to format on your windows 7 computer? Cannot format USB flash drive for the left data? The Property of USB flash drive is even changed into RAW? Don't worry! The best solution for you right now is not to format it randomly. Instead, you are supposed to download a USB flash drive data recovery program that suits your computer for rescuing the reserved data. And then, format it or not! That will depend on you.
Apply 4Card Recovery to Rescue USB Flash Drive Data Step by Step
Step 1:
Make sure this unformatted USB flash drive is connected on your Windows 7 computer well so that you can start the data recovery process at any time. Make sure this efficient data recovery program is installed and launched well on your computer. Just free download it at first. Mare sure the selected data recovery option from four (like "All", "Music", "Photo" and "Video") is practical and fixable.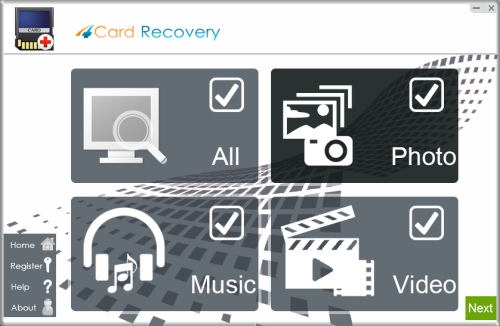 Select recovery options in the main interface
Step 2:
Click this flash drive to start scanning afterwards.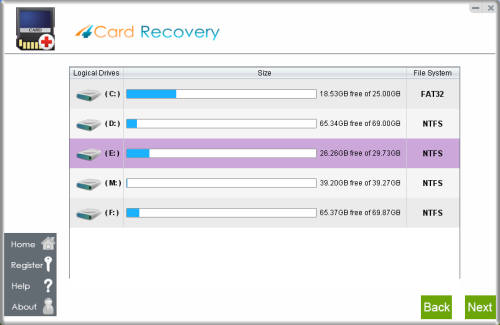 Select card to search photos off card
Step 3:
The scanning process will last for several minutes, please wait patiently.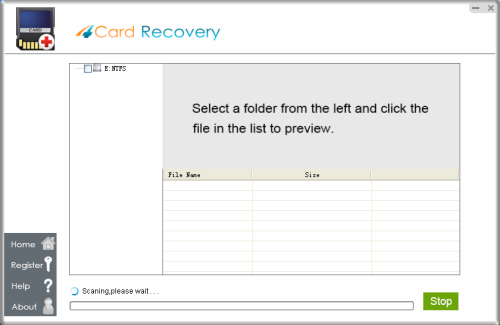 Wait while scanning lost photos, sometimes it takes about 20 minutes to scan a 32G card.
Tips: if it takes more than 2 hours to scan a 32GB card, you may stop the scanning and wait to see
what's already found. Since the card may contains bad blocks that takes longer time than usual.
Step 4:
Make sure to preview all scanned out data so that you can save much more time in the data recovery process. Make sure to restore all selected data only. Remember not to save all restored data on this original USB flash drive.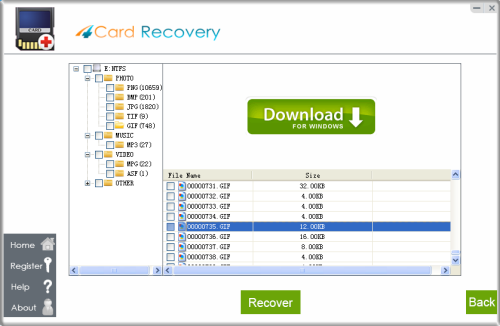 Preview lost photos and save found files. It would generate a folder to contain your lost data.
Please do not save the photo to the card where you lost them. Save them to your PC drive!

Download 4Card Recovery
PS:
* Make sure not to format this USB flash drive before all data is restored.
* Make sure not to save new data on this USB flash drive before all reserved data is rescued.
* Make sure not to store the restored data on this unformatted USB flash drive in case of any troubles.
* Make sure not to reserve all important data on only one USB flash drive or location in the future.
Format This USB Flash Drive with Not Formatted Error
As I have mentioned, after rescuing all your reserved important data on this USB drive, you can decide whether to format it or not. If you think this USB flash drive has got similar problems many times and is not so safe and functional, you can straightly replace it with other new one(Of course, you'd better wipe off all inner data permanently at first). And then, the formatting process is no longer necessary. But, if you still want to keep on using this USB flash drive, you'd better format it immediately and see whether it is damaged seriously.
USB Flash drive & Wireless USB Flash Drive
As a USB flash drive user, have your ever heard about wireless USB flash drive? As we all know, the USB flash drive is a storage device that can help us store some assigned data and also transfer data between PCs. Even through the name is really similar to the USB flash drive, a wireless USB flash drive is a completely different device. In fact, a wireless USB flash drive is only a wireless network card that is specially equipped with a USB interface so that one can use it more conveniently. But, that's not to say, they do have nothing to do with each other. Actually, some of these wireless USB flash drives also have been designed with a TF card slot. After inserting a memory card into this TF card slot, these wireless USB flash drives also can be used as normal USB flash drives. Therefore, next time, if you want to choose a USB flash drive or a wireless USB flash drive, you should take care not to mix them. 

Download 4Card Recovery