Summary
This page will tell you how to recover files such as photos, videos, music and more types of files when usb hard dirve has raw file system.

USB Drive RAW Recovery by 4Card Recovery
Free download 4Card Recovery to recover data from all brands and types of usb hard drive when it is inaccessible due to raw file system..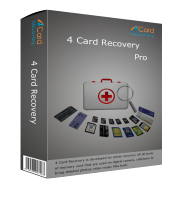 Recover Data from RAW USB with 4Card Recovery
USB hard drive file system suddenly becomes RAW? USB hard drive has to be formatted for "RAW" file system? Want to re-read storing data on a RAW USB hard drive? Don't worry! It is true that the data stored on a RAW USB hard drive is really dangerous. But, that's not to say, there is no any chance to rescue it back. In fact, when your drive file system turns into RAW, your original data inside it is still placed where it is. What you need to do right now is only to make it accessible and visible again with a RAW drive data recovery program - 4Card Recovery.
How to Recover RAW Hard Drive Data within Several Simple Clicks?
Step 1:
Plunge this USB hard drive to your computer and download this program to your computer and install it easily by following its directions. Select a practical data recovery type from four on its main window.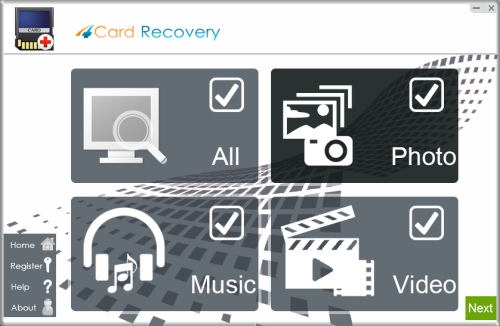 Select recovery options in the main interface
Step 2:
Highlight your RAW hard drive to begin the scan.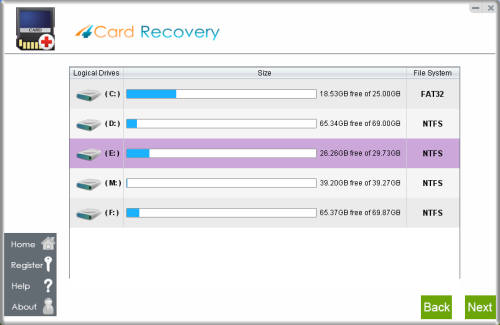 Select card to search photos off card
Step 3:
Wait patiently when the software is scanning the selected drive for lost files.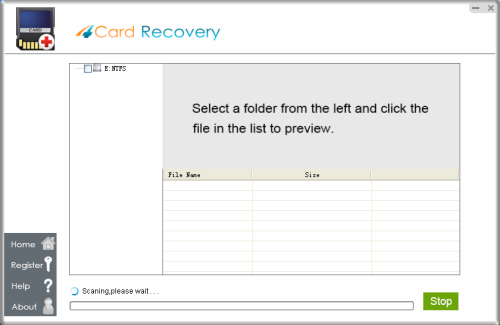 Wait while scanning lost photos, sometimes it takes about 20 minutes to scan a 32G card.
Tips: if it takes more than 2 hours to scan a 32GB card, you may stop the scanning and wait to see
what's already found. Since the card may contains bad blocks that takes longer time than usual.
Step 4:
Preview and restore all marked data.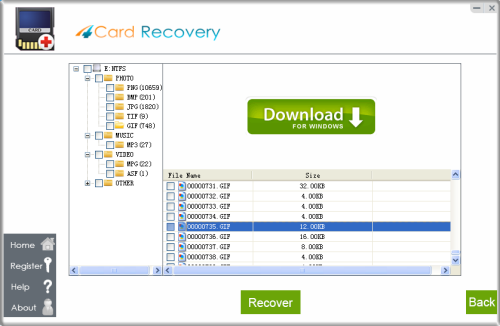 Preview lost photos and save found files. It would generate a folder to contain your lost data.
Please do not save the photo to the card where you lost them. Save them to your PC drive!

Download 4Card Recovery
Avoid Overwritting Your USB Hard Drive
In computing, the RAW file system problem will never erase everything on a USB hard drive. But, that's not to say, your original data can be stored there forever. From now on, anything new on the same drive can really take over your data and make it gone permanently. Therefore, there is no time to wait!
Please pay attention:
*Do not try to format this drive before data recovery process in case of unwanted data loss.
*Do not save freeware files and folders on the same drive in case of overwriting your original data.
*Do not save rescued data on the same drive in case of data recovery failure.
*Do not forget to format this drive for fixing "RAW" file system problem.
How to Fix RAW File System Problem?
You may know that the most widely-used and efficient way to fix the RAW file system problem is to format this RAW drive, because the formatting process always can easily turn the RAW file system back to NTFS or FAT32. So, in your case, after successfully retrieving all your drive data, you can straightly format this drive and change it back to your frequently-used file system.
Why to Choose This RAW USB Hard Drive Data Recovery Freeware?
Unlike other data recovery tools that only offer some limited data recovery features, this RAW USB hard drive data recovery Program has offered many useful and advanced features for users. Firstly, when talking about this tool, the most worthwhile feature is its four powerful and diversified data recovery types, which can always help people cope with different data recovery problems efficiently, such as photo recovery problems, video recovery problems, music data recovery problems and all others. Secondly, it also can help restore data both from a camera/phone memory card and internal/external drive. Overall, it is a really powerful data recovery program.
How to Recover Formatted RAW Drive Data?
Format this RAW drive as the computer suggests? Want to recover original data from this formatted drive? OK! Don't worry! At least, you've fixed the RAW file system problem, right? As to the drive data, it is still recoverable, provided that it is not overwritten yet. In order to get back data from this formatted drive, you also need the above mentioned data recovery tool. Simply follow those steps carefully.

Download 4Card Recovery