Summary
This article tells how to effectively copy all your lost files back from corrupted memory card or other storage devices with different data recovery problems.

Corrupted Card Recovery by 4Card Recovery
Free download 4Card Recovery to regain all your lost files (like photos, videos, audios and documents, etc) back from corrupted memory card when this card can still be recognized or read on your computer/laptop.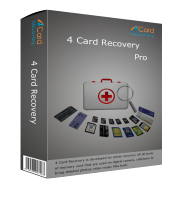 Corrupt Your Camera or Phone Memory Card?
What have you unluckily done to corrupt your camera or phone memory card? Improperly extract it out from your PC when it is still working? Incautiously drop it from a really high place? Unknown virus or threat damages it without warning? Or your memory card is merely corrupted for long time use? Memory card files are still stored there without any extra copy? OK! Don't despair! Have you tried this memory card on your computer? Is it still recognizable on your computer? If it is, all right, you are lucky! Just apply 4Card Recovery to take all your card information back as you hope.
Free download 4Card Recovery to Recover Corrupted Memory Card Files
Step 1:
Free download this user-friendly data recovery tool from its site. Install and start it step by step. It bundled Wizard guidance can help you a lot. Scan this corrupted memory card with this tool. There are four data recovery modes for you to choose after running it on your PC.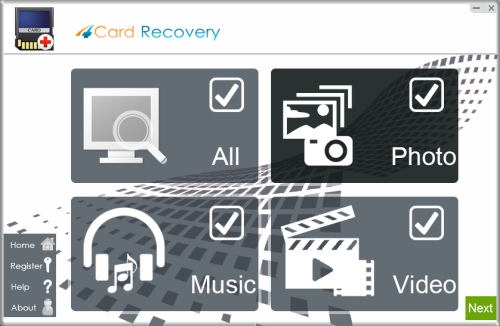 Select recovery options in the main interface
Step 2:
Select this connected memory card as the scanning device.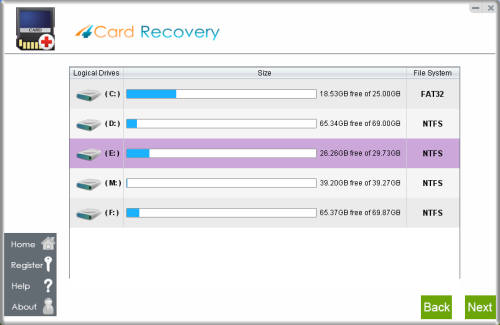 Select card to search photos off card
Step 3:
The scanning process will last for several minutes, please wait patiently.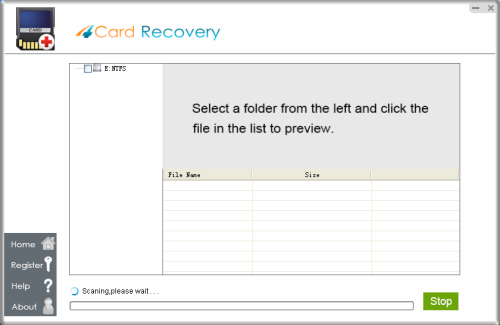 Wait while scanning lost photos, sometimes it takes about 20 minutes to scan a 32G card.
Tips: if it takes more than 2 hours to scan a 32GB card, you may stop the scanning and wait to see
what's already found. Since the card may contains bad blocks that takes longer time than usual.
Step 4:
Preview and restore all wanted data back. Its "Preview" button allows you to view all recoverable data that has been scanned out.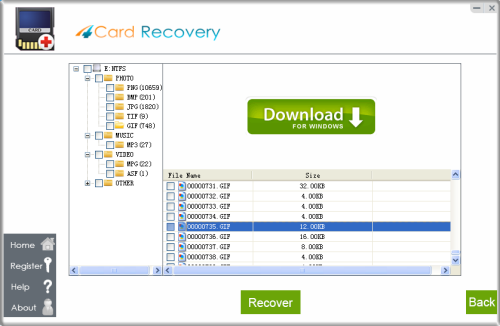 Preview lost photos and save found files. It would generate a folder to contain your lost data.
Please do not save the photo to the card where you lost them. Save them to your PC drive!

Download 4Card Recovery
The corrupted memory card often can be damaged physically and logically. The logically damaged memory card is still repairable and inner data is still hopeful. But, ironically, the physically damaged memory card is often irrecoverable, including the inner data. So, just pray that your memory card still can be recognized by your computer. Even though the recognizable memory card doesn't indicate a logically damaged card in your case, we can 100% sure that the unrecognizable memory card must be seriously and physically damaged. So, if your corrupted memory card still can be read on your PC, just set out to restore your card data immediately with the help of 4Card Recovery, which is created to help users like you restore memory card data back as easily as possible. It always works powerfully with some memory cards of phones, cameras, camcorders or players, etc. 
PS:
* Do not do any change to this corrupted memory card in case that any improper operation can remove your stored files without warning.
* Do not save all restored data on this corrupted memory card in case that any restored data would be lost again.
* Try to format this memory card to check whether it can be used again. In my part, I would recommend you to buy a new one in case of any further data loss.
*Try to play a habit to keep at least an extra copy of everything important on a different storage device in the future.
How to Deal with Unrecognizable Memory Card?
As we've mentioned above, as to the recoverable memory card, you can still use some data recovery tool to take chances. But, how about the unrecognizable memory card? If your corrupted memory card also unfortunately cannot be recognized by your computer or laptop, what you can do? Don't worry! There are two methods for you:
1). Ask for professional data recovery service.
If the data recovery tool is not practical for you right now, you can still consult some data recovery specialist. There are many similar data recovery companies or experts that can provide professional data recovery services for you. Just consult all possible information clearly in case of wasting any penny.
2). Replace this corrupted memory card.
But, if the data recovery specialist also cannot restore your card data, you may have no choice but to give up both of this memory card and inner data. Just buy another memory card to replace it. Next time, you should never save crucial data on only one memory card or storage device.

Download 4Card Recovery