Summary
4Card Recovery, as a worthwhile data recovery tool, will be introduced here for you to successfully get all RAW memory card data back when you are trapped in considering whether it is safe enough to format this card in advance.

RAW Memory Card Recovery by 4Card Recovery
Free download 4Card Recovery to rescue all memory card files back in advance when your card gets a RAW file system error and have to be formatted for future use.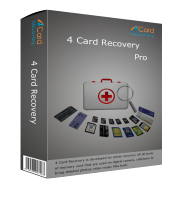 Memory Card Has a RAW File System?
Have you ever heard about RAW file system? RAW file system is often talked about a drive or memory card state that cannot be read by both of Windows and Mac computers. However, ironically, just a simple format can change this weird file system back to the recognizable file system like NTFS or FAT32. So, that's why you are always asked to format your memory card when meeting a RAW file system. In fact, except this "not formatted error" message, there are still other symptoms that can tell a RAW file system problem, such as directly showing a "RAW file system" in "Disk Management" or "Properties" and 0bytes of used space displayed, etc. What's yours? Want to restore your memory card data back safely as well? Don't panic! Just stop considering whether you should format this memory card in advance. Instead, you are supposed to select a data recovery tool to take back your data as soon as possible.
How to Rescue RAW Memory Card Data before formatting?
As we've mentioned, the Mac or Windows computers will not recognize the RAW file system. So, even when your RAW memory card is fully filled with different files, you still will be told there is nothing stored. But, that's not to say, you cannot restore or copy them all out with the help of some professional data recovery tools. As a matter of fact, 4Card Recovery, as one of these professional data recovery tool, could be the best solution for you to retrieve data back from a RAW file system memory card. Firstly, this tool has a really easy interface so that you can smoothly rescue your data, even though you've never apply similar data recovery tools before. Its wizard guidance really helps. Secondly, this tool also has four powerful data recovery mode so that you can successfully restore different types of files back form your RAW memory card or USB drive. They all are efficient.
So, let's try to restore your data back from this RAW memory card:
Step 1:
Download this 4Card Recovery in advance. Launch it and follow its Wizard to specify a proper data recovery mode form four on its main window.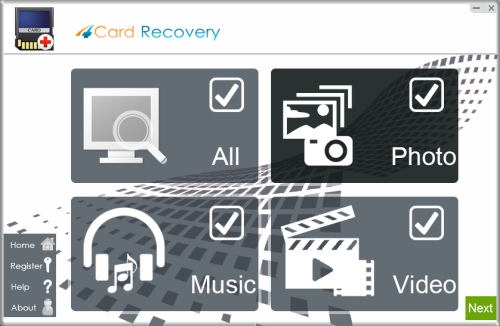 Select recovery options in the main interface
Step 2:
Click "Next" to find your plunged RAW memory card. And then, this tool will begin to scan your card thoroughly.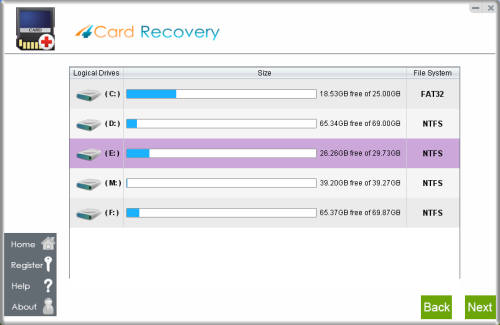 Select card to search photos off card
Step 3:
The scanning process will last for several minutes, please wait patiently.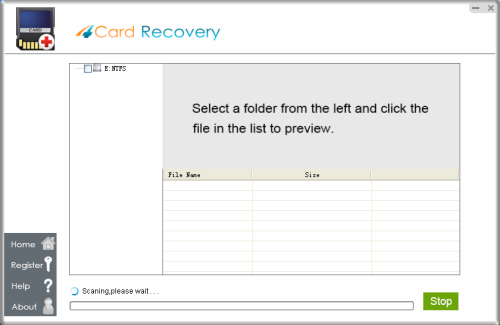 Wait while scanning lost photos, sometimes it takes about 20 minutes to scan a 32G card.
Tips: if it takes more than 2 hours to scan a 32GB card, you may stop the scanning and wait to see
what's already found. Since the card may contains bad blocks that takes longer time than usual.
Step 4:
 Preview and restore all useful files back.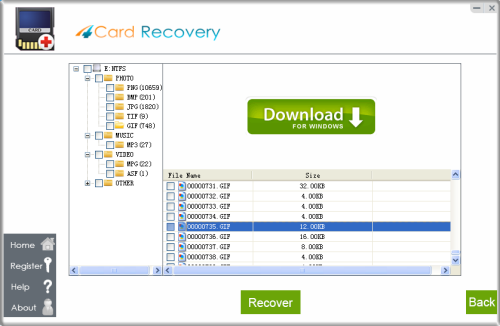 Preview lost photos and save found files. It would generate a folder to contain your lost data.
Please do not save the photo to the card where you lost them. Save them to your PC drive!

Download 4Card Recovery
Caution:
* New Data on this RAW memory card can cause permanent data loss.
* Save all restored card data on different memory card or drive.
*Memory card or USB drive should be stored on separate storage devices to avoid any unwanted data loss in the future.
Format RAW File System Memory Card
Back up all your restored card data and format this card with RAW file system. RAW file system problem could be completely removed by this formatting process. Remember to use this memory card properly in the future in case of similar data loss problems.
Information about File System
In computing, the file system is a sort of media state that controls how data is stored or organized on a storage media, like frequently-used hard drive, memory card, CDs, DVDs and more. Take the hard drive as an example. As we all know, our computers can choose to use different operating system like Windows OS, Mac OS and more. So, the drive file system also correspondingly has different compatible types. Under the Windows OS environment, your drive often can be read functionally on your computer, when your drive file system is in NTFS or FAT32. Under the Mac OS environment, you drive often can be read normally, when your drive file system is in HFS+. So, that's why one often has to format his drive before using, when he wants to use its Mac file system drive on a Windows computer.    

Download 4Card Recovery