Summary
This article is about how to recover your mobile phone pictures, contacts, videos, messages, emails and audios, etc, back when your mobile phone memory card is formatted, corrupted, unreadable, displayed as RAW and more.

Mobile Phone Card Recovery by 4Card Recovery
Free download 4Card Recovery to restore all deleted, lost or inaccessible data back from different mobile phone memory card, after deletion, formatting or even card corruption.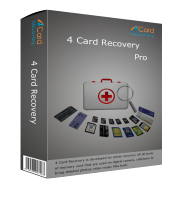 Mobile Phone Memory Card Data Is Lost without Backup?
Have you ever lost your mobile phone memory card data? What have you done to your phone at that time? Erased your phone photos, contacts, messages, etc, only for carelessly pressing "Delete" button? Formatted phone memory card only for unintentionally clicking "Format" option? Corrupted phone memory card only for simply storing too much data at once? Or merely lost your phone data with unknown reasons? The way to regain your lost phone card data back is the most annoying part, right? Don't worry! No matter whether you've ever lost your phone card data, we hope you can clearly know how to restore your wanted data back with 4Card Recovery, when you unlucky meet the similar data loss problems in the future.
How to Restore Mobile Phone Memory Card Data?
Nowadays, when most of us are enjoying the convenience of mobile phone, a portion of us are also experiencing some unhappy things, especially the mobile phone card data loss problems. But, in fact, it is not so difficult to restore lost/deleted/inaccessible data back from our mobile phone memory cards. When your phone memory card is formatted, corrupted, unreadable, deleted or inaccessible for RAW, what you need is only a practical and efficient data recovery tool named 4Card Recovery to retrieve all your needed data back in simple steps. This powerful data recovery tool always can help find your phone pictures, contacts, videos, audios quickly and restore them all back easily:
Step 1:
Plunge your mobile phone to your computer and download this 4Card Recovery there latter. Also pick out a useful data recovery option for your mobile phone.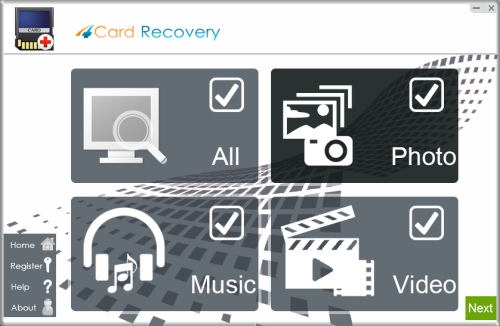 Select recovery options in the main interface
Step 2:
Find your phone memory card on the detected media list so that this tool can begin to scan your lost data soon.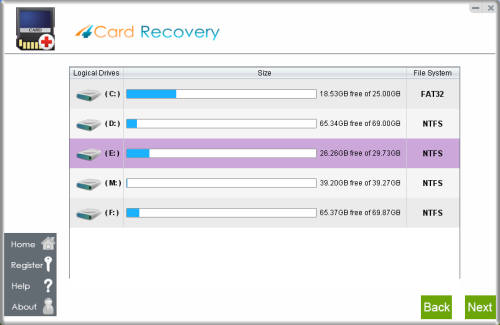 Select card to search photos off card
Step 3:
The scanning process will last for several minutes, please wait patiently.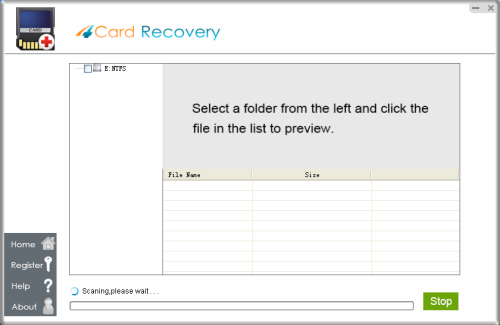 Wait while scanning lost photos, sometimes it takes about 20 minutes to scan a 32G card.
Tips: if it takes more than 2 hours to scan a 32GB card, you may stop the scanning and wait to see
what's already found. Since the card may contains bad blocks that takes longer time than usual.
Step 4:
 Preview and press "Recover" button to get back all selected data back.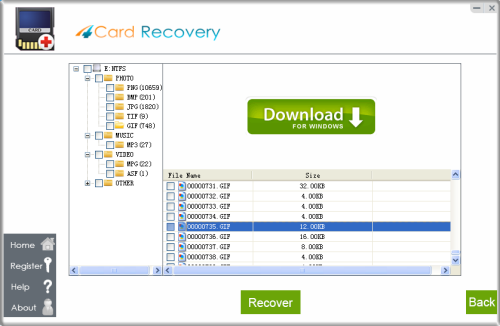 Preview lost photos and save found files. It would generate a folder to contain your lost data.
Please do not save the photo to the card where you lost them. Save them to your PC drive!

Download 4Card Recovery
Note:
*Stop using this mobile phone so that your original data could be kept well and safe before data recovery.
*Try scanning this mobile phone memory card several times so that you can get back data as much as possible.
*Avoid saving restored card data on the same phone card in case of any data loss.
*Keep uploading all important phone data to your computer and backing it up well.
Major Types of Memory Card
Do you know how many types of memory cards are sold on the market? Do you know how many types of them are commonly used on our mobile phone or camera? OK! As a memory card user, you should at least know some major types here:
1). Secure Digital card. This memory is often briefly called "SD card". It can be used on a video camcorder, digital camera, mobile phone and audio players. Its capacity often varies from 16MB to 1GB. And it usually features for its data encryption that enables the user to add a password to his stored data and protect it well.
2). Compact Flash card. This memory card is also shortly named "CF card". As an earliest created memory card, CF card also can be used in various electronic devices, like cameras and phones, etc. Moreover, it often features for its low price, comparing to other types of memory cards. Therefore, in some degree, it is the commonest memory card on the market.
3). Micro SD card. As one kind of SD cards, Micro SD card is much smaller than the common SD card in size and capacity.
4). Security Digital High Capacity card. Security Digital High Capacity (SDHC) is also another type of SD cards. But, differently from a common SD card, SDHC card has a much larger capacity from 2GB to 32GB. It also has a different file system.
5). MutiMediaCard. MutiMediaCard (MMC), as one type of memory cards, is also regarded as the smallest memory card with flash memory in the world. It often can be used in a phone, camera, player, Pad and more tools.

Download 4Card Recovery