Summary
4Card Recovery will be introduced to restore all memory card data or even USB flash drive data back with ease, when you have carelessly deleted something important inside this card or USB drive.

Memory Card Deleted File Recovery by 4Card Recovery
Free download 4Card Recovery to regain all valuable data after accidental deletion when you do not have a memory card data backup.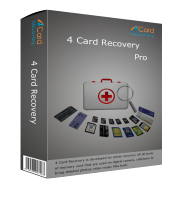 Delete Memory Card Data Accidentally?
How do you delete your memory card data? View memory card photos on your camera/phone and intentionally delete portion of them? Carelessly click "Shift+Del" to wipe many memory card files on your computer/laptop? Clean some useless files on laptop/computer that has a couple of storage devices plunged and mistakenly delete memory card files or folders instead? Or simply delete memory card files without any data backup? All right! Don't panic! Keep this memory card well and set out to undo the deletion to retrieve your removed files back with data recovery software.
How to Undelete Your Memory Card Files?
Actually, it is absolutely true that the lost files on your memory card are not really removed after deletion. They are still reserved on this card and only marked as "deleted data". So, before they are all really erased by anything new on this memory card, you definitely can undelete them back by any reliable data recovery tool like the well-designed 4Card Recovery, which has been highly used by many users to restore their inaccessible/lost/deleted data back from a memory card or USB drive. In order to simplify the data recovery operations, this tool has been created with a user-friendly and easy-to-use interface. In order to process known or unknown data recovery problems, this tool has been developed with four efficient data recovery modes. So, desperately want to undelete your card files? Just give this tool a shot:
Step 1:
Free download 4Card Recovery and insert your memory card on your computer. Opt for a useful data recovery mode after installing and launching.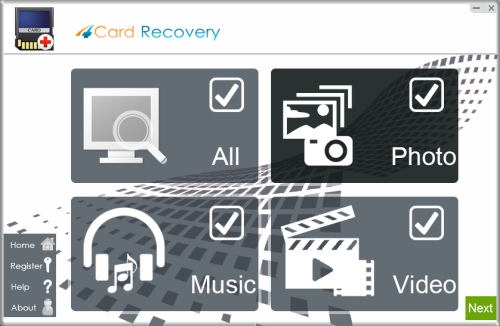 Select recovery options in the main interface
Step 2:
Locate your memory card on its restoring window. Scan your card soon.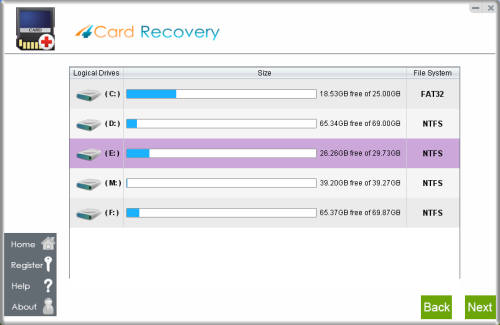 Select card to search photos off card
Step 3:
The scanning process will last for several minutes, please wait patiently.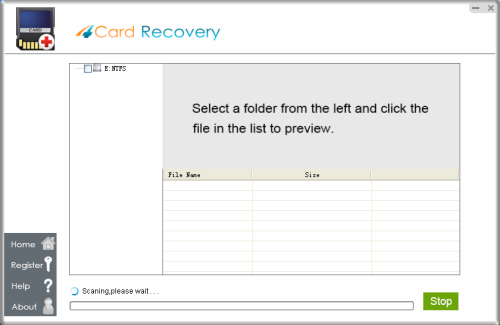 Wait while scanning lost photos, sometimes it takes about 20 minutes to scan a 32G card.
Tips: if it takes more than 2 hours to scan a 32GB card, you may stop the scanning and wait to see
what's already found. Since the card may contains bad blocks that takes longer time than usual.
Step 4:
 Restore all useful files back. Save and back up all important well.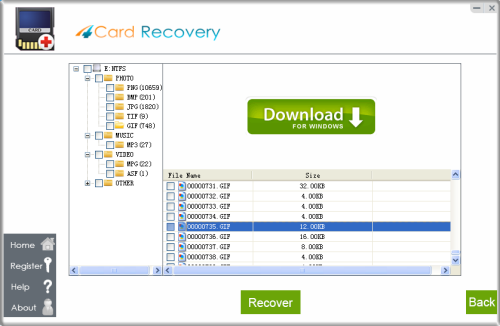 Preview lost photos and save found files. It would generate a folder to contain your lost data.
Please do not save the photo to the card where you lost them. Save them to your PC drive!

Download 4Card Recovery
Tips:
*Memory card should be free from any computer/camera/phone since any new file would use the space of original data and make it gone forever.
*Restored data also should be free from this original memory card in case of data recovery failure.
*Important data on a memory card or drive should be backed up on different drives or cards in the future.
4Card Recovery Overview
As we've mentioned, 4Card Recovery has been designed with many great data recovery features. It can always easily help you rescue card data. But, if you still have no any faith in this newly known tool, you can read more information about it here
1). The Wizard guidance can help you install this tool in clicks.
Every data recovery tool often has its own data recovery theories and skills. However, as to some computer amateurs or beginners, these special data recovery theories may also cause some difficult operations problems. So, in order to reduce any possible operation problem, 4Card Recovery has been developed with a Wizard guidance that can teach you how to use this tool step by step. So, without any annoying troubles, you can install this tool with ease.
2). It is compatible with almost all memory card and some USB flash drives.
On the outside market, there are many data recovery tools. Some of them are specially designed to restore lost data from for memory cards. Some of them are specially created to take back data from USB drives/hard drives. Of course, there are also some highly developed ones are specially compatible with both of memory cards and USB drives/hard drives. And 4Card Recovery belongs to the last group. So, you can easily use it on your memory cards an USB flash drives.
3). It has four data recovery modes.
There are many data recovery tools that have only offered two options for one to restore data back: quickly scan and deeply scan. However, unlike these tools, 4Card Recovery has offered four advanced data recovery options to retrieve all photos, videos, music and all others back from your memory card.
In conclusion, this data recovery tool is really comprehensive and worth trying.

Download 4Card Recovery