Summary
This article is about recovering data from a corrupted memory card at the aid of 4Card Recovery, which can also easily cope with various memory card data recovery issues.

Corrupted Card Recovery by 4Card Recovery
Free download 4Card Recovery to recover all lost or deleted pictures back from your corrupted memory card.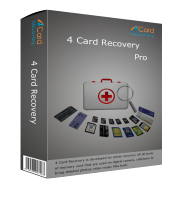 What's Your Memory Card Problem?
How do you lose your memory card photos? Unexpectedly find your memory card fails in your digital camera or mobile phone? Camera or phone gives a "Memory Card Error" and all taken photos are gone? Simply shows a "not formatted error" and all stored data are inaccessible? Or merely want to restore photos back from memory card for mistaken deletion or formatting? OK! Don't give up right now! No matter whether your camera/phone memory card is really corrupted, you'd better make all efforts to restore these original photos back at first. And then, in your case, 4Card Recovery can be the best chance for you.
Retrieve Pictures with 4Card Recovery
For a memory card user, one of the worst things is to lose all card data without any sign, such as incautious deletion issue, accidental formatting issue, corrupted memory card issue and more. But, don't worry! Even when you unfortunately encounter these tricky card data loss problems, you also can try to restore your data back. In fact, as long as this memory card is still readable on your Windows computer, you absolutely can take chances with 4Card Recovery, which is designed to help users restore memory card/USB drive data back due to memory card error, formatted/corrupted memory card/USB drive, virus-infection and other common reasons.  
How to Recover Photos from Memory Card?
Step 1:
Start to download 4Card Recovery on your computer and fire it up there. Insert this corrupted memory card into a card Reader or your camera/phone and lunge it to your computer. Choose one proper data recovery option as its main Windows pops out.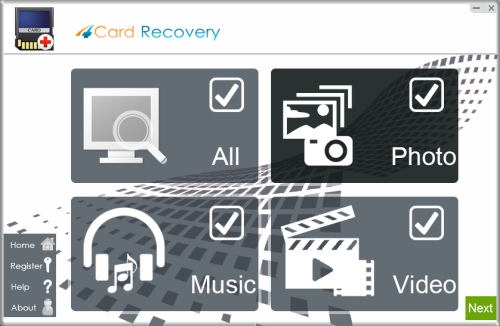 Select recovery options in the main interface
Step 2:
Select the memory card and click "Next" button to begin scanning.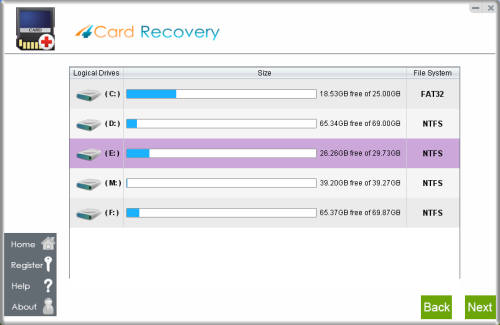 Select card to search photos off card
Step 3:
The scanning process will last for several minutes, please wait patiently.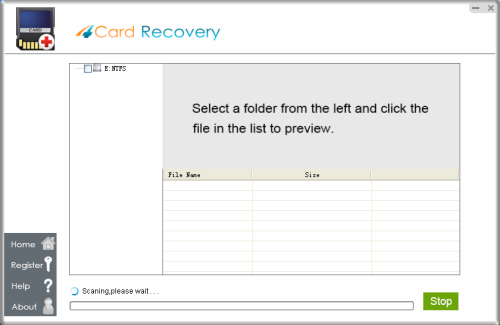 Wait while scanning lost photos, sometimes it takes about 20 minutes to scan a 32G card.
Tips: if it takes more than 2 hours to scan a 32GB card, you may stop the scanning and wait to see
what's already found. Since the card may contains bad blocks that takes longer time than usual.
Step 4:
Restore all wanted photos back. You also should choose another memory card or hard drive to save all your restored photos in case of data recovery failure.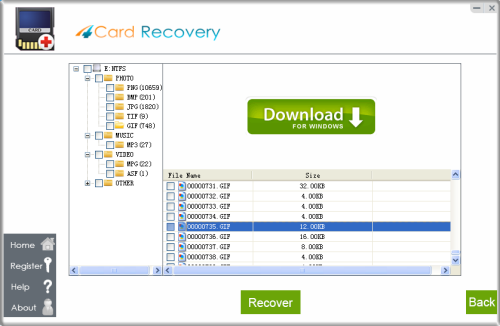 Preview lost photos and save found files. It would generate a folder to contain your lost data.
Please do not save the photo to the card where you lost them. Save them to your PC drive!

Download 4Card Recovery
Tips:
* Remove this memory card from your phone/camera immediately. Do not write any new file on it before data recovery.
* Transfer all restored photos on another memory card or storage device. Do not save it on the same card and cause some unwanted data loss.
* Scan this memory card with this tool several times so that you can completely restore lost photos back.
* Save much more copies of everything important on different places in the future.
Format Corrupted Memory Card?
If you are not sure whether your memory card is corrupted completely, you can format this card after the data recovery and see whether it can be read functionally. Otherwise, you have to throw this card away and buy anther new one to use.
Reasons of Memory Card Corruption
There are many reasons that can make a memory card corrupted. You should know some major ones and avoid doing any of them on your memory card in the future:
* Power off your camera when some newly taken pictures are still not written to the inserted memory card completely.
* Pick out the memory card from a PC/laptop when this card is still working.
*Battery is nearly out of power when you are transferring some data from memory card to PC/laptop.
* Memory card is damaged by some viruses or threats on your computer.
* Keep writing some new data on memory card when card is really full.
Overall, no matter what has happened in the future, you should always rightly and safely use your camera/phone memory card.

Download 4Card Recovery