Summary
This article will strongly recommend you to recover different lost data back from Centon flash card with 4Card Recovery that has offered many great data recovery features.

Centon Flash Card Recovery by 4Card Recovery
Free download 4Card Recovery to help you change the complicated and professional data recovery process into several simple clicks. It always does its utmost to get back all possible card files.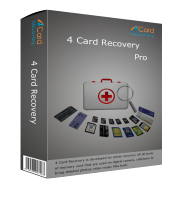 Lose Your Centon Flash Card Files by Chance?
In these days, in order to attract much more customers, Centon has offered a full line of flash cards for users to freely use in different portable devices, like SD cards, CF cards and Micro SD cards, etc. However, when using these cards personally in daily life, you will also lose your treasured files sometimes accidentally or intentionally. In fact, in the actual use of these Centon flash cards or other branded cards, sometimes, it is really easy to get remained card data loss without data backups, like unintentional clicks to delete something precious, accidental clicks to format flash card without data copies, sudden extraction or cropping, unexpected RAW file system converting or card corruption and more. But, no matter how ridiculous it is for you to lose your card data, never give up and keep this flash card well till you've rescued all your precious flash card files back.
How to Rescue Centon Flash Card Files with 4Card Recovery?
Search many related card data recovery solutions over the internet and also give many data recovery software a shot. But, the consequences seem not to be satisfying? OK! Never quit halfway! Up to now, you have not taken all your needed card files back. But, that doesn't mean you can never do that successfully. At least, in my part, you have not tried a powerful and comprehensive data recovery tool named 4Card Recovery, right? 4Card Recovery has been proven to be an efficient memory card data recovery program by its countless users. Why? Firstly, it has four pre-designed data recovery modes that can help you scan almost all types of files out from all prevailed memory cards and USB flash drives. Secondly, it has an easy-to-use interface that can help you change all possible complex data recovery processes into several simple clicks. Thirdly, it is really safe and risk-free. 
So, cheer up! Let's begin to rescue your Centon flash card files back:
Step 1:
Download 4Card Recovery . Follow the instructions to launch it on your computer and use a data recovery mode to rescue your card files.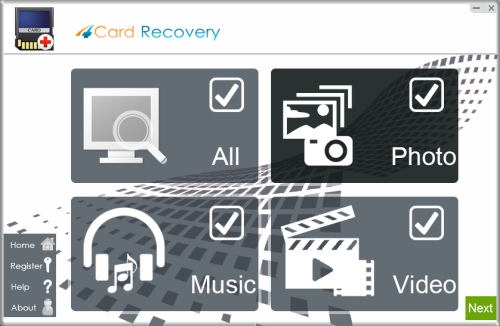 Select recovery options in the main interface
Step 2:
Scan this Centon flash card after specifying it out from other presented disks.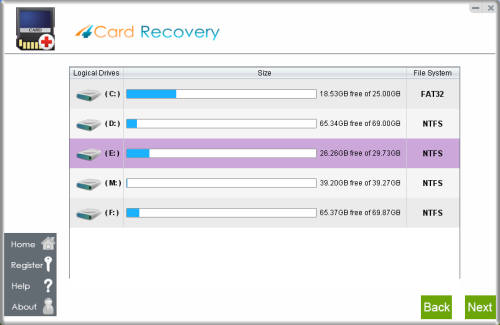 Select card to search photos off card
Step 3:
 Mark all files that you want to restore.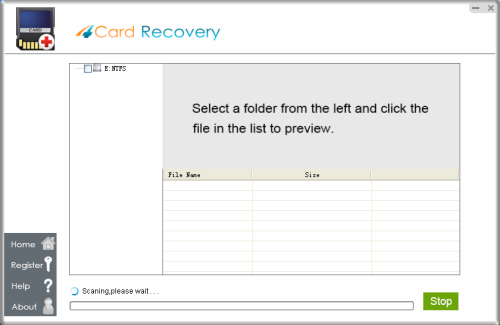 Wait while scanning lost photos, sometimes it takes about 20 minutes to scan a 32G card.
Tips: if it takes more than 2 hours to scan a 32GB card, you may stop the scanning and wait to see
what's already found. Since the card may contains bad blocks that takes longer time than usual.
Step 4:
Restore and save files to other desired storage media, like computer drives, external drives, etc.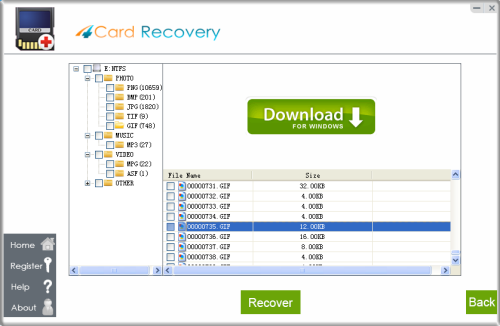 Preview lost photos and save found files. It would generate a folder to contain your lost data.
Please do not save the photo to the card where you lost them. Save them to your PC drive!

Download 4Card Recovery
Tips:
* Always stay this Centon memory card away from new files before data recovery.
* Always stay this Centon memory card away from any restored files after data recovery.
* Always keep this Centon memory card data backed up all the time in the future.
Words from 4Card Recovery Users
User1: I have ever been in a similar situation. My camera Micro SD card is just formatted when I am really sleepy. All my recorded videos and photos there are gone. And this 4Card Recovery is the only one that has recovered all my needed stuffs back with high quality.
User2: If you also have some memory card data recovery problems, you can directly use this data recovery too to rescue your lost data back. But, if this tool also makes no sense, your card may be damaged seriously. Just ask some experts for help quickly.
User3: To save your time, when you encounter memory card data loss problems in the future, this data recovery tool could be your first choice to go on. It works really perfectly and has ever successfully taken all lost photos back from the camera card of my friend.

Download 4Card Recovery