Summary
Efficient 4Card Recovery can help restore all deleted, erased, lost, missing or inaccessible data back from a Micro SD card when you are stuck in all possible data loss situations, such as mistakenly formatting, deletion, erasing, logical card problems and even corrupted card, etc.

Micro SD Card Recovery by 4Card Recovery
Free download 4Card Recovery to copy back all wanted Micro SD card data when you mistakenly delete card data, format card without data backups, drop card or even corrupt card anyhow and more.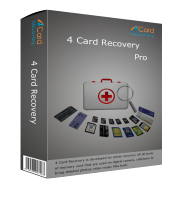 Wonder to Recover Micro SD Card Data back?
What is your Micro SD card data loss situation? Carelessly erase something useful or valuable when attempting to remove something unnecessary? Thoughtlessly format Micro SD card when you are asked to do so? Have no choice but to format this Micro SD card when you have to access this card at first? Micro SD card is damaged or corrupted somehow and all card photos, videos, files and more becomes inaccessible? Wonder to restore lost/inaccessible Micro SD card data at any cost? Stay calm! One good thing for you is that your thought is not a daydream. After all these mistaken deletion, formatting, corruption or damaging, etc, you are still able to restore your original Micro SD card data back before it is overwritten by new card data. Moreover, another good thing for you is that you can simply rely on a trusted card data recovery program named 4Card Recovery to accomplish a fantastic data recovery process.
How to Restore Micro SD Card Data back with Ease?
Luckily, your precious or valuable photos, videos, files and more are not removed completely after the inadvertent deletion, formatting, corruption or damaging and the like. They are still stored on your card. So, before everything becomes worse, like overwriting, future card damage or card data loss, you still can depend on a professional data recovery tool called 4Card Recovery to rescue all data back from this tiny Micro SD card. 4Card Recovery, a reliable data recovery tool, is highly developed to help people out when they are facing some horrible data loss problems. Let's take its three of its popular data recovery features for examples. At firstly, in terms of operability, it is developed to be as simple as possible. All its buttons and options are plain and understandable. In terms of data recovery efficiency, it is developed to have four advanced data recovery modes for one to restore lost data back in any situation. In terms of flexibility, it is developed to be used both on enormous memory cards and USB flash drives. So, launch it immediately to restore your lost data:
Step 1:
 Free download and install 4Card Recovery. Run it and click data recovery mode. You have four data recovery modes there.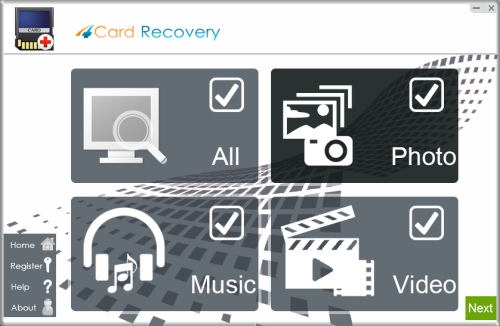 Select recovery options in the main interface
Step 2:
Click the drive letter of your inserted Micro SD card and scan it for your lost original data.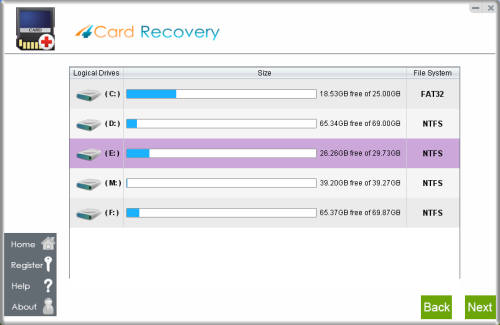 Select card to search photos off card
Step 3:
Wait when the software is performing scanning.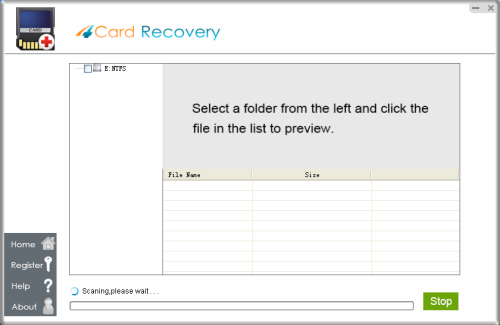 Wait while scanning lost photos, sometimes it takes about 20 minutes to scan a 32G card.
Tips: if it takes more than 2 hours to scan a 32GB card, you may stop the scanning and wait to see
what's already found. Since the card may contains bad blocks that takes longer time than usual.
Step 4:
 Preview and restore all wanted card files back in seconds.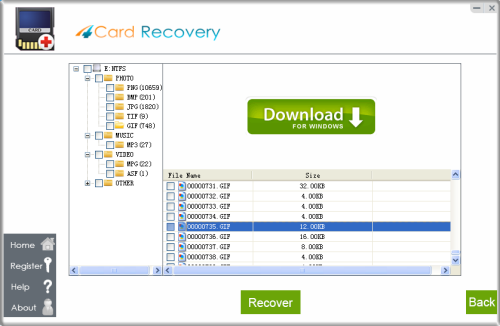 Preview lost photos and save found files. It would generate a folder to contain your lost data.
Please do not save the photo to the card where you lost them. Save them to your PC drive!

Download 4Card Recovery
Common Tips to Avoid Further Data Loss:
* You are not supposed to overwrite this Micro SD card with new files before data recovery.
* You are not supposed to save all restored Micro SD card files on the same card.
* You are not supposed to keep all important card or drive data on only one place in the future.
Micro SD Card Reader/Adapter Is often Needed to Be Read on Computer/Laptop
Are you always connecting your Micro SD card to your computer/laptop together with your original camera/phone? But, have your ever though what you can do when your camera/phone is not around or broken somehow? No matter whether you've considered about that question, what you need in that case is really simple. You merely need a Micro SD card Reader or Adapter, which is especially designed for user to easily read memory card data on a laptop or computer without inserting camera/phone. You always can load your card into this Reader or Adaptor and connect this Reader or Adaptor to your computer instead of original camera or phone. Moreover, for some card Adapter, you even insert several memory cards to read at once. Therefore, in case of any unexpected troubles, you can prepare one for your Micro SD card. 

Download 4Card Recovery