Summary
This article will tell you how to rescue memory card images, videos and more back with 4Card Recovery when you are facing the RAW file system issue and want to overcome this problem at last.

Memory Card Data Recovery by 4Card Recovery
Free download 4Card Recovery to easily rescue all memory card information when you memory card is found in RAW state and wants you to format it for future use.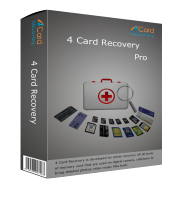 Want to Remove RAW File System Problem from Memory Card?
There are many situations in life where one has to format his memory card for RAW file system. What's yours? Memory card shows up on your computer, but cannot be opened for RAW format? Memory card has some errors like ″memory card shows RAW″, "memory card RAW error" and "The card is not formatted. Do you want to format it now", etc, and requires you formatting it immediately? Memory card cannot be accessed and its used-space also wrongly shows as o bytes for RAW file system? Or simply want to remove this RAW file system problem and worry about the safety of the inner reserved contents? OK! Don't worry! In order to reduce negative effects of RAW file system, you'd better first download 4Card Recovery to get back all your card contents.
How to Safely Restore Memory Card Data before Removing RAW File System Problem?
This RAW file system is nothing but an unrecognizable memory card state before formatting. That also explains why your RAW memory card still has nothing detected on your computer, right? In this case, simply a formatting process often can resolve this RAW file system problem for you easily. But, in order to get back your memory card data successfully and safely, a data recovery process also should be performed before the formatting. To up the chances of complete card data recovery, 4Card Recovery, a popular and competent data recovery tool, can be your best choice. 4Card Recovery has successfully helped countless people restore their photos, videos, music, messages and all other information back from various memory cards and USB flash drives, since it is created. This tool has been designed with four powerful data recovery modes and easy-to-use interface for one like you to easily take all wanted files back. Moreover, its ″Preview″ option also can help extremely save your time of data recovery. So, do not hesitate or suspect any more. Just try it right now:
Step 1:
 Free download and install 4Card Recovery on your computer. It is 100% free for you to download it here. And then, remember to select a proper data recovery mode to go on from the four listed there.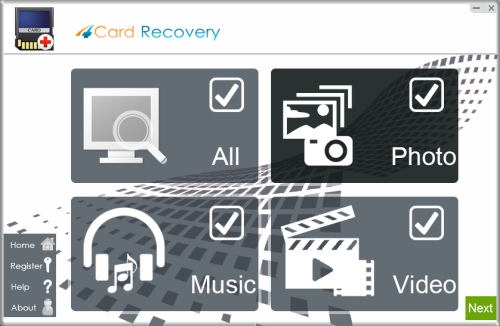 Select recovery options in the main interface
Step 2:
 Select the mediate that stands for your RAW memory card when you see all mediate drives displayed there well.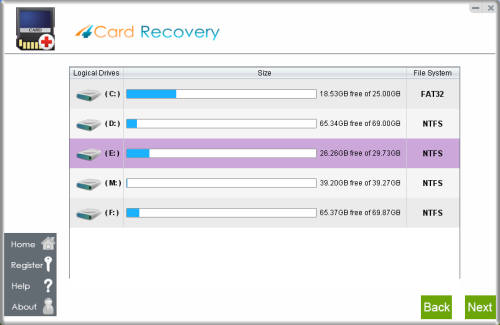 Select card to search photos off card
Step 3:
Wait when the software is performing scanning.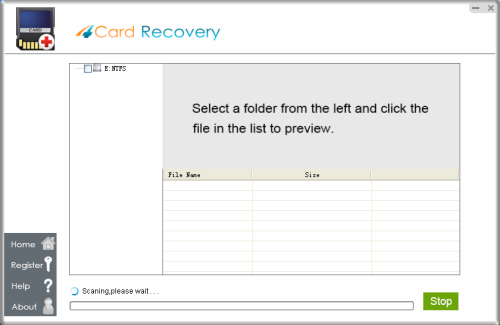 Wait while scanning lost photos, sometimes it takes about 20 minutes to scan a 32G card.
Tips: if it takes more than 2 hours to scan a 32GB card, you may stop the scanning and wait to see
what's already found. Since the card may contains bad blocks that takes longer time than usual.
Step 4:
Preview all listed files after scanning. Just select all wanted files to restore.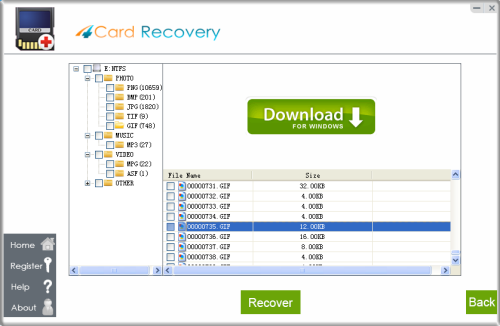 Preview lost photos and save found files. It would generate a folder to contain your lost data.
Please do not save the photo to the card where you lost them. Save them to your PC drive!

Download 4Card Recovery
Common Tips:
* Whatever happens, you are not supposed to save new files on this RAW memory card.
* Whatever happens, you are not supposed to save restored files on this RAW memory card.
* Whatever happens, you are not supposed to save all important card data on only one memory card or drive in the future.
How to Remove RAW File System Problem from Memory Card?
Back up all restored files on another memory card or computer drive. And then, you can format this memory card to remove its existing RAW file system problem. In order to avoid any new trouble, you'd better restore your memory card file system from RAW to NTFS or FAT32.
Save Copies of Important Card Data on Different Locations
In life, many common things could be out of control and cause some unnecessary troubles for you. Take your RAW memory card as an example! Before meeting this RAW problem, have you indicated this trouble for some signs? I guess the answer is absolutely ″No″. But, there is also no need to worry all the time. Without any predictable sign that could imply us a coming card data loss trouble, we still can do something to avoid similar card data loss problems, such as backing up all important card data well, properly using memory card and keeping memory card free from unsafe data, etc. And the most practical one of these tips is to back up all card data well. So, just remember to save copies of important card data on different drives or locations from now on.

Download 4Card Recovery