Summary
This article will tell you how to safely format a memory card without deleting anything important: recover memory card data with 4Card Recovery in advance and format this memory card finally without worrying inner data.

Memory Card Recovery by 4Card Recovery
Free download 4Card Recovery to find all inaccessible memory card files back before you attempt to format this memory card for your reasons.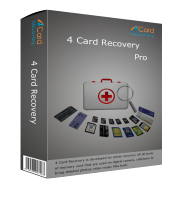 Want to Format Memory Card without Losing Files?
What has forced you to format your memory card? Memory card has to be formatted for fixing "not formatted error" problems? Memory card has to be formatted for settling "memory card error" problems? Memory card has to be formatted for restoring card normal file system, not RAW file system? Memory card has to be formatted for checking whether it is completely failed due to card damage? Or Memory card has to be formatted for your own reasons? But, you also cannot afford to lose the inaccessible memory card files? OK! Just temporarily ignore all these reasons that force you to format this memory card! It is not the right time for you to format this card. Right now, what you are supposed to do is to rescue all your inaccessible card data back with 4Card Recovery.
How to Recover Inaccessible Memory Card Files Right Now?
Memory card files often become inaccessible for some unexpected card errors, such as the "not formatted error", "memory card error" and "RAW file system error", etc. But, that doesn't indicates they will be inaccessible forever. Simply by applying a professional data recovery tool like 4Card Recovery, you definitely can make them visible again and use them according to your own plans freely. So, just give 4Card Recovery a chance here! 4Card Recovery, a widely-used data recovery tool, is often suggested by many users to help others restore their wanted data back from a memory card or USB flash drive. Moreover, no matter which data recovery mode you choose to use from the pre-designed four, you always can get a deep scan service and gain access to your wanted photos, music, videos and more contents. Its easy-to-use interface will also cause no complex operating trouble for you.
So, let plunge your memory card to a computer and use this tool here:
Step 1:
Free download 4Card Recovery. Also launch it on your computer and follow its Wizard guidance. Pick out a proper data recovery mode from four.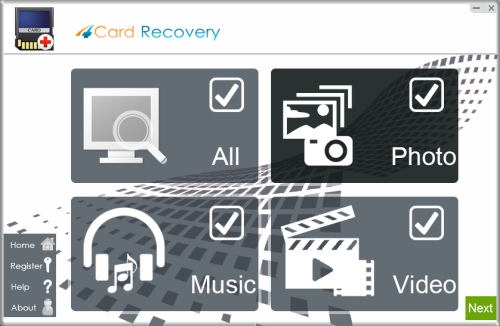 Select recovery options in the main interface
Step 2:
Select this memory card as the scanning device.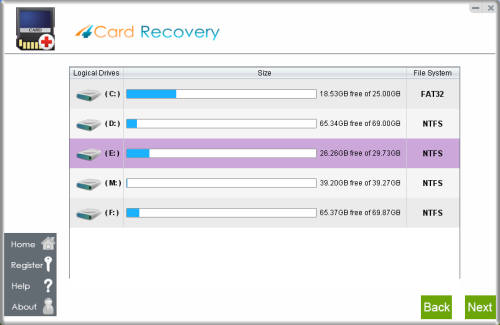 Select card to search photos off card
Step 3:
Wait when the software is performing scanning.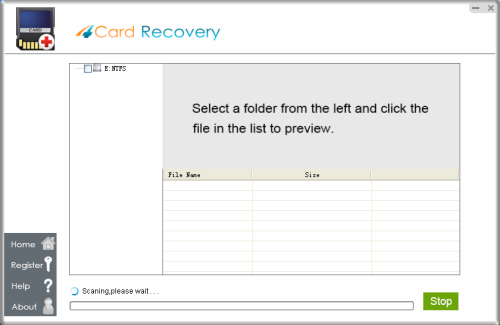 Wait while scanning lost photos, sometimes it takes about 20 minutes to scan a 32G card.
Tips: if it takes more than 2 hours to scan a 32GB card, you may stop the scanning and wait to see
what's already found. Since the card may contains bad blocks that takes longer time than usual.
Step 4:
Restore original memory card files as many as possible. Scanning your card more times may help you restore much more original data.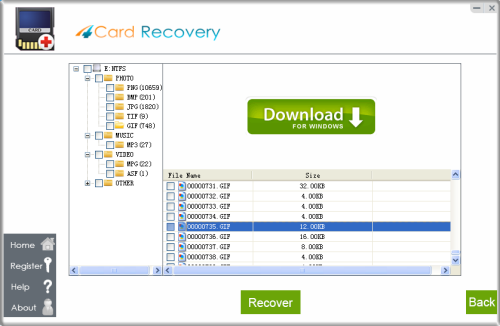 Preview lost photos and save found files. It would generate a folder to contain your lost data.
Please do not save the photo to the card where you lost them. Save them to your PC drive!

Download 4Card Recovery
Tips:
* Except formatting process, there are also other operations that can cause real data loss for you, such as overwriting this card with new files, saving restored data on the same memory card or storing downloaded data recovery program folder on this memory card, etc.

*In case of similar data loss problems, you'd better always timely save all important memory card data on another drive or storage device, such as your backup drives, backup DVD/CDs and online storage, etc.
Format Memory Card without Losing Files
In this moment, you can straightly format this memory card without worry any data loss. After restoring and backing up all your memory card files, the formatting process could be not be dangerous at all. Oppositely, the formatting process may be more fixable for your card problems. So, do not forget to format your card at last.
Memory Card Files Cannot Be Restored with Any Data Recovery Tool?
Cannot restore your memory card files with any data recovery tool found over the internet? Your memory card probably gets some serious physical damage. Just send this card to a data recovery company or lab. Moreover, the data recovery service could be really expensive. So, under this circumstance, many people would prefer to purchase another new memory card for future use. So, you should make your own decision wisely.

Download 4Card Recovery