Summary
This article will tell you how to recover data back from phone/camera/player/camcorder memory card with RAW file system and also change the RAW file system back to NTFS or FAT32 on your Windows.

RAW Memory Card Recovery by 4Card Recovery
Free download 4Card Recovery to re-access your photos, videos, music, contacts, messages and more types of files before you format this RAW memory card to make it workable on your Windows again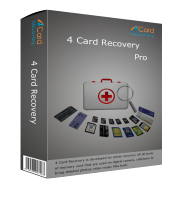 Windows Reports a RAW File System Memory Card?
Windows reports that you should format your memory card with RAW file system back to NTFS or FAT32? Windows also doesn't allow you to access any data inside this RAW memory card before formatting? But, there is no any copy of everything important that is stored on this RAW memory card? Don't be upset! Obviously, in your case, the key problem is to retrieve your memory card files, right? OK! Put aside this memory card RAW file system problem temporarily! Just concentrate on restoring RAW memory card data.
How to Restore RAW Memory Card Data?
Have you ever tried to restore data back from a memory card or hard drive before? If you have, you must know that there are many data recovery tools that are highly designed for users to rescue different data back from a memory card or hard drive due to various data loss problems. 4Card Recovery, as one of them, is also regarded as one of the most reliable one to try. 4Card Recovery can help recover deleted data from a memory card/USB drive, restore data back from formatted memory card/USB drive and retrieve lost data back from a logically damaged memory card/USB drive as well as retrieving data back from a memory card/USB drive with RAW file system.
So, let's install this tool on your computer and re-view your RAW card data:
Step 1:
Please download 4Card Recovery and install it there. Pick out a data recovery mode to get back everything. (You have four data recovery mode to choose.)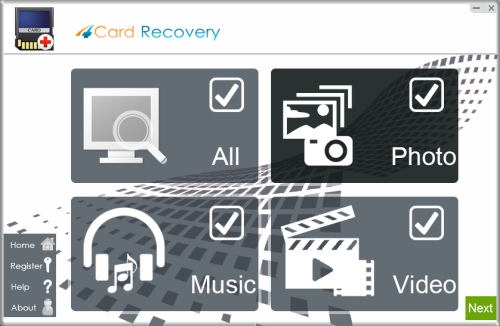 Select recovery options in the main interface
Step 2:
Please pick this RAW file system card out from all listed logical drives and scan this card immediately.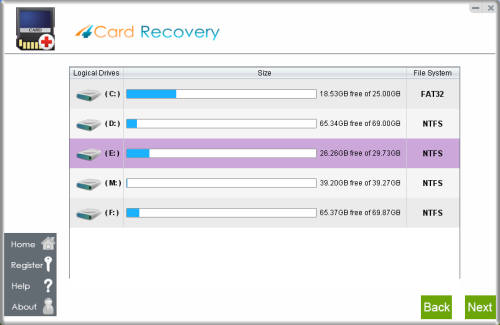 Select card to search photos off card
Step 3:
Wait when the software is performing scanning.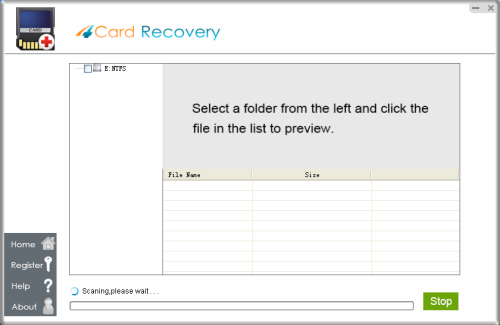 Wait while scanning lost photos, sometimes it takes about 20 minutes to scan a 32G card.
Tips: if it takes more than 2 hours to scan a 32GB card, you may stop the scanning and wait to see
what's already found. Since the card may contains bad blocks that takes longer time than usual.
Step 4:
Please restore all ticked data and back it up well on another place.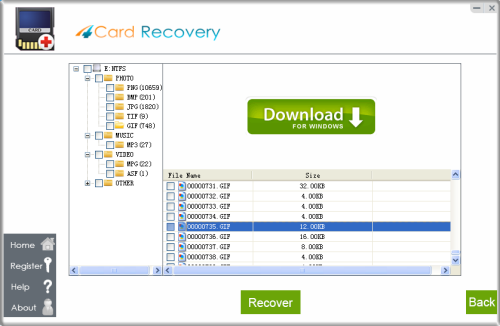 Preview lost photos and save found files. It would generate a folder to contain your lost data.
Please do not save the photo to the card where you lost them. Save them to your PC drive!

Download 4Card Recovery
Attention:
* You cannot format this RAW card before rescuing all data. Formatting process can reduce the possibility of successful data recovery.
* You cannot back up all restored data on the same RAW card.
* You should learn a lesson to put several copies of all important data on different drives or cards all the time.
How to Change RAW File System to NTFS or FAT32?
Orderly, after resolving the key problem about your data, you can start to fix the temporarily ignored problem, RAW file system problem. The solution is really simple. Just format it to covert its file system from RAW to NTFS or FAT32. Nowadays, different versions of Windows OS may have different compatible file systems. But, most of them all can support the NTFS file system. Therefore, if your computer is not so special that it only can read a drive or card with FAT32 only, you can directly format RAW to NTFS file system.
Three Methods to Format a Memory card
In computing, there are many card problems that need to be fixed by formatting. But, do you know how many ways to format a memory card? Don't worry! Here are three methods for you to go on:
1). Format memory card on your camera/phone/player/camcorder.
Nowadays, in order to bring more convenience, many camera/phone/player/camcorder has been added a function that allows one to format the inner memory card in one step. Some of the manufactures eve has created a special "format" button on the device surface. Therefore, you can load your card back to your camera/phone/camcorder/player to format it easily.
2). Format memory card with Windows built-in format tools.
Of course, if you don't want to format your card in your phone/camera/player/camcorder, you also can format it on your computer. Moreover, there are also two ways for you to try. Firstly, find this inserted memory card in "My Computer", right click it there to tick "Format" and then, follow its guidance to finish all things. Or, you can also format it with the second way: right click "My computer" to click "Manage"=> Disk Management=> right click your card on the left side to highlight "format".
3). Format memory card with card formatter.
In some cases, even when you've tried all mentioned methods, you also cannot format it smoothly. But, don't give up. There are still ways for you. You need a card formatter that can help forcedly format a memory card. Of course, except some free ones, you are also asked to pay for the service.


Download 4Card Recovery