Summary
4Card Recovery will be considerately introduced here for you to recover all wanted card data back when your Micro SD card has got some card errors, like "Not Formatted Error", "Memory card Error", "Memory card RAW error", "Unexpectedly removed error", "Card corruption error" or "damaged card error", etc.

Micro SD Card Data Recovery by 4Card Recovery
Free download 4Card Recovery to rescue all inaccessible card data, no matter what card errors you've met on your Micro SD card. After taking back all card data, you can freely fix your card errors as you wish.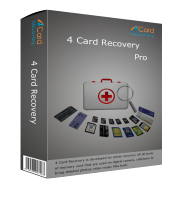 Which Card Error Do You Meet on Your Micro SD Card?
There many different card errors that can extremely effect the functional use of a Micro SD card. Most importantly, these card errors sometimes will also arouse some data accessing problems for our Micro SD cards. So, in order to fix your card errors more efficiently and safely, we need to know which card error you meet on this Micro SD card. Micro SD card asks: "The card is not formatted. Do you want to format it now"? Micro SD card pops a "memory card error" and wants you to format it? Micro SD card has a RAW file system error and suggests you to format for restoring its functional file system? Micro SD card is accidentally removed and gets some unexpected problems? Or Micro SD card gives a "card corruption errors" or "damaged card error" and cannot be used functionally as before? No matter whether your card error problem is mentioned there or not, for your inaccessible data, you'd better not do anything else to this Micro SD card. Instead, you need 4Card Recovery to check whether all your card data is recoverable.
How to Restore Micro SD Card Data back?
No matter which card error you've met on this Micro SD card, your stored files may not lose completely yet. So, you need insert your Micro SD card to computer and check whether all your original card data is still recoverable. And then, need a tool to simply check that for you? 4Card Recovery, a 100% risk-free data recovery tool, is one of the best choices for you out there. 4Card Recovery can help identify much more original inaccessible or lost card files for you, especially when you are doing a fully scanning. 4Card Recovery can help rescue data from much more types of storage devices, such as frequently-used various memory cards and much more USB flash drives. 4Card Recovery also has provided used with more powerful and enormous data recovery features, such as four highly-designed data recovery modes and considerately user-friendly interface.
Hence, don't let it go. Just use this tool to rescue your card data:
Step 1:
 Free download this comprehensive data recovery tool. Follow the Wizard steps to install it and choose a wanted data recovery mode.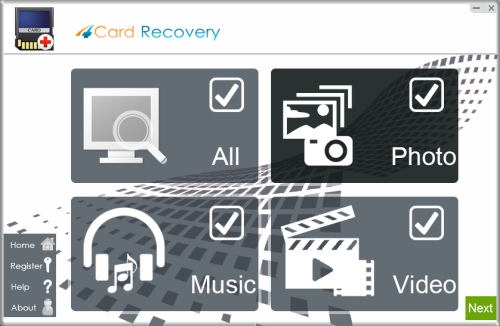 Select recovery options in the main interface
Step 2:
 Scan this Micro SD card deeply after specifying it out from other drive partitions.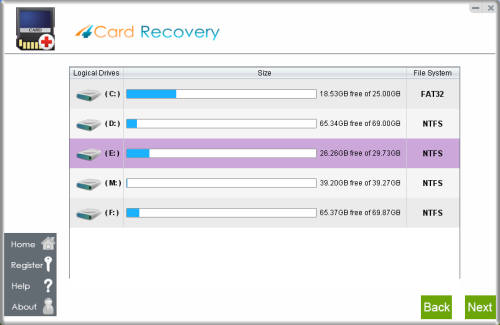 Select card to search photos off card
Step 3:
Wait when the software is performing scanning.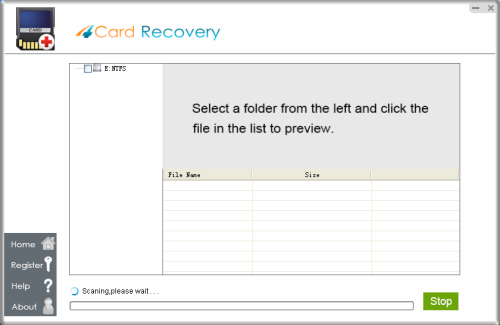 Wait while scanning lost photos, sometimes it takes about 20 minutes to scan a 32G card.
Tips: if it takes more than 2 hours to scan a 32GB card, you may stop the scanning and wait to see
what's already found. Since the card may contains bad blocks that takes longer time than usual.
Step 4:
Restore all marked files.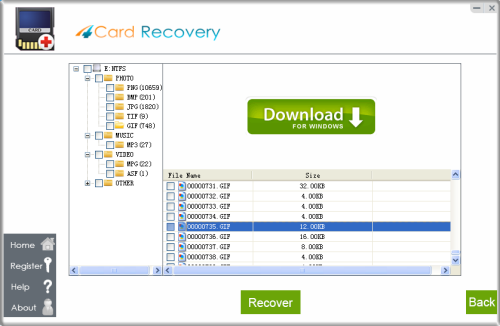 Preview lost photos and save found files. It would generate a folder to contain your lost data.
Please do not save the photo to the card where you lost them. Save them to your PC drive!

Download 4Card Recovery
Tips:
* Stopping writing new data on this card can help reduce data loss.
* Forbidding moving retrieved files on this card can help avoid further data loss troubles.
* Remembering preparing at least two copies of everything important on separate storage devices can help avoid many similar data loss problems.
Fix Micro SD Card Error
As to the most of card errors mentioned above, the formatting process always is enough to make everything right. One more thing should pay attention is to back up all restored data well before formatting. But, if your card error problem is much trickier and cannot be settled by simple format, you may have to ask some expert for help. Or you can directly replace it!
Other Possible Problems of Micro SD Card:
There are also other Micro SD card problems that can arouse some troubles for you. Let's learn something about them together:
1). Card is locked or write protected
Surprisingly find all your card photos, videos, messages and more can only be read and cannot be copied, cut or even transferred? Don't worry! If you are in this case, your card is probably locked or write–protected. In order to change your card data as before, you'd better remove the write protection or unlock it.

2). No memory card
Camera, phone or computer says there is no memory card, even when you've personally attacked your card there right now? That could be caused by faulty connection and card problems. So, you can change another card Adapter or Reader to have another try and check whether it still gets the same errors. Otherwise, you may have to ask someone else to help you out.

3). Card is unable to be formatted
Attached card cannot be formatted when you start to format it? Your card may get some serous physical problems. You'd better check it with some diagnostic tool and fix its possible problems. If the problems cannot be fixed, just change another one.

Download 4Card Recovery