Summary
This article is about how to recover files back with 4Card Recovery from Micro SD card that cannot be detected normally because of some reformatting error, not formatted error, RAW file system, card damage problems and more.

Micro SD Card Data Recovery by 4Card Recovery
Free download 4Card Recovery to recover all crucial files back when your Micro SD card just cannot work normally due to numerous reasons, including common not formatted error warning, RAW file system problem and the likes.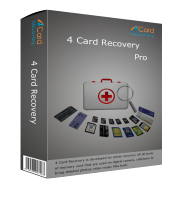 Micro SD Card Stops Working Normally?
Is there something wrong with your Micro SD card? How does it stop working normally? A message saying: ″Damaged SD card. Reformat needed″ is received when using this Micro SD card on your phone or camera? An error warning delivering: ″The card is not formatted. Do you want to format it now?″ is given when attaching this Micro SD card to your computer or laptop? A RAW file system format suggestion is popped out when you try to access this Micro SD card on your computer or laptop? A card corruption notice is attained when you attempt to open your Micro SD card on your computer or laptop? Relax! Don't be nervous! A Micro SD card can stop working normally due to numerous reasons. But, that doesn't imply that your card files are irrecoverable and hopeless. Simply through 4Card Recovery, a professional data recovery tool, you can restore your crucial card files back.
How to Restore Micro SD Card Files?
No matter what makes your SD card stop working normally, you'd better strop doing anything else to this card and prepare something necessary to restore your memory card files back. Do you know what you should prepare for that? Except some trivial stuff, at least, you should select and download a practical Micro SD card data recovery program like 4card Recovery, which has been popularly regarded as a powerful memory card data recovery tool by its users. What makes them think so? Don't rush! Firstly, 4Card Recovery has a really easy-to-handle interface so that you have no need to worry about some operation hardships or problems. Secondly, 4Card Recovery has offered four card file type data recovery options so that you can rescue your wanted card file types more specifically and efficiently, such as ″Music″, ″Photo″, ″Video″ and ″All″. Thirdly, 4Card Recovery also is 100% virus-free so that you can freely apply this tool on your computer.
So, just try it right now:
Step 1:
Free download and install 4Card Recovery on your computer. Run it and select "All" recovery option from its main window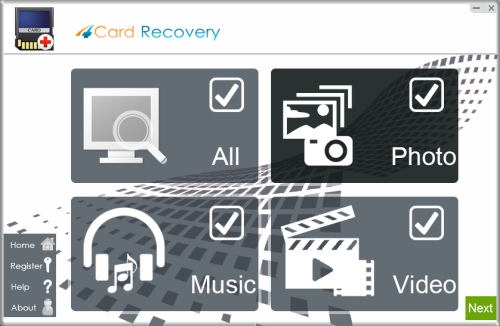 Select recovery options in the main interface
Step 2:
Select your Micro SD card out from other drive partitions and scan it deeply.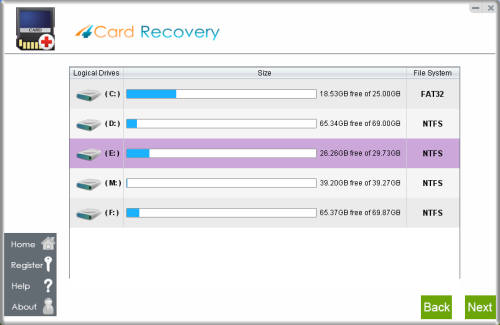 Select card to search photos off card
Step 3:
Wait when the software is performing scanning.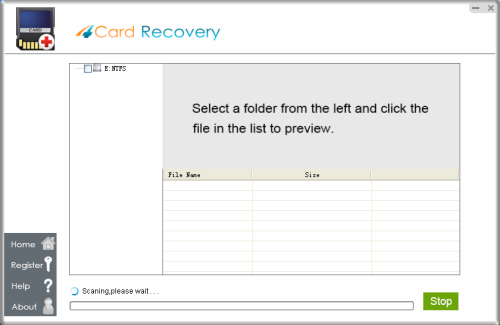 Wait while scanning lost photos, sometimes it takes about 20 minutes to scan a 32G card.
Tips: if it takes more than 2 hours to scan a 32GB card, you may stop the scanning and wait to see
what's already found. Since the card may contains bad blocks that takes longer time than usual.
Step 4:
View all scanned card files and restore all wanted ones back.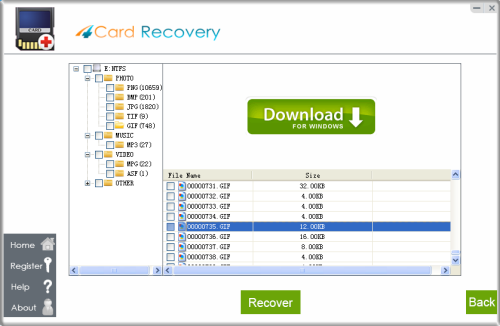 Preview lost photos and save found files. It would generate a folder to contain your lost data.
Please do not save the photo to the card where you lost them. Save them to your PC drive!

Download 4Card Recovery
Tips:
* It will be more hopeful for you to restore all original Micro SD card files back when you never format or rewrite this card before data recovery.
* It will be safer for you to rescue all your wanted files back when you save all restored card files on computer drives or other storage device.
* It will be better for you to save all important card data on different places in the future.
*You are suggested not to save on only copy of your important memory card data on only one place. 
Format Micro SD Card or Not
By now, since you've rescued your card data and back it up, you can follow the error suggestions to format this Micro SD card for repairing. But, if the formatting process also makes no difference, you unluckily get a bad card. Just buy a new one.
How to Deal with Micro SD Card That Stop Working Completely?
From all the description mentioned above, it is not difficult to find that all the description situations are associated to a recognizable Micro SD card. In other words, when your Micro SD card is still recognizable on your computer, with the 4Card Recovery, you can easily restore all your wanted data back. But, what can you do when this card is unrecognizable and strop working completely? There are solutions for you. Firstly, change another card Adaptor or Reader and try again. Sometimes, a seriously damaged card Adaptor or Reader will also negatively affect the reading of your card. Secondly, ask a data recovery company for help. When a card completely stops working, the data recovery service could be the last chance.


Download 4Card Recovery