Summary
This article will introduce you two steps to restore your corrupted SD card: copy all SD card data back with 4Card Recovery and format this corrupted SD card to fix its possible problems.

Corrupted SD Card Recovery by 4Card Recovery
Free download 4Card Recovery to check whether all reserved card data (including pictures, music, videos and the likes) could be rescued back from this corrupted SD card.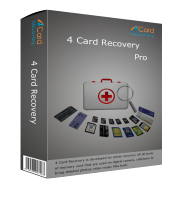 SD Card Is Corrupted Somehow?
How do you corrupt your SD card? Suddenly stop the SD card formatting or deleting process and find card is corrupted? Rudely remove SD card off from your computer/laptop and get a card error next time? Carelessly fall your phone/camera to the ground and find SD card is asking you to format? Randomly pick out SD card off from phone/camera and find it is not accessible? Or camera/phone memory card seems corrupted overtime? Are you eager to restore both of your SD card data and the card? Don't be scared by these common problems! As long as this corrupted SD card is still recognizable on your computer, you often can easily restore your data and card back within simple steps. 
Just follow two simple steps to restore your data and SD card back:
Step1: Restore Corrupted SD Card Data with 4Card Recovery
Have you ever heard about data recovery program before? The data recovery program is a computer tool that is dedicated to rescue various types of files back from a memory card or hard drive with problems. It could be the easiest solution to rescue card/drive data, except the data backups. So, under your situations, I would like to recommend you a trusted data recovery tool named 4Card Recovery, which is always used by users for its easy-to-use interface and four efficient data recovery modes. With its powerful data recovery modes, one always can rescue data back from a memory card, when the card is formatted, deleted, corrupted or even unformatted for "RAW" file system, etc.
So, just launch 4Card Recovery to restore your corrupted card data:
Step 1:
Free download this reliable 4Card Recovery before using it on your computer. Think carefully to select a right data recovery mode for your corrupted SD card.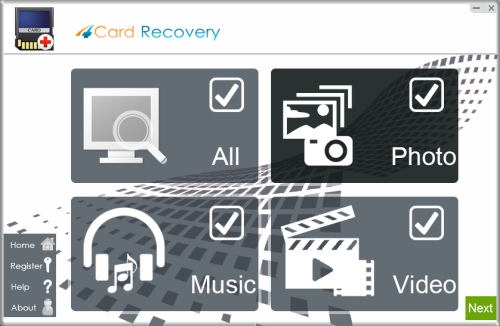 Select recovery options in the main interface
Step 2:
Highlight this corrupted SD card and start scanning process. It may take sometime to scan this card thoroughly.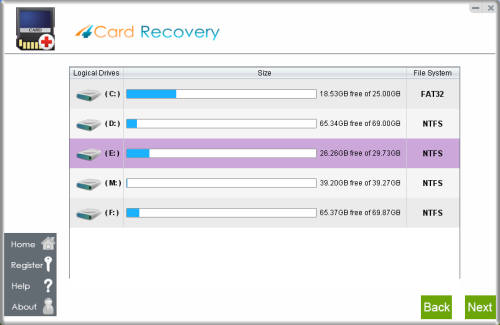 Select card to search photos off card
Step 3:
The scanning process will last for several minutes, please wait patiently.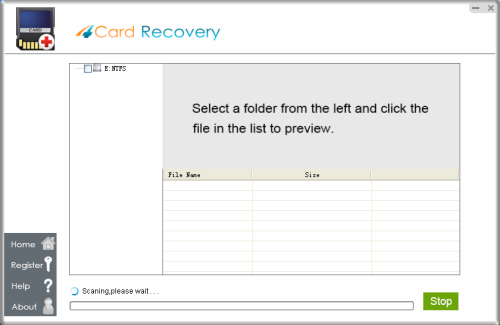 Wait while scanning lost photos, sometimes it takes about 20 minutes to scan a 32G card.
Tips: if it takes more than 2 hours to scan a 32GB card, you may stop the scanning and wait to see
what's already found. Since the card may contains bad blocks that takes longer time than usual.
Step 4:
 Restore all selected card data back. And "Save files" on PC drive.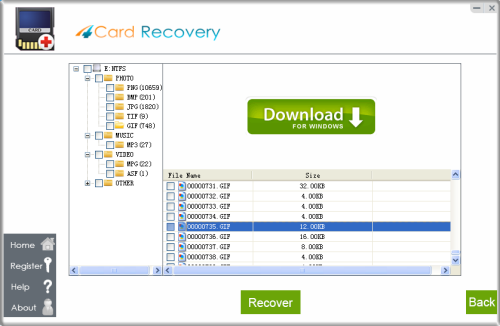 Preview lost photos and save found files. It would generate a folder to contain your lost data.
Please do not save the photo to the card where you lost them. Save them to your PC drive!

Download 4Card Recovery
Attention:
* New data on the same corrupted card can make everything worse. So, keep this card alone before data recovery.
* Restored data saving on the same card also can cause further data loss. So, save it on your PC drive.
* Important data on a memory card or drive should be backed up on different places in the future.
Step2. Restore Corrupted SD Card
The recognizable SD card often can be fixed by re-formatting after data recovery. So, when you've backed up all restored card data well, without any hesitation, just format this card in "My Computer". Of course, you also can choose to format it in "Disk Management". It's all your own choices. But, if this card cannot be formatted or even cannot be recognized, I am sorry to tell you that your SD card is often irreparable. Just ditch it as soon as possible.
Free Download 4Card Recovery in Other Cases:
You also can free download 4Card recovery to restore your card or drive data, when you are experiencing the following problems:
* Memory card or USB flash drive data is deleted somehow.
* Memory card or USB flash drive gives an error message saying: "The card/drive is not formatted. Do you want to format it now?"
* Memory card or USB flash drive cannot be accessed when its file system becomes RAW.
* Memory card or USB flash drive gets a "memory card error" problem.
* Memory card or USB flash drive is attacked by virus and wonder to rescue data as much as possible.
In short, this data recovery tool always can help process almost all memory card/USB flash drive data recovery problems. 

Download 4Card Recovery