Summary
The introduced 4Card Recovery is a powerful data recovery tool for you to take all memory card data back when you are encountering RAW file system problems. It also can be used to rescue diverse files back from memory cards or USB flash drives when some other unwanted data loss problems occur.

Memory Card RAW Recovery by 4Card Recovery
Free download 4Card Recovery to make an easy and efficient data recovery process for rescuing all your card data before fixing its RAW file system.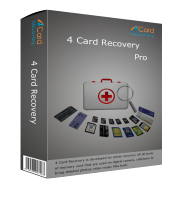 RAW Memory Card Problem Makes Files Inaccessible?
Windows asks you to retry your memory card for some invalid media type? Windows asks you to format your memory card for some unsupported file system? Windows shows your memory card as ″RAW″ in ″Properties″? Or Windows even doesn't permit you to view your memory card files before formatting RAW file system back to NTFS? OK! Put aside the problem about whether you should format this card for a while. You'd better immediately search for a reliable memory card data recovery tool like 4Card Recovery to regain all your wanted card data back. To up the chances of successful data recovery, you'd better also not rewrite this card with new files.
How to Recover RAW Memory Card Files?
Before you consider whether you should format this RAW memory card to restore its normal file system, I hope you can firstly seek a powerful RAW memory card data recovery tool called 4Card Recovery to rescue all your card files back. 4Card Recovery, as an ideal data recovery solution, is well-designed. Firstly, its operation interface is designed so easily that users like you can immediately understand different functions or buttons by only reading its marked plain names. Secondly, its data recovery functions are also designed so powerfully that users like you can freely choose any data recovery mode from four to get back diverse files back from memory cards or USB flash drives. Thirdly, it is also designed so safely that many users prove that it brings no strange problem caused by virus or threat. So, 4Card Recovery can also be your great solution to go on:
Step 1:
Free download and install 4Card Recovery on your computer. Do not forget to select a proper data recovery mode from four for your RAW memory card carefully.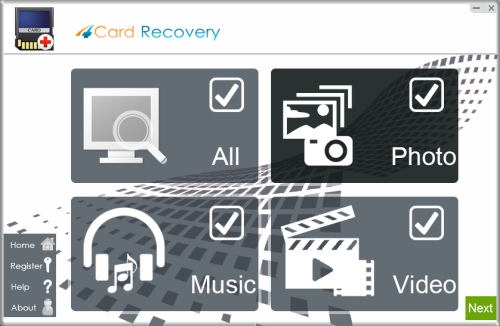 Select recovery options in the main interface
Step 2:
Select this RAW file system memory card latter and scan it deeply.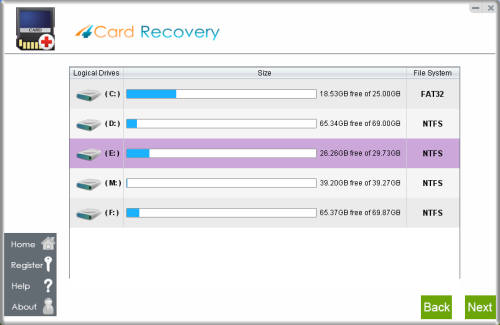 Select card to search photos off card
Step 3:
Wait when the software is performing scanning.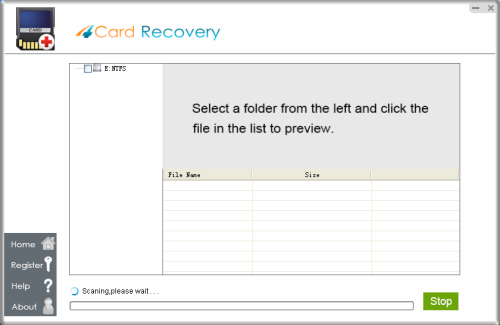 Wait while scanning lost photos, sometimes it takes about 20 minutes to scan a 32G card.
Tips: if it takes more than 2 hours to scan a 32GB card, you may stop the scanning and wait to see
what's already found. Since the card may contains bad blocks that takes longer time than usual.
Step 4:
Recover and save all your wanted files to another drive or card, not this RAW card.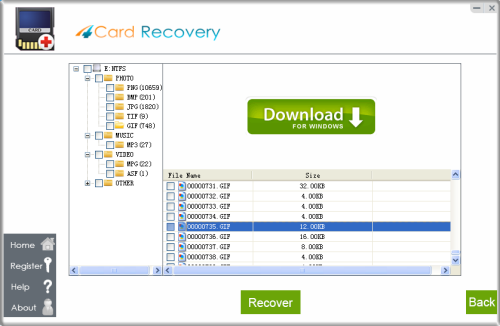 Preview lost photos and save found files. It would generate a folder to contain your lost data.
Please do not save the photo to the card where you lost them. Save them to your PC drive!

Download 4Card Recovery
Tips:
* All original files stored on this RAW file system can be recoverable only when they are not replaced by any new files on this card.
* All restored files can be useful or accessible when they are stored on other drives or cards, not this source RAW memory card.
* All important data on a memory card or hard drive will be sagely in most cases when you have saved at least two copies of it on different drives or cards.
Format RAW Memory Card
To check whether this memory card is functional as before, the formatting process is necessary. So, after backing up all restored card data, format this RAW memory card.
RAW File & RAW File System
Do you know that RAW file and RAW file system are talking about two different stuffs? Generally, the RAW file is simply a file with RAW format, just like a file with DOC, TXT, and JPEG format. But, the RAW file system, differently from a raw file, is a drive or memory card state that can not be normally read under Mac or Windows OS environment. Moreover, if you cannot view a RAW file, the only thing you are supposed to do is to change it back to a readable file format, simply by applying a file format converter. But, if you cannot view the data on a memory card or drive with RAW file system, what you are supposed to do is much more complicated. Just need to follow the steps mentioned above carefully. Therefore, Next time, if these similar RAW problems happen to you unexpectedly, you'd better carefully checked whether it is the RAW file problem or RAW file system problem.

Download 4Card Recovery