Summary
This article will tell you some simple ways to copy back all your lost Android phone videos, images, text messages, contacts and other files back from your inserted memory card after deletion, formatting, card corruption and virus infection, etc.

Android Phone Card Recovery by 4Card Recovery
Free download 4Card Recovery to take all your phone data back successfully when you are sure you've stored all lost information on the inner memory card of your Android phone, not the phone internal memory.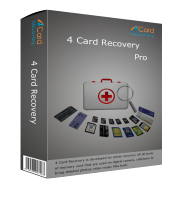 Are You Suffering from Android Phone Data Loss?
How do you lose your Android phone data? Delete your Android phone files as viewing? Format your Android phone files and discover they all disappear without any copy reserved elsewhere? Android phone is attacked by virus and wonder to rescue data? Or Android phone memory card has failed there and want the stored files back? Are you sure you've saved all your useful phone images, videos, SMS, contacts and other files on the inner memory card? OK! I know you must be really pained for your phone data loss. But, there is no time to immerse yourself in sorrow. In fact, as long as you make sure you've saved all your lost information on the inner memory card of your Android phone, you do have possibilities to regain your phone files back.
How to Recover Files from Android Phone Memory Card?
Are you still blaming yourself for the Android phone data loss? OK! Don't be like that! Actually, due to some useful phone card data recovery programs, you do have many easy solutions to restore all your wanted phone data back. So, just stop using your Android phone memory card and take action to restore your lost information with 4Card Recovery, which are specially designed to undo deleting, undo formatting or undo some improper operations to restore all pictures, videos, messages, emails and other data back from different sorts of phone, camera, player, camcorder and more electronic device memory cards. Its easy-to-grasp interface and highly-developed four data recovery mode also make it so practical and efficient for everyone to use.  
So, don't doubt! Just try it personally to experience its great features:
Step 1:
Free download this useful data recovery tool on your computer. Launch it well there and click "Next" to choose an advanced data recovery mode.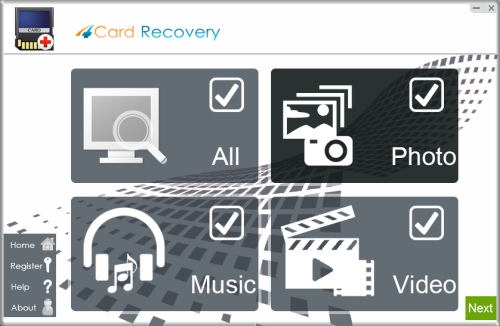 Select recovery options in the main interface
Step 2:
Pick out the deleted Android phone memory card and start to scan it. Just insert this card on your computer with card Reader or Adapter.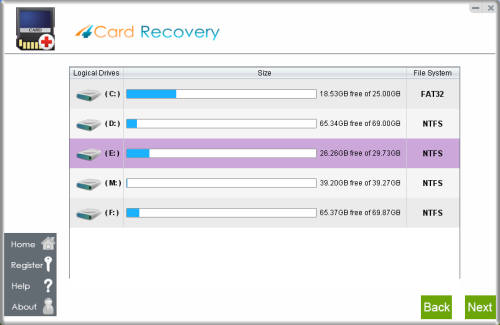 Select card to search photos off card
Step 3:
Wait when the software is performing scanning.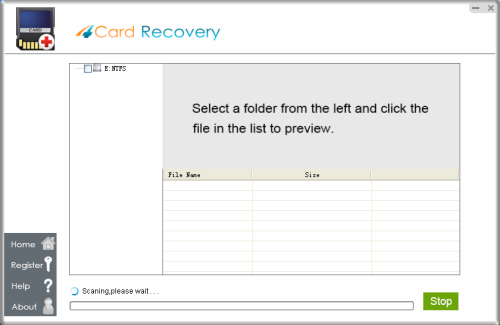 Wait while scanning lost photos, sometimes it takes about 20 minutes to scan a 32G card.
Tips: if it takes more than 2 hours to scan a 32GB card, you may stop the scanning and wait to see
what's already found. Since the card may contains bad blocks that takes longer time than usual.
Step 4:
Restore all selected recoverable data back.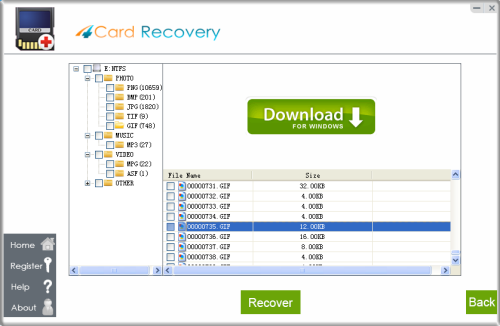 Preview lost photos and save found files. It would generate a folder to contain your lost data.
Please do not save the photo to the card where you lost them. Save them to your PC drive!

Download 4Card Recovery
Tips:
* Stopping using this Android phone, especially the inner memory card can make your lost data much safer.
* Previewing all scanned files can help saving much unnecessary recovery time.
* Moving all restored card files on another drive or card can make your data recovery more successful.
* Copying all important card or drive data on different storage devices can help avoid many similar data recovery problems in the future.
Lost Data Is Stored on the Android Phone Internal Memory?
As we've mentioned above, we often can apply a data recovery tool like 4Card Recovery to restore lost data back from Android phone on condition that the lost data is surely saved on the inner phone memory card. But, do you know what one should do when he's stored data on the phone internal memory card, not memory card? OK! Let's me explain it here! In fact, when it comes to phone memory, besides the well-known phone card memory, you should also know another one: phone internal memory, which is the built-in memory that is set on the phone, not the phone memory card. Moreover, unlike the phone card memory, you often cannot restore the lost data back from the phone internal memory. So, when you unfortunately lose your data stored on the phone internal memory, what you can do is completely nothing. That's absolutely why one is always asked to save all important phone data on the inner memory card, not phone internal memory. So, you should keep this in mind all the time.

Download 4Card Recovery