Summary
This article is about how to restore Blackberry phone memory card data back with 4Card Recovery ( an efficient memory card data recovery program ) when you keep getting a memory card error message and also assist you to fix this problem once for all afterwards.

Blackberry Phone Card Recovery by 4Card Recovery
Free download 4Card Recovery to rescue all phone data back before you cause any unwilling data loss for fixing this memory card error problem.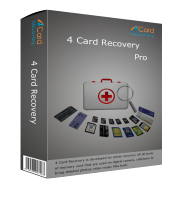 Blackberry Phone Gets "Memory Card Error" Problem?
Do you get an error message saying: "A media card has been inserted that contains errors? To correct the errors please use an error checking utility…"? Do you receive a error message telling: "The card is not formatted. Do you want to format it now"? Do you obtain a RAW file system error and consider formatting it for restoring its functional use? But, you are also not sure whether it is still safe for your phone card data after following the message suggestion? OK! Don't torture yourself with these annoying problems. If you really worry about your Blackberry phone memory card data, you'd better rescue all your data back before you decide to follow these suggestions. Do you know how to rescue your phone data back from the inner memory card? Just keep reading this article.
How to Restore Blackberry Phone Data from Memory Card?
No matter what has occurred to your Blackberry phone, do not follow any error suggestion in case of unwilling data loss. Plunge this Blackberry phone to your computer by a USB cable and start to restore all your phone pictures, videos, music, messages and more back with a phone card data recovery tool, 4Card Recovery. 4Card Recovery has separately provided four file type data recovery options for users like you to simply take back various phone card data back, like "Photo", "Video", "Music" and "All". Moreover, its user-friendly interface is also another reliable feature that makes this tool really popular with people. Last but not the least, this tool also can not only help rescue data from different memory cards, and also works functionally on some USB flash drives.
Step 1:
Free download this data recovery tool on your computer. Start a proper data recovery option from four.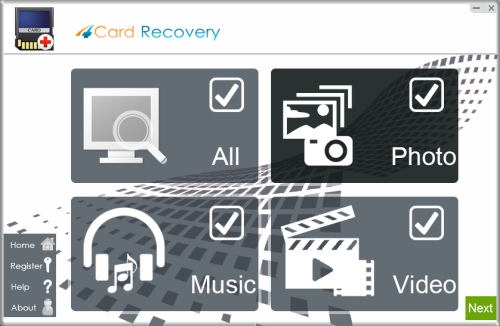 Select recovery options in the main interface
Step 2:
Select the plunged phone memory card and begin to scan it immediately.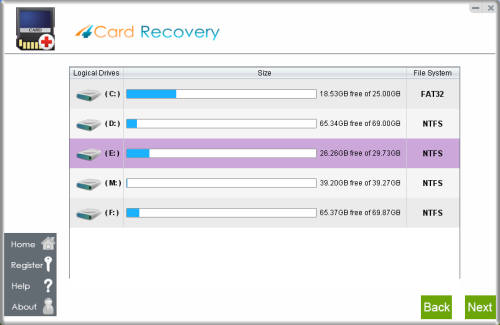 Select card to search photos off card
Step 3:
Wait when the software is performing scanning.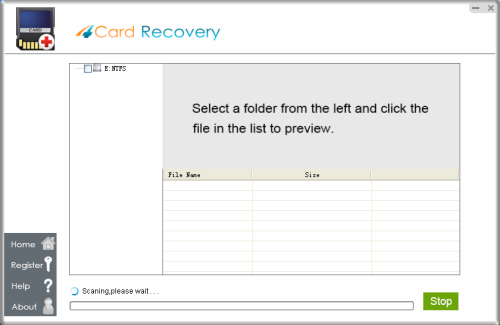 Wait while scanning lost photos, sometimes it takes about 20 minutes to scan a 32G card.
Tips: if it takes more than 2 hours to scan a 32GB card, you may stop the scanning and wait to see
what's already found. Since the card may contains bad blocks that takes longer time than usual.
Step 4:
Restore all selected recoverable data back.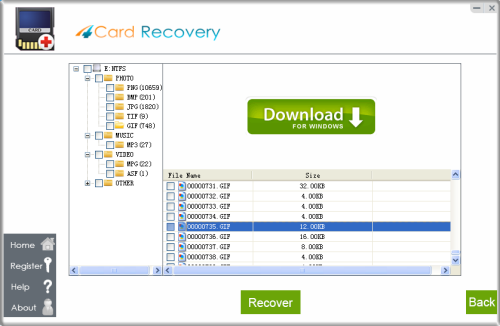 Preview lost photos and save found files. It would generate a folder to contain your lost data.
Please do not save the photo to the card where you lost them. Save them to your PC drive!

Download 4Card Recovery
PS:
* Put aside the inner memory card till you've rescued all your needed phone data back.
* Plunge your phone memory card with a USB cable or directly connect this card to your computer with a card Reader.
* Save restored data on another phone card or PC drive in case of further data loss.
* Back up all vital data regularly in the future.
Follow Error Suggestion to Fix "Memory Card Error" Problem?
After data recovery, you can follow the error message suggestion to fix your card error problems, checking your card with error checking utility or formatting this card. No matter which method you are supposed to choose, you should always properly operate it. Take the formatting as an example, you'd better back up all your restored phone data on another PC drive and begin to format it latter. Never stop this formatting process suddenly and also never extract your card before the formatting process is not completed. Otherwise, you may get much more terrible card error problems.
Blackberry Phone Types:
Blackberry phone are widely used by people all over the world. But, do you know there are still many different types of Blackberry phones on the market? OK! Let's know some major types here together.
1). Blackberry Curve
Be equipped with a full QWERTY keyboard, Blackberry Curve is really classic handset of the well-known Blackberry phones. It is also regarded as the most symbolic type of Blackberry smart phones. With this type phone, you always can make a call, send a mail and text your friends or families easily and quickly. 
2). Blackberry Pearl
As a much smaller handy-candy phone, Blackberry Pearl has been designed with a much more advanced QWERTY keyboard, which allows one to use some keys only by remembering some simpler letters or symbols.
3). Blackberry Storm
Without the classic QWERTY keyboard, Blackberry Storm is the first blackberry device that has been equipped with a touch screen. And it also features for its high-quality display with "click" feedback.  
4). Blackberry Bold
Comparing to the previous Blackberry phones, Blackberry Bold extremely enhances its hardware design and user interface.

Download 4Card Recovery