Summary
This article will let you know how to recover lost/deleted/inaccessible/unreadable data back by 4Card Recovery when your SanDisk memory card has some unwanted problems caused by deletion, formatting, "not formatted error", "memory card error", RAW file system and more.

SanDisk Memory Card Recovery by 4Card Recovery
Free download 4Card Recovery to completely take all data/files back from a SanDisk memory card, no matter what you've mistakenly done.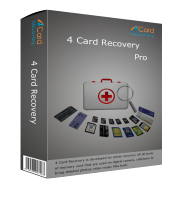 SanDisk Memory Card Has Some Data Loss Problems?
Lose your SanDisk memory card data without any copy left? What have you done to this tiny card? Mistakenly click "Shift+ Del" when you are enjoying some photos remained on this card? Stupidly press "format" button when this card is still inserted on your phone/camera? Unconsciously choose "yes" to format this card when you unfortunately meet "not formatted error" or "memory card error"? Or suddenly get a RAW file system error when you try to check this card with CHKCH? No matter what you have done to this SanDisk memory card, your desire about how to rescue card data back is not completely hopeless. So, calm down! Just follow the tips to restore all your wanted data back with 4Card Recovery.
How to Restore Lost Data from SanDisk Memory Card?
Cannot find any original data on this SanDisk memory card? Or even cannot access this card in all possible ways? Don't be fooled by these false symptoms. In fact, deletion or format will not actually remove all your data off from this SanDisk memory card. Your "lost" data is still stored on its original card place and only becomes inaccessible or invisible. Therefore, you need a powerful data recovery tool like 4Card Recovery to take them all back from its original stored place. As an easy-to-use program, 4Card Recovery always can show you its amazing efficiency in restoring lost pictures, videos, music audios and documents back from all memory cards and USB drives.
So, just follow the steps to restore your card data with 4Card Recovery:
Step 1:
Download and launch 4Card Recovery on your computer. Choose a fixable data recovery mode according to your data loss situations.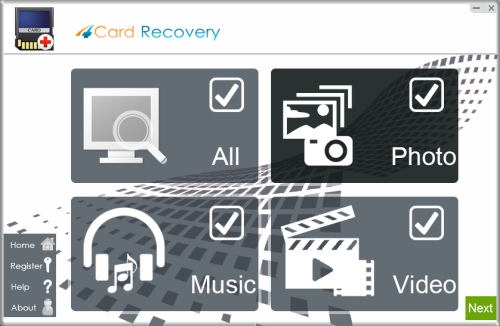 Select recovery options in the main interface
Step 2:
Select this SanDisk memory card to scan your lost data.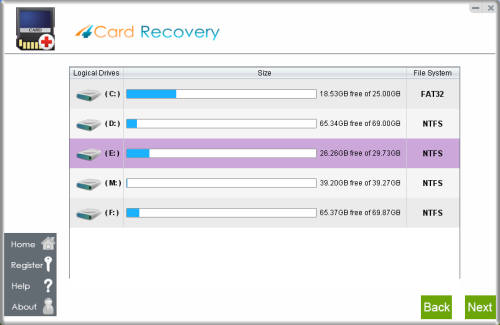 Select card to search photos off card
Step 3:
The scanning process will last for several minutes, please wait patiently.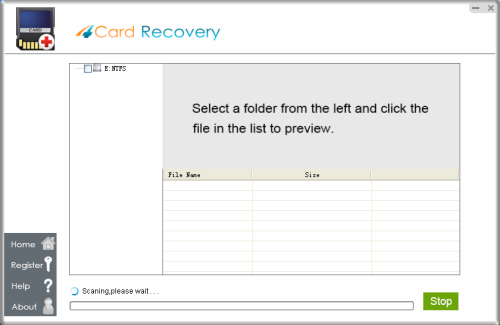 Wait while scanning lost photos, sometimes it takes about 20 minutes to scan a 32G card.
Tips: if it takes more than 2 hours to scan a 32GB card, you may stop the scanning and wait to see
what's already found. Since the card may contains bad blocks that takes longer time than usual.
Step 4:
 Preview and restore all found data back. Save all restored data on computer drive or other locations.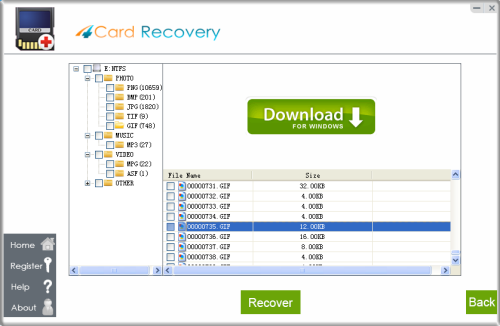 Preview lost photos and save found files. It would generate a folder to contain your lost data.
Please do not save the photo to the card where you lost them. Save them to your PC drive!

Download 4Card Recovery
Common Tips:
* SanDisk memory card should be away from any new file in case of any data loss.
* SanDisk memory card should not be the device to store the recovered data in case of data recovery failure.
* SanDisk memory card data, especially some important data, should always be saved on separate drives or locations in case of any similar data loss problems in the future.
SanDisk Memory Card Description
SanDisk memory cards are talked about some memory cards manufactured by famous SanDisk Corporation, which is an American corporation that designs and manufactures different flash memory storage devices and software. It has offered the camera/phone/player users many types of memory cards, such as SanDisk compact flash cards, SD cards, Mini SD cards, MMC cards, memory sticks and more. In order to meet various needs of different users, the SanDisk memory card capacity also correspondingly varies, including 8GB, 16GB, 32GB and 64GB, etc. Overall, the SanDisk memory cards are really useful.

Download 4Card Recovery