Summary
This article will tell you how to use 4Card Recovery to restore data successfully when you lose your camera, phone, player, camcorder or other electronic device memory card data due to unwanted deletion, formatting, RAW file system error, card error and other improper operations, etc.

Memory Card Recovery by 4Card Recovery
Free download 4Card Recovery to rescue all memory card data back with success, no matter how you've lost your card data. 4Card Recovery always works well on different card data loss problems.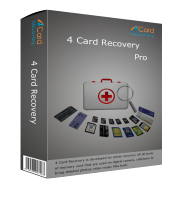 Lose Memory Card Data Unexpectedly?
Do you keep a habit to back up all vital card data on different drives or locations? If not, it is really possible and common for you to lose memory card data unexpectedly. For example, you may lose your memory card photos for accidental deletion; You may lose memory card videos for unwanted formatting process; You may lose your memory card music for restoring RAW file system back to NTFS or FAT32; You may lose your memory card files for different card errors; Or you may lose memory card data for some improper operations. No matter how many situations you've experienced before, I hope you can learn a lesson to make data backups and also know how to restore all memory card data back with 4Card Recovery.
How to Use 4Card Recovery for Rescuing Lost Memory Card Data?
What will you often do to your memory card after losing data? Do you know that merely a reliable data recovery tool like 4Card Recovery can help rescue everything back? OK! No matter what you often do to your memory card after data loss, honestly, 4Card Recovery can be the best solution for you. To tell truth, 4Card Recovery, unlike other data recovery tools, has offered many useful features that one needs to perform a great data recovery. Firstly, it always does its utmost to scan your assigned memory card and find original data as much as possible. Secondly, it has been equipped with four data recovery modes to restore all possible lost data back with ease. Thirdly, it is not only compatible with various memory cards, and also is workable on different USB flash drives.
Step 1:
Download this worthwhile data recovery tool on your PC. Run it and opt for your needed data recovery option from four. "All" data recovery option can be a good direction to go on.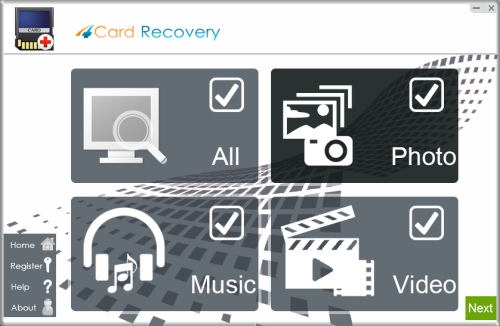 Select recovery options in the main interface
Step 2:
Start the scanning process after picking out your inserted memory card from other logical drives.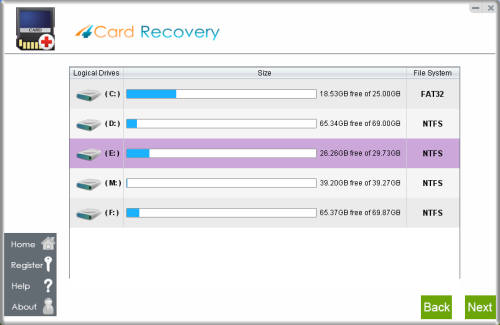 Select card to search photos off card
Step 3:
Wait when the software is performing scanning.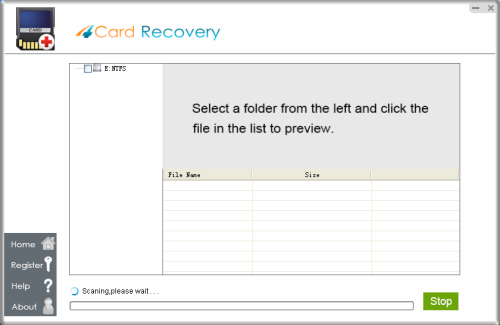 Wait while scanning lost photos, sometimes it takes about 20 minutes to scan a 32G card.
Tips: if it takes more than 2 hours to scan a 32GB card, you may stop the scanning and wait to see
what's already found. Since the card may contains bad blocks that takes longer time than usual.
Step 4:
Restore all checked card files back.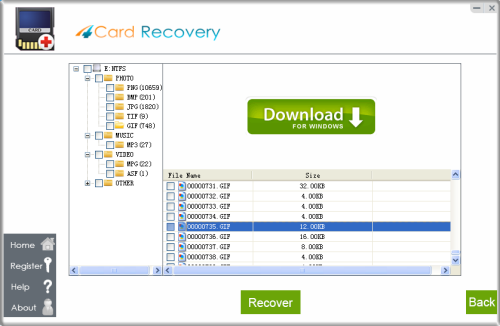 Preview lost photos and save found files. It would generate a folder to contain your lost data.
Please do not save the photo to the card where you lost them. Save them to your PC drive!

Download 4Card Recovery
Cautions:
*This memory card should not be kept using before performing data recovery, since any new file stored inside it may erase your lost data.
*This memory card should not be the destination device of the restored data in case that the rescued data will be lost again. *Never save all important card data on only one memory card or drive again.
How Does Data Recovery Software Works?
Let's compare your memory card to a book and explain the data recovery tuffs for you. As we all know, a book often consists of two parts: the table of contents (which is just like the memory card file directory and name) and the actual contents (which is just like the memory card data). When we are deleting some card data or formatting a memory card, the computer or memory card electronic device will only attempt to change the table contents of this book and inform the reader that there is some blank space that can be written with new knowledge. But, unless the new knowledge is added there, the original book contents would be there forever. Therefore, before the original card data is overwritten by anything new, the original data is absolutely possible to be restored with the help of a data recovery tool. That's also exactly how data recovery software works.
Therefore, I hope you can remember not to add anything else on this memory card in case of further data loss.

Download 4Card Recovery