Summary
4Card Recovery, an ideal data recovery tool, can be your wise choice to recover your inaccessible data back when you accidentally remove your camera/phone memory card and get some card accessing problems, like ″not formatted error″, ″memory card error″, ″RAW file system error″ and more.

Removed SD Card Recovery by 4Card Recovery
Free download 4Card Recovery to safely rescue all wanted videos, images, music, messages and more back when you incautiously extract your SD card that is still transferring or writing your data.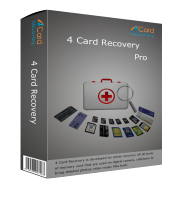 Accidentally Remove SD Card Anyhow?
In computing, people are suggested to remove a hard drive or memory card safely all the time. But, sometimes, for some specific situations or causes, they just cannot act as they are told and pull out their inserted drive or card improperly. That could be really dangerous, to both of the hard drive/memory card and inner stored data. Take your SD card as an example. If you are removed your SD card that still in use for some unexpected reasons, you often can get two results. Extremely luckily, you may get nothing bad and can keep on using your card functionally. However, ironically, if you do not have such luck, you may get many card problems and cannot access your card data smoothly, like ″not formatted error″, ″memory card error″, ″RAW file system error″ and more. In these cases, in order to re-view your stored data, you absolutely need a data recovery tool like 4Card Recovery to rescue your card data back before you take any action to fix the card errors.
How to Restore Data from Accidentally Removed SD Card?
The accidentally removing operation can cause some damages to your SD card and bring you some unwanted card errors, such as unformatted card error, memory card error, memory card RAW file system error, memory card corruption and more. Furthermore, most of them may also make your SD card data inaccessible. So, under these similar card data loss problems, a trusted data recovery tool called 4Card Recovery can be your wanted solution to fix all. By using this 100% risk-free data recovery tool, you always can easy take back your inaccessible images, videos, music, text messages and more back from diversified memory cards, including your SD card, as well as some USB flash drives. By using this easily-to-use data recovery tool, you always can restore your wanted card data back without any extra skill guidance. So, let's perform the data recovery process immediately:
Step 1:
Free download and install 4Card Recovery to take chances. Click your wanted data recovery mode from four for your inaccessible card data.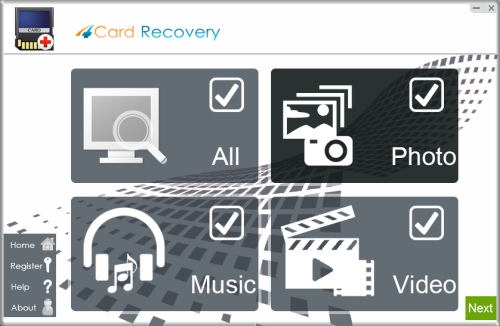 Select recovery options in the main interface
Step 2:
Click the volume (your inaccessible SD card) and start scanning.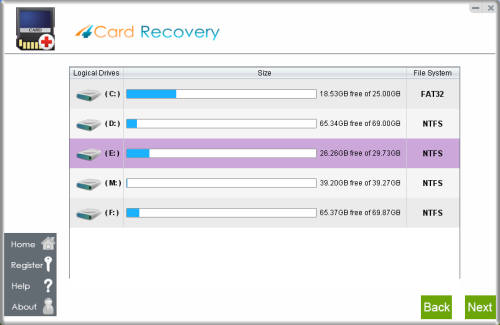 Select card to search photos off card
Step 3:
Wait when the software is performing scanning.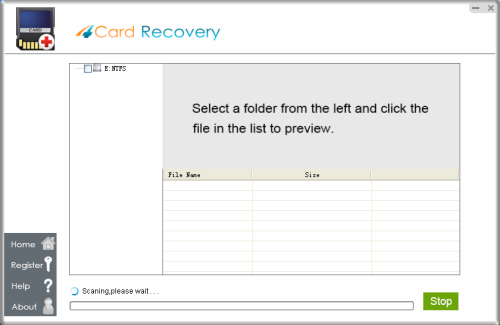 Wait while scanning lost photos, sometimes it takes about 20 minutes to scan a 32G card.
Tips: if it takes more than 2 hours to scan a 32GB card, you may stop the scanning and wait to see
what's already found. Since the card may contains bad blocks that takes longer time than usual.
Step 4:
Click Recover to rescue all labeled files back.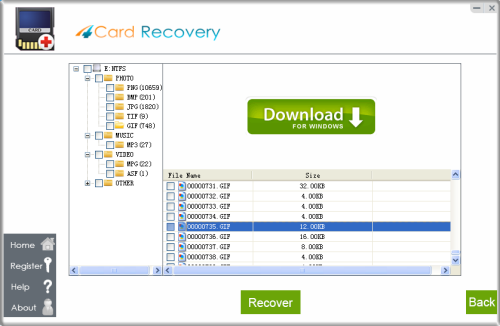 Preview lost photos and save found files. It would generate a folder to contain your lost data.
Please do not save the photo to the card where you lost them. Save them to your PC drive!

Download 4Card Recovery
Warnings:
*Never save new files on this SD card in case of overwriting.
*Never save restored files on this SD card in case of data recovery failure.
*Never save all important card or drive data on only one drive in case of data loss problems in the future.
Freely Fix SD Card Errors
As we've mentioned above, after unexpected removing your card, you may got many SD card errors. Now, without worrying about card data, you can have enough time to fix SD card errors. As to memory card error, not formatted error, RAW file system error and some other logical card damage problems, your can simply format this card to fix its all errors. But, if your card has been seriously corrupted, the formatting process also makes no sense. A new card is what you need.
How to Deal with Micro SD Card That Stop Working Completely?
Since the accidentally removing is really dangerous, you'd better always do it safely and properly. But, if you really have to remove your card at that moment for some emergency causes, you'd better stop the data transformation or writing in the right way and attempt to extract it with the ″Safely Remove Hardware″ on your computer. But, if you use this card on a camera/phone, you'd firstly shut down this camera/phone and pick out your memory card safely.

Download 4Card Recovery