Summary
This article will tell you it is possible to restore memory card data back successfully after unexpected formatting and also introduce you how to retrieve all your card data back step by step at the aid of 4Card Recovery, a great formatted memory card data recovery program.

Formatted Card Recovery by 4Card Recovery
Free download 4Card Recovery to rescue card data back after you've formatted your memory card due to different reasons, such as virus cleaning, RAW file system converting, not formatted error resolving and the likes.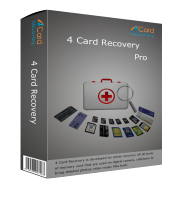 Want a Win-win Solution to Fix Not Formatted Error Problem?
Do you know it is absolutely possible to restore all memory card data back after formatting in these days? Don't know? All right! It doesn't matter! In fact, there are many situations that can induce one to format his memory card without data back. For example, he may have to format this memory card for a pop-up often called not formatted error; He may format his memory card for converting RAW file system; He may format his memory card for removing "memory card error"; he may also format his memory card to get rid of some existing card viruses; or he may format his memory card with a sleepy mind, etc. What's yours? Don't worry! No matter what your situation is, it is definitely possible for you to restore your wanted data back right now.
How to Restore Formatted Memory Card Data back?
Why it is possible to restore formatted memory card data back? It is related to the truth of formatting. In fact, the formatting process doesn't erase or destroy everything on a memory card. Instead, it only adds a series of special numbers to the names of all memory card files and makes all files invisible to all computers/cameras/phones. That's why you always see nothing shown on your memory card after formatting. But, they all are still there. Only with a professional formatted memory card data recovery program like 4Card Recovery, you can rescue all your disappeared files back successfully. So, why not to take chances with 4Card Recovery? Actually, 4Card Recovery, as a powerful data recovery tool, can not only perform a perfect data recovery on your formatted memory card, and also can rescue nearly all types of files back from some USB flash drives. Moreover, it is also workable under other data recovery situations. So, cheer up! Let's run it to recover your card data:
Step 1:
Download this easy-to-use 4Card Recovery to rescue your memory card data. Select a practical data recovery mode to find your invisible card files after formatting.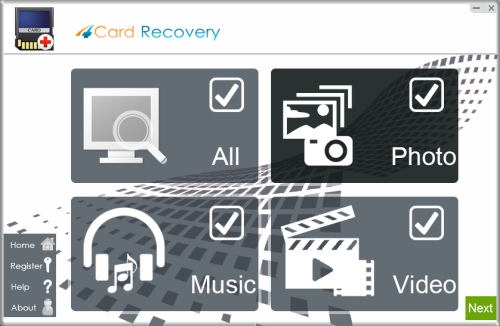 Select recovery options in the main interface
Step 2:
Specify your formatted memory card out from all logical drives. The scanning process may take some time. You'd better wait patiently.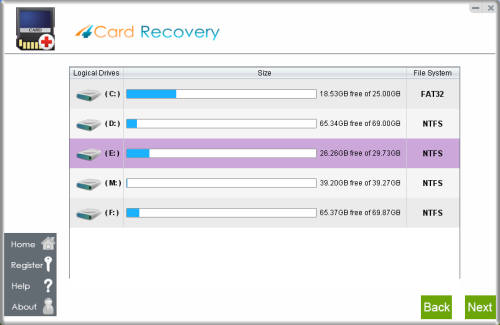 Select card to search photos off card
Step 3:
Wait when the software is performing scanning.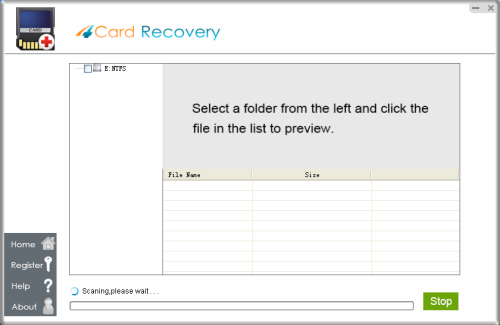 Wait while scanning lost photos, sometimes it takes about 20 minutes to scan a 32G card.
Tips: if it takes more than 2 hours to scan a 32GB card, you may stop the scanning and wait to see
what's already found. Since the card may contains bad blocks that takes longer time than usual.
Step 4:
Restore all checked card files back.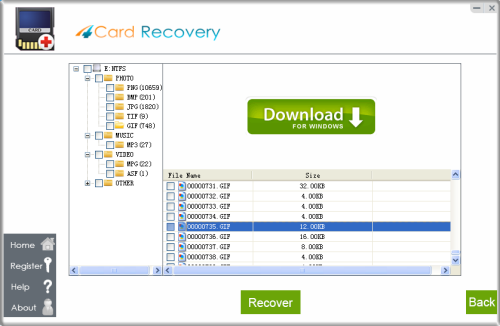 Preview lost photos and save found files. It would generate a folder to contain your lost data.
Please do not save the photo to the card where you lost them. Save them to your PC drive!

Download 4Card Recovery
Attention:
* Take care not to do anything to this formatted memory card before data recovery. The invisible card files can really be erased or destroyed by anything new on the same card.
* Take care not to save all rescued card files on this formatted card. * Take care not to main only one copy of everything important on only one drive or card in the future.
Never Overwrite Formatted Memory Card before Data Recovery
Before you've restore your card files back completely, all your original card files are not only invisible, and also really dangerous. In fact, even though they are not really removed out of your formatted memory card, they are also not allowed to stay there forever. As long as new data is coming, they would be destroyed in seconds. Therefore, you'd better not overwrite this formatted memory card with anything new till you've rescued your data back.
Freely Apply Formatted Memory Card after Data Recovery
After experiencing this data recovery problem, many people would begin to doubt about the quality of their formatted memory cards and ask whether they can continue using their memory cards as before, especially when facing the RAW file system problem, virus infection problem, card error problem and more. Don't be afraid! The answer is absolutely "Yes". After formatting progress, many memory card problems like the mentioned RAW file system problem, virus-infection problem, card error problem, can be easily resolved. So, you definitely can use this card freely. Just play a good habit to make data backups all the time.  


Download 4Card Recovery