Summary
This article will tell you how to rescue all valuable photos back from a formatted compact flash drive by using 4Card Recovery, which often can help get all deleted/lost photos, videos and other files back from a memory card or USB flash drive within a couple of simple steps.

Formatted CF Card Recovery by 4Card Recovery
Free download 4Card Recovery to rescue all digital camera/phone photos back from a compact flash card after formatting it without any data backup.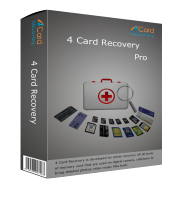 Why to Format Compact Flash Card?
Directly format your compact flash card as meeting the "Not formatted error" message? Straightly format your compact flash card for resolving "memory card error" problem? Merely format your compact flash drive for removing RAW file system issue? Or simply format your compact flash card without any data backup plan? Lost compact flash card data is really needed in future? OK! Stop everything you are doing right now and relax! Your "lost" photos may still remain on this formatted compact flash card. So, immediately take action to restore them all back.
How Can You Restore Photos from Formatted Compact Flash Card?
Even though you may format your compact flash card due to any situation mentioned above, the compact flash card contents (like images, texts, messages and videos, etc) are not actually or completely gone in seconds. In fact, they are still reserved there and only given a "space available" label. So, before they are all overwritten by new files and really erased, you always can retrieve them all back successfully by running 4Card Recovery. 4Card Recovery, as a powerful memory card data recovery tool, always can get deleted, inaccessible or lost data back from a memory card, including your compact flash card, no matter whether it is formatted yet. It will never let your down! Here are simple steps for you to rescue your photos:
Step 1:
Free Download 4Card Recovery and install it well on your computer. And then, specify a proper data recovery option for your compact flash drive from four.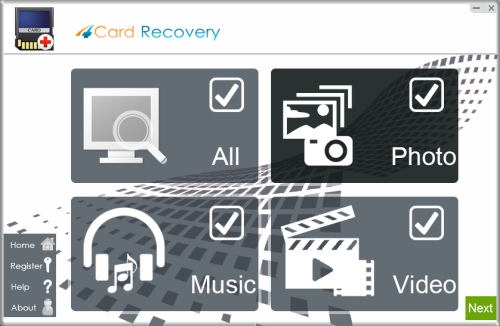 Select recovery options in the main interface
Step 2:
Scan this inserted compact flash drive deeply after setting it as the scanning device.(A card Reader can help you a lot as connecting this card to your computer. )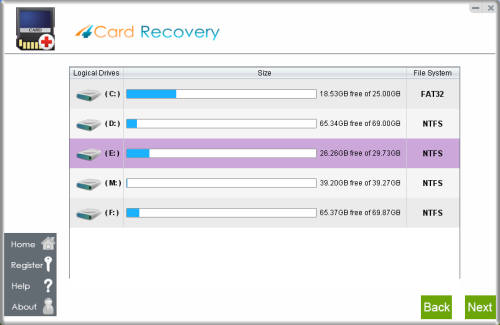 Select card to search photos off card
Step 3:
The scanning process will last for several minutes, please wait patiently.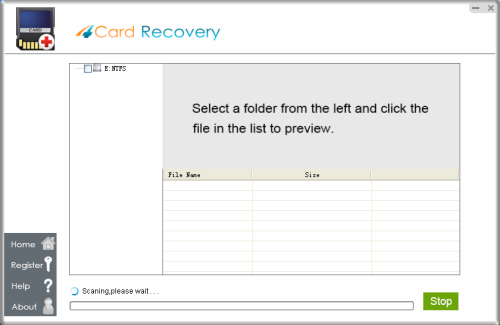 Wait while scanning lost photos, sometimes it takes about 20 minutes to scan a 32G card.
Tips: if it takes more than 2 hours to scan a 32GB card, you may stop the scanning and wait to see
what's already found. Since the card may contains bad blocks that takes longer time than usual.
Step 4:
Restore all wanted photos back and save them all on another storage device.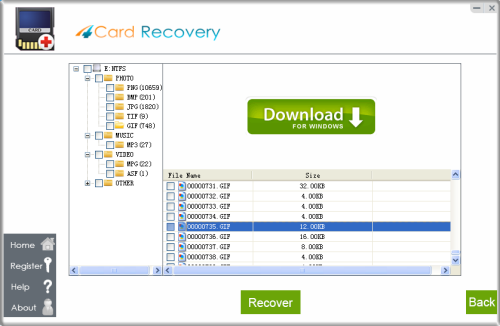 Preview lost photos and save found files. It would generate a folder to contain your lost data.
Please do not save the photo to the card where you lost them. Save them to your PC drive!

Download 4Card Recovery
PS:
* Keep this formatted compact flash card away from any camera, phone or PC before data recovery.
* Keep all restored photos on another memory card or hard drive in case of data loss.
* Keep all important data stored on different memory cards or hard drives in the future.
How to Keep Your Compact Flash Card Well?
As all memory cards, compact flash card will also unexpectedly get some card errors or damage problems caused by virus, long tine use and computer system corruption, etc. But, that's not to say, we can rely on these excuses and randomly use our compact flash cards. Oppositely, we should always keep our compact flash cards well and use them properly to avoid some unnecessary troubles. So, let's learn how to take a good care of your compact flash card:
1). Do not fill a compact flash card too full.
Too many photos, videos and other files stored on a compact flash card can make this card work abnormally and even cause card corruption. Therefore, in daily use, you'd better always upload your important card data to your computer timely and delete all useless data regularly to keep it well all the time.
2). Use your compact flash card on only one digital camera/phone.
Many people with cameras and phones are often wondering to use their memory card between different cameras/phones. However, that is not right. The different cameras/phones may have different file system and ask you to format this card before using. That may also cause some unnecessary data loss problems for you. So, specially use your compact flash card on only one camera/phone.
3). Keep your compact flash card away from any virus or threat.
As we all know, virus could be really dangerous to our data and the physical card. Therefore, we should regularly scan our compact flash card to keep it as safe as possible.  
4). Avoid other improper operations.
There are also other improper operations that may cause troubles for your compact flash card, such as removing the card without turning the camera off, dropping the card from a high place and more. So, you should always learn more information about compact flash card and use it properly.  

Download 4Card Recovery