Summary
This article will tell you how to make full use of 4Card Recovery to take all your stored camera/phone information back from Transcend memory cards due to unexpected erasing, formatting, virus attacking and card corruption, etc.

SamDisk Memory Card Recovery by 4Card Recovery
Free download 4Card Recovery to try one of the simplest ways to retrieve all your left data back from your Transcend memory cards with different capacities.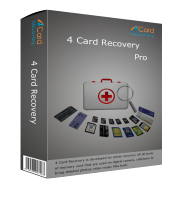 What's Your Data Loss Scenario?
Transcend manufacturer has offered three types of memory cards for different electronic device users: SD cards, Micro SD cards and Compact Flash cards (also called CF cards). Even through every type of these memory cards has its own characters, they all also may meet the same data loss problems. What's your data loss scenario? Transcend memory card data is deleted or erased somehow? Transcend memory card data is virus-infected? Transcend memory card data is lost for formatting somehow? Transcend memory card data is missing for card corruption or other unknown damages? Don't be tensed! You may be not as unlucky as you reckon. Just gather all your attention and begin to rescue all your wanted memory card photos, videos or other information with 4Card Recovery. The following detailed steps can assistant you greatly.
How to Recover Transcend Memory Card Photos under All Possible Scenarios?
No matter which type of Transcend memory card you are using now, like a SD card, a Micro SD card or a CF card, you often can have the similar steps to restore your reserved card data back. Most importantly, you also can choose the same memory card data recovery tool: 4Card Recovery. Want to try it immediately? Don't rush! Let me explain why to use it? 4Card Recovery is an advanced and popular memory card data recovery program that is developed to help users easily resolve all memory card data loss problems under different scenarios. Its four data recovery modes can help retrieve different card data with diversified formats. Its user-friendly interface can help everyone cope with different data recovery problems within simple steps. It is also proven to be safe enough and causes no extra computer problems.
So, don't worry! Let's follow detailed steps to rescue card data:
Step 1:
Download this data recovery tool from its website. Simply click its downloaded file to set it up well. Choose your needed data recovery mode well from listed four.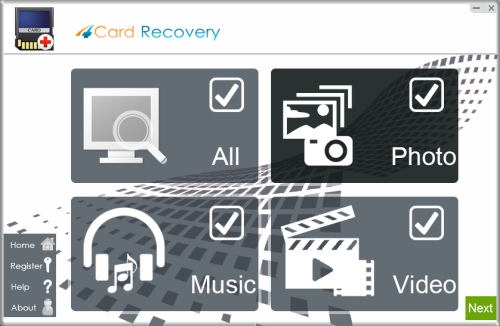 Select recovery options in the main interface
Step 2:
Choose this Transcend memory card to scan.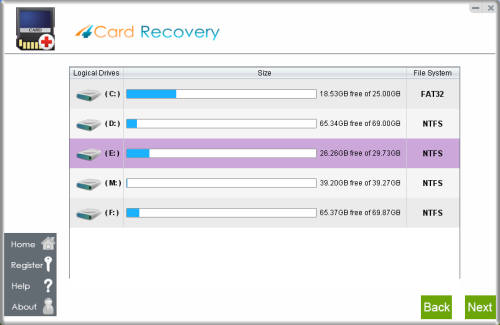 Select card to search photos off card
Step 3:
Wait when the software is performing scanning.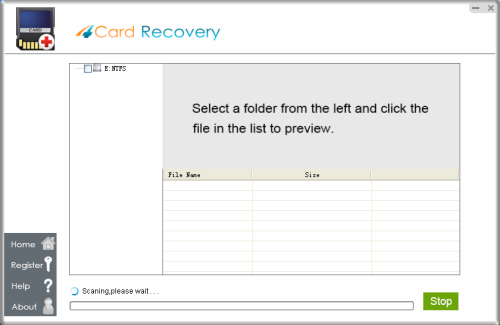 Wait while scanning lost photos, sometimes it takes about 20 minutes to scan a 32G card.
Tips: if it takes more than 2 hours to scan a 32GB card, you may stop the scanning and wait to see
what's already found. Since the card may contains bad blocks that takes longer time than usual.
Step 4:
 Preview and restore all wanted card files back in seconds.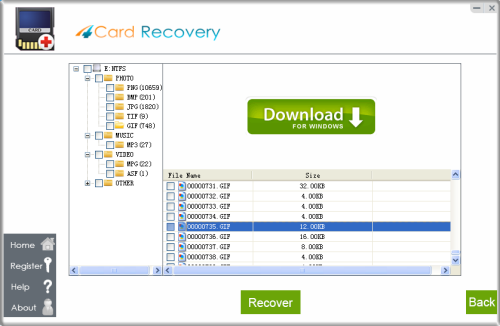 Preview lost photos and save found files. It would generate a folder to contain your lost data.
Please do not save the photo to the card where you lost them. Save them to your PC drive!

Download 4Card Recovery
Useful Tips:
* Avoid using this Transcend memory card in case that any new file will destroy your original one.
*Avoid transferring the restored data back to this Transcend memory card in case of farther troubles.
*Avoid using only one memory card or drive to store important camera/phone data. Just upload it to your computer timely.
When to Format Transcend Memory Card after Data Recovery
When one is confronting the memory card data loss problems, he often are suggested to stop keeping on using this card and try to rescue missing data with data recovery software. But, do you know when to format this card after data recovery process? In fact, the answer is really simple:
1). Windows gives a Not formatted error message.
When Windows gives a not formatter error message, you often have to format this memory card to fix its possible problems after data recovery process.
2). Memory card is shown as RAW file system
The Memory card with RAW file system often cannot be normally read by a computer. Therefore, in order to make it useful on your computer again, you often should format this card for converting its RAW file system back to NTFS or FAT32.
3). Memory card is virus-infected.
When card is virus-infected, in order to void further virus problems, the formatting process can help clean all possible viruses and threats utterly after data recovery.
4). Memory card has gets some logical problems.
In some cases, some other logical problems also need you to format this memory card after data recovery process, like memory card error problem, tender dropping and more.

Download 4Card Recovery